12/29/2009
Encuentro! »
Encuentro, a new vegetarian restaurant in Jack London Square, is a pretty modern, minimalist space. Floor-to-ceiling windows and corner wood tables create a hip ambiance. I went with two other people, and a quasi-filling lunch for us cost $30 (which is a bargain, especially compared to its creator's flagship Millennium in SF). Note that the menu is not entirely vegan—many dishes contain cheese and I believe one menu item has eggs. We got a bunch of dishes and split them; I highly recommend doing this as the portions are on the smaller side, and you want to taste as many different things as possible.
Between the three of us we split the arugula and pear salad with Banyuls vinaigrette, hazelnuts, hazelnut-vanilla oil; avocado, olive oil and cilantro bruschetta with chile jam and black salt; the tempeh bacon sandwich with sun-dried tomato jam and avocado topped with romaine; and a split-pea soup [Ed.: all menu titles are [sic]]. The salad had by far the most interesting flavors. You can really taste the vanilla oil, and the hazelnuts add such an important crunch texture to the dish. The bruschetta had perfectly toasted bread. As a huge fan of avocado, I couldn't not love the dish. An order consists of two pieces of bruschetta—more than enough for one person, but kind of difficult to split between three! I found the sandwich definitely underwhelming. I think the flavors could have been more pronounced and the tempeh a little crispier to add some texture to counterbalance the gooeyness of the avocado.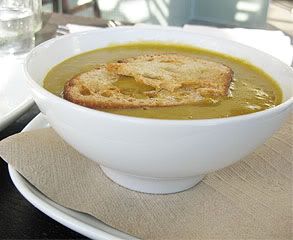 Overall, Encuentro strives to create a place where people can gather. I do think that the menu offers ample opportunity for people to share many dishes; however the space and the ambiance did not. It seems a little bourgeois, like it's catering to a very specific crowd of people—maybe the power/business lunchers. It's so hip and modern—almost in a frigid way—that I can scarcely envision people hanging out there. The food is very delicious, though, and when ordered smartly you can get a pretty reasonable deal. The portions are a bit smaller, maybe a testament to the bourgeois attitude I couldn't help but feel. Perhaps their ideal customer has the luxury of not being completely filled up by the food, the luxury to simply order to taste instead of to nourish.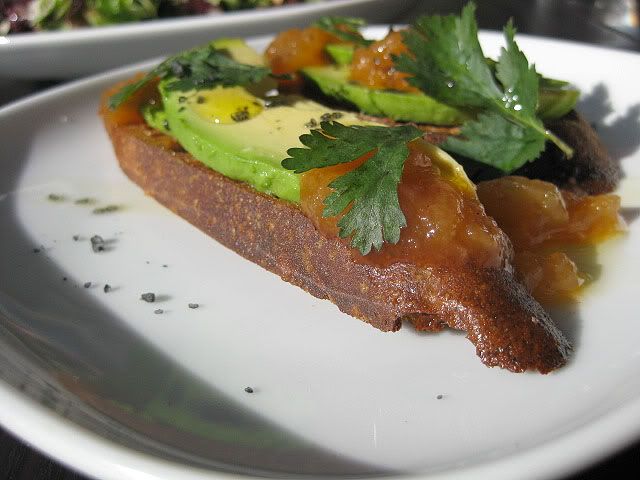 That said, I do recommend that you experience Encuentro for yourself. It may be different things to different people, and I don't want to color your perceptions too much!! We left the restaurant feeling a bit unsatisfied, like we could go for another light lunch or something. I wouldn't recommend this place to someone who is completely famished!
[All photos by Brianna]
∞ posted at 15:19 by tempehtation