01/04/2010
Road trip: Babycakes in LA! »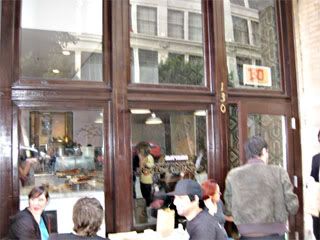 Babycakes has always been a staple of my New York living experience. Whenever I buy a new pair of shoes at Mooshoes, I always pop over to Babycakes to see what's cookin' (or bakin', to be precise). I'm kind of miffed that the mostly gluten-free, vegan bakery offers dairy creamer for their coffee (I mean, soy creamer, coconut milk creamer, rice milk, almond milk— there are thousands of alternative milks out there that don't involve the exploitation of animals!!!!), but they sure as shit know how to pound out some delicious goods. My hips, thighs, and butt are even more miffed that I have such an affinity for Babycakes' delicious, decadent cupcakes—red velvet, anyone?!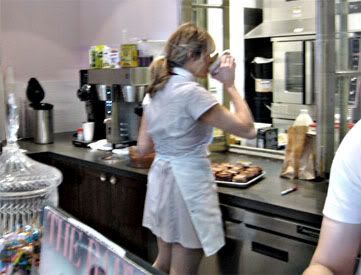 Upon hearing that a new Babycakes was slated to open in LA today, I knew KNEW I had to haul ass (21 miles to be exact) to make it to the opening. And boy, am I glad I did. Erin McKenna was there (pictured in super-stalker fashion), in the flesh not two feet away from me icing some beautiful cupcakes. "Hi, I'm Brianna and I live in New York and I love Babycakes and I love you," I gushed to her. She's super-sweet and amazing and I was so happy to be in her presence. So, how does the LA location stack up to the NYC one?
LA is super-spread out, and although downtown is being gentrified, it's still pretty inconvenient for most people in the Valley, in the beach communities (Santa Monica, Venice), in the UCLA area, etc. Babycakes LA is in an unassuming space in downtown, in the Historic Core district, where parking is scarce (and expensive!). The space itself is fairly large and much more open than the Lower East Side location in New York—but I think it loses some of its charm in that respect. The old-fashioned feel you get from Babycakes NYC just didn't translate to its new West Coast locale. No more wooden barstools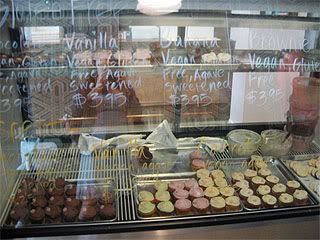 or cutesy decor; on the flip side there's more room to breathe and sit and enjoy the goods: there are about three tables inside, and some sitting space outside.
As for the food, I'm fairly sure the baked goods in LA are more delicious than the original. I went with my mom and we practically cleaned out the place: four mini brownie bites (two filled, two unfilled), a cinnamon sugar donut, two cupcake tops, corn bread, a cinnamon toastie with cranberries, and some coffee. Out of all of the food sampled (read: devoured), my mom and I agreed that the cinnamon sugar donut was the most delicious. Almost churro-y in flavor and texture, the old-fashioned shape gave this donut some scrumptious charm. In the 20 minutes we were there, an entire tray of three dozen donuts completely sold out—they're quite the popular menu item, apparently! The NYC donuts I tried about a month ago have NOTHING on the LA versions. The rest of the baked goods were, of course, delicious. The cornbread was moist and flavorful, the oozing chocolate brownie bites were decadent (but appropriately sized), the cupcake tops cut down on calories and gave you the go
od stuff (it was basically a sliver of cake with a huge dollop of yummy YUMMY icing) and even though the coffee was mediocre, I still enjoyed it—mostly because the whole place put me in a great mood. Pictured is someone else's order: a chocolate chip cookie sandwich, a brownie bit (yum), and two donuts, the cinnamon sugar (!!!!!!!!) and chocolate.
Overall, Babycakes LA was worth the trek. I exited the shop feeling like a lardass, and it was then that I knew the bakery had done its job. Hopefully, its semi-obscure location, at 130 East 6th St., won't deter people from frequenting the adorable shop, but only time will tell. I believe the shop is open from 10 a.m. to 8 p.m.
[All photos by Brianna]
∞ posted at 08:10 by tempehtation