01/05/2010
Road trip: Vegan in Los Angeles! »
Two vegansaurs hit up Los Angeles this holiday season and lived to tell the tale, which is definitely your gain! Here, for your enjoyment, are our field notes, guaranteed to make you hungry.
Jordan!
I have a secret. You guys would probably never have guessed it, and I probably shouldn't even be telling you this, but did you know that there are vegans in L.A.? Yeah. I know. It turns out they have about 80 billion vegan/vegan-friendly restaurants even! I was lucky enough to get to try a couple of these strange and new establishments this month on a whirlwind trip, and I'm here to share my findings with the good people of San Francisco.


First stop was a place called Pure Luck. PL is the kind of place that San Francisco is sadly lacking in (GET ON IT, VEGANS) - cheap, all-vegan food, and great all-vegan beer in a casual atmosphere served up by cute and highly capable servers. Pure Luck is famous for their jackfruit "carnitas" tacos, so that's what I had. For the uninitiated, jackfruit is a tropical fruit that, when young, is largely tasteless and has a weird, fibrous-yet-tender texture, which makes it a perfect candidate to replace the gross-ass stringy meat that gets stewed down into carnitas or pulled pork or whatever. Pure Luck does jackfruit up right - the texture is perfect, and the flavor is satisfying and perfect with the corn tortillas, cilantro, onion, and salsa verde that make up the rest of the taco. Get a couple of these with some caesar salad (bomb-diggity!) for under $10. Add any of the hand-picked Belgiany-skewing beers that happen to be on the rotating beer menu, and you've got yourself a first-class A-1 meal.

If you're lucky enough to spend the night in LA (or get there in the morning or early afternoon), then you are lucky indeed because you can avail yourself of the fine brunch options available to vegans in LA. Not to bash SF or anything, because I love the hells out of this city, but there's a SERIOUS lack of fully-vegan brunch options here. Yes, we have some pretty great tofu scrambles at Boogaloos and St. Francis Fountain, but they don't have vegan home fries, and that, that is a serious problem. So, if you're one of the lucky jetsetters who gets to have brunch in LA, do it up right - go all out, and HAVE HOME FRIES. The place to do this that I recommend is Flore. Granted, it's the only place I've had brunch in LA, but it's cheap, the portions are huge, and they have great potatoes, so I don't know what more you could possibly want. I had the tofu benedict, which was 3 big pieces of lovely bread with broiled (I think) tofu, tomato, kale, and a lake of hollandaise sauce. The benedict was so big they had to give me my potatoes in a bowl on the side. Also, the coffee was great, and I drank about 90 cups, so I suppose you should watch out for that, but there are worse things than spending the afternoon jittering running to pee every 20 minutes, right? Greatness comes at a price! Anyway, the service is a tad slow, but it's brunch, so don't go if you are in a hurry. Brunch is for layabouts, and don't you forget it!


Finally, on my way out of town, I got to check out VegiSoul, LA's vegetarian soul food place. I haven't had a lot of soul food in my day (I'm from Canada, where neither soul nor food exists - kidding! But no, we don't have soul food up there and certainly not vegan soul food), but I've had enough to know that I fucking LOVE IT. If I could eat only one meal for the rest of my life, it would probably be all the deep-fried-smothered-in-barbecue-sauce stuff with greens from Chicago's SoulVeg, and I wouldn't be unhappy at all. VegiSoul isn't quite as mind-blowingly pants-wetting awesome as SoulVeg, but it delivers a very solid meal and has super nice people working there. I had the Fibs (fake ribs!), greens, and mac 'n cheese. The mac was a bit different than the super creamy stuff I'm used to getting (and loving) from Souley Vegan in the East Bay. VegiSoul's mac had tiny diced-up bits of green and red pepper in it, which lent a nice flavor to things, and instead of a super creamy sauce, their mac fell more into the greasy awesomeness camp. It had nice flavor and went really well with the fibs, which were meaty (kind of oddly so - not that I suspect they had actual meat in them, of course; they were just a different texture than I've encountered before, which is good!) and smothered with a tangy, not-too-overpowering barbecue sauce. The star of my meal was the greens, which were perfectly cooked and salted just right, which just serves as a double reminder that I can't cook those kinds of greens at home for shit. Ah well.
[Photos from www.pureluckrestaurant.com and www.vegisoul.com]
Brianna!

Within the past few months, Native Foods has really been undergoing a lot of changes. Their Westwood location (by UCLA) opened up a to-go side of the restaurant, offering take-out orders for people on the go. They also changed their name to Native Foods Cafe and switched their logo. And they've also created a rewards card - rewards cards are awesome until you think about the big-brotherness of it all, how you're acting as some guinea-pig for marketing purposes and then the company turns around and acts like they're doing you a favor. But at the end of the day, Native Foods' Scorpion Burger, in my opinion, makes it all worth it. They have an expansive menu full of burgers and bowls and salads and tacos, a dish to please any palette.

Whenever I make a trip back home to LA, I always manage to go to M Cafe at least once. Sure, they serve fish; I'm sad that it's not an all-vegan establishment—though luckily its sister restaurant Seed in Venice is!!!—but the vegan stuff it does pull off, it really pulls off. I went to the 7119 Melrose Ave. at La Brea Ave. location. Parking there is reasonable, especially considering the area (curse you, West LA!!). Sadly, a previous visit to M Cafe got me a delicious $10 sandwich and a not-so-delicious $50 parking ticket.
The cafe is really casual. You order up front and you get your food delivered to your table a la a number card. Just so you know, your table does get bussed for you (just to ease any confusion… I always manage to forget this each time I go there!). One night, my friend and I had a lovely dinner there. Our appetizer? Mint chocolate cupcake. Fuck yes, we eat our dessert before dinner. Get over it. The texture was impeccable, the frosting perfectly piped. But the flavor was just not there. When I think "mint chocolate," I think mint! I wanted so badly to have that punch, but it was sorely missed. The other flavors they had available were strawberry and chocolate—I wish we had gotten the chocolate :(.
For my main course, I got a teriyaki tempura bowl with tofu. I could have gotten the vegetables steamed or sauteed, but the tempura seemed just so tempting! I couldn't finish the fried veggies though; the oil was just too much for my stomach. Luckily, my dining companion was more than happy to eat up my leftovers. The flavors and textures in this dish were incredible. The tofu even had adorable grill marks that added some much-appreciated char flavor. The bed of brown rice at the bottom completed my meal. It was so rich and satisfying, I could eat it any day of the week (except maybe next time with sauteed veggies instead of deep-fried).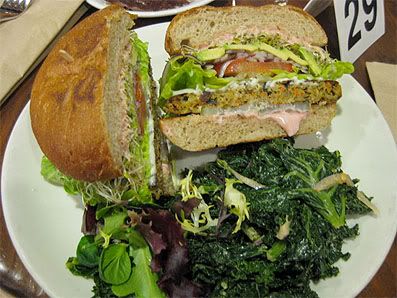 My dining companion got a burger called the Big Macro. I had a bite and it totally hit the spot. As far as veggie burgers go, though, it was pretty standard. It scores some healthy points for being macrobiotic, but I think that overall it was exactly as it should be. If you're in a veggie-burger-mood, this will totally fill you right up!! It also came with a yummy side of kale with spicy peanut sauce. I almost ate all of his kale, I swear. It was the most delicious, yummy part of the meal, in my opinion. I was half-tempted to get a side of it to take home it was so good! If you're a kale-lover, you must get that deli item!
[photos by Brianna]
∞ posted at 09:54 by tempehtation