06/09/2010
Saffron Grill: new vegan menu! »
We here at Vegansaurus pretty much love the hell out of any restaurant that buckles to vegan terrorism listens to their vegan customers and throw us a, uh, bone. Accordingly, we are happy to announce that San Francisco's Saffron Grill has added a brand spanking new, all-vegan menu to their existing offerings.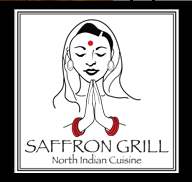 Saffron Grill is North Indian cuisine, folks—that means flatbread, saag, and chickpeas galore! I grabbed the ol' ball-and-chain and a couple friends and hit up SG on a Wednesday night, and the first thing I'd like to say is DO NOT TAKE THE 5 FULTON BUS. We attempted to do this, and it passed us right by, meaning we walked from Van Ness to Divisadero and were tired and hangry by the time we got there. Good thing, then, our friends were waiting, and our server kept the crispy papadums with chutney coming while we decided on food. Padpadums, in case you weren't raised by a dad whose zest for Indian cuisine both informed and traumatized your formative years, are wafer-thin dry lentil pancake thingies that get kind of crispy and a little bit bubbly when heated up. They're like Indian corn chips, but made out of lentils and served with chutney, not salsa. Anyway, they're great, and they're vegan, so eat them.
For food, husband and I split a plate of samosas (awesome) and pakoras (also awesome). The samosas were great and not of the too-spicy variety that I sometimes stumble upon and then curse vigorously. There is nothing worse than a too-spicy samosa whose samosa guts you have to scrape out and then eat the greasy, crispy shell alone. Thankfully, these samosas were not of that variety. The pakoras were flavorful and not too oily, which is nice in a pakora. The chutney they came with was also nice—flavorful and not too sweet. I think it was mango, but I was too overcome with white-girl shame to ask.
Entrees were saag aloo (for me) and some kind of chickpea dish (for him), accompanied by flatbread. Saffron Grill has whole-wheat flatbread, which is nice. It's not huge and crazy like some of the naan I'm used to, but it's good stuff, and I think my body likes the one-meal break from white flour. One other nice thing about the SG is that they'll alter the spice levels for you, so if you're a wimpy Canadian WASP, like me, they will make your food with baby spices, and it still tastes good. If you're a spice-fiend, I have it on good authority they will do you up right as well.
Finally, the people who own/staff this place are fucking seriously nice. They decided to create the vegan menu after a few people asked them about it, which is awesome. They're also really friendly, and I know I felt right at home, and I bet you would too.
The only downside to the Saffron Grill is that it's a little pricey (as down as I am with the menu and the food, $3 for rice is still a bit rich for my blood). However, I'm still happy to support the businesses that support me and my stomach, so head over the the Saffron Grill; just don't take the 5 Fulton, and if you do, don't say I didn't warn you!
∞ posted at 11:22 by jordanpattern