01/31/2011
Whoa, check out reader Seana's glorious Mexican repast:
1) Potato and kale enchiladas, adapted from a PPK recipe
2) Spicy roasted tomatillo enchilada sauce
3) Mexican rice, courtesy of Herbivoracious
4) Refried beans from a can (courtesy of Amy's).
DANG! Start with the internet, add your personal culinary talents, and combine until PERFECT. Nice job, Seana!
[I love to share your luscious food photos, so send them on over!]
∞ posted at 12:36 by seriousmeaveness
02/23/2010
Amy's vegan mac n cheeze (made with Daiya!) is now in SF Bay Area Whole Foods! This was just spotted at Oakland store but call ahead to see if yours has it! Hell yes!!
∞ posted at 11:05 by laurahooperb
12/08/2009
Megan Rascal's Super-Fast, Super-Easy Lentils and Couscous »
Here ye, here ye! A delicious meal you can make in under 20 minutes! Under 10 if you practice. Yes! It is true! I eat this about once a week and I love it. You will too.

First I want to give mad props to couscous—I love you, man! I know people aren't supposed to say stuff like this but I'm an excellent cook. I just am. Deal with it. But something is wrong with me! I am incapable of cooking rice. It's actually pretty impressive, I fuck it up without fail. Not only do I consistently burn the rice on the bottom of the pan, it always boils over and gets weird rice goo all over the stove.
Like I said, impressive. But guess what? I do not care anymore! Why? Because couscous is here to save the day! That shit cooks in FIVE MINUTES. Even whole-grain couscous! Screw brown rice with its 40-minute simmer time! Whole-grain couscous is high in fiber and still takes just five minutes to cook (you know, after you boil the water).

Ok, let's get started. Ingredients:
Couscous (I recommend whole-grain)
1 can Amy's lentil soup
2 cans beans (whatever kind you like, I use kidney 'cause that's my fav)
Garlic and/or onion
Salt and pepper to taste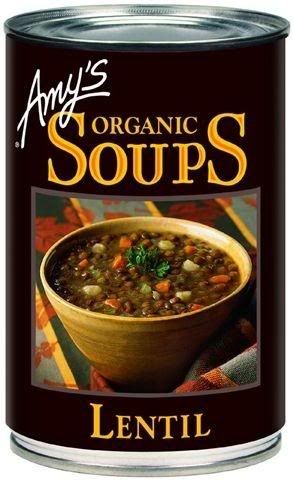 Boil your water and cook the couscous as described on the box. It's easy.

Now, chop the garlic (and/or onion) and sauté it in a pan over medium heat with a splash of olive oil. After the garlic has cooked a little, add the can of lentil soup. Let some of the liquid simmer off a bit. Then rinse your beans and add them to the mixture. Add some pepper and let it simmer for a bit. After a few minutes, add some salt and ta da! It's done! Like I said: super-fast, super-easy! Just like me! Yay! Enjoy.
That, my friends, is it! There are other things you can add, it's basically whatever you happen to have in your kitchen. Fresh basil is always a good idea. Try adding corn—trust me, it's good. Zucchini and tomatoes are also pretty good! But it's damn good with the few ingredients I listed above.
∞ posted at 10:11 by youtalkfunny
11/04/2009
Product review: the Amy's black bean burrito! »
You might be thinking, "What a boring product to review. I am so tired of looking at Amy's frozen foods in my local boutique grocery freezer case. I don't even eat frozen foods; I only eat meals prepared from farmer's market ingredients and Veganomicon recipes." Nice life, snob. Also, marry me.
What I'm saying is that for regular people with busy lives, desk jobs and no money, frozen food happens and Amy's is generally one of your better options. Specifically, the Black Bean Vegetable Burrito is where it's at. I ate these twice a day in college, and have recently rediscovered them as the perfect food, after a long (sad) accidental hiatus.
This delicious creation is made with a whole wheat tortilla, a bunch of organic vegetables like tomatoes and peppers, it's totally vegan, and it tastes like one of those junk food refried bean Taco Bell burritos from the '80s that tasted SO GOOD when you were a kid and never allowed to eat them. Actually, I wasn't allowed to eat them so I could be remembering that incorrectly, but you know what I mean? The delicious taste of junk food chemically engineered to addict your brain?
(OOH speaking of that, Eric Schlosser was at Herbst Theater last night and I would totally have gone if I could! He's not talking about fast food though, he's talking about our fucked prison system. Still very interesting.)
Anyway, to recap, Amy's black bean burrito is full of good stuff but it tastes conventionally delicious. Also it's about $3 and rocking 9 grams of protein and no cholesterol, so I recommend you keep several in your office freezer. Find it in the freezer case at your local spot (if you live in San Francisco or a comparable city where your vernacular grocery markets are full of things like organic produce and the Hain-Celestial family of products.)
∞ posted at 10:33 by meganallison-deactivated2012021
10/08/2008
Recipe: BBQ Pizza! »
At Vegansaurus we talk a lot about restaurants, but even we can't eat out every night (especially in these harrowing economic times, blah blah blah). A lot of vegan blogs tend to feature recipes like this or this, a LITTLE out of the reach of everyday eating. So from time to time we will post recipes that are, above all, easy, cheap, and creative, in addition to being delicious. This recipe has exactly two ingredients, and they are both prepackaged and ready to go. Normally I would encourage you to buy local, etc., but this is perfect for when you're feeling budget-conscious and lazy-conscious.


The Trader Joe's no-cheese roasted vegetable pizza is exactly the same as the Amy's brand, it's simply been repackaged and sold for about $3 less. Gardenburger Riblets are also cheaper at Trader Joe's than they are anyplace else. (When I first heard of Riblets, I thought maybe it was slang for a 12-year old hooker.* But that's another story!) All in all, this meal will cost you about six dollars and will serve two people. Moreover, Riblets come two to a box, so you'll have one left over to use on a sandwich or to give to trick-or-treaters. It might be about $9 or $10 if you buy the ingredients somewhere other than Trader Joe's. Note that I have also tried putting Follow Your Heart cheese on this pizza to more mundane effect. For some reason the pizza sauce doesn't really go with cheese.
Ingredients
1 Amy's Roasted Vegetable Pizza
1 Gardenburger Riblet (half of one package)
Method
1. Preheat oven according to pizza box instructions.
2. Thaw Riblet. You could put it in the microwave for a minute or so, or leave it on the counter while you do your roommate's dishes or something.
3. Cut Riblet into about eight or so chunks and place evenly around the pizza. Make sure you get all the extra barbecue sauce on the pizza too. If you were really nuts into the Riblet experience, you could try putting BOTH of them on the pizza, but that would probably be overkill—and then what would you give the trick-or-treaters?
4. Cook pizza according to package instructions.
5. The final step in any good recipe is "Enjoy!" and this one is no exception.
*See, because she's skinny. And the -let suffix suggests something small. Also she's covered in BBQ sauce and ringing your doorbell Halloween night.
[photo illustration by the author]
∞ posted at 15:56 by mumblingmynah