04/13/2011
This is an adorable video of the Animal Place cows moving pastures. As Animal Place's Marji Beach explains, "All we have to do is call, 'Come on cows,' and they come running. Cows were not made to sprint, so it's endlessly entertaining to watch." So cute!
I especially love the part at the end with older guy Howie who's all, "I ain't running for nobody! Shit!"
∞ posted at 15:14 by laurahooperb
06/14/2010
Vegansaur Maria interviewed Gabe of Cobra Starship. Important points: 1) They're both adorable, right? and 2) Gabe is also a big ol' vegetarian (maybe vegan?) and is pretty fucking awesome. Check out Maria's interview with him here, and then write him many love letters, as he is super-dreamy and I'm unable to tell if he's straight or gay or what so EVERYONE, start your engines!
∞ posted at 15:05 by laurahooperb
01/09/2010
That cat is all, "UGH I HATE TO CUDDLE AFTER YOU ARE SO NEEDY." But not really because that's more disgusting than anything else. Also, if there is ever a movie made about Star Jones and her gay ex-husband, these two should play them.
[via forming, via cosmicpilgrim, via goops]
∞ posted at 17:33 by laurahooperb
12/21/2009
Cute Kucinich Alert! »
We already love Dennis Kucinich and he keeps getting more lovable. According to an interview he did (somehow - I don't know how this shit works) with reddit, Dennis Kucinich (D-Ohio, durr) would force the entire population of the US to eat vegan brownies if he were made supreme dictator for a day. Yes, this is the kind of terrible joylessness we'd all have to look forward to if a vegan were ever elected to the Oval Office.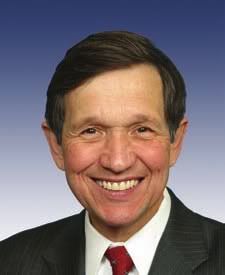 Thanks to D-Kuch for once again being a level-headed, intelligent, thoughtful, and cute-as-hell advocate for veganism. With all the craziness PETA and other highly visible organizations throw around, I know I find it heartwarming to see someone making us vegans looks good. Check it out!
∞ posted at 14:13 by jordanpattern