11/03/2011
Vegan Thanksgiving 2011 events! Eat with the animals! Eat outside the Bay Area! »
Friend of Vegansaurus/dynamo activist of awesomeness Shani created this list of all the vegan Thanksgiving events around THE WORLD, and we wish we could go to all of them and hug many animals and eat everything. Since we can't, you must live for us!
Also, we'll do up a list of S.F. Bay Area Thanksgiving events/restaurant deals/etc. (if you want to help get that list together or know of stuff happening, email me!), and if you know of any events that aren't listed here, hit me up and we'll update! So basically, email me so we can be BFF and talk about how pretty we both are.
Saturday, Nov. 12
Salt Lake City
Ching Farm Rescue Sanctuary's Vegan Thanksgiving Dinner
5 p.m.
Stockton, Calif.
Harvest Home Animal Sanctuary's Toast to the Turkeys
1 to 4 p.m.
Friday, Nov. 18
Brooklyn, N.Y.
A Very Vegan Thanksgiving
6:30 p.m.
Saturday, Nov. 19
Minneapolis
Thanksgiving Potluck
2-5 p.m.
Orland, Calif.
Farm Sanctuary's "Celebration FOR the Turkeys"
12:30 to 8:30 p.m.
Poolesville, Md.
Poplar Spring's "Thanksgiving with the Turkeys"
Noon to 4 p.m.
Poughquag, NY
Safe Haven Farm Sanctuary's "Celebration for the Turkeys"
Noon to 2 p.m.
San Diego
Animal Protection and Rescue League's Eighth Annual Turkey-free Vegan Thanksgiving
2 to 5 p.m.
Milwaukee, W.I.
Vegan Thanksgiving Buffet & Potluck Feast sponsored by Milwaukee Area Resources for Vegetarianism [pdf] (Register by Nov. 15!)
5 p.m.
Sunday, Nov. 20
Acton, Calif.
Farm Sanctuary's Animal Acres' Celebration FOR the Turkeys
2 to 5 p.m
Deer Trail, Colo.
Peaceful Prairie Sanctuary's Living at Thanksgiving
Noon to 3 p.m.
Portland, Ore.
Compassionate Thanksgiving Vegan Potluck
10 a.m. to noon
Watkins Glen, N.Y.
Farm Sanctuary's "Celebration FOR the Turkeys"
1 to 8 p.m.
Tuesday, Nov. 22
Nashville
Band Bros veg buffet at the Wild Cow, special Thanksgiving edition
4 to 9 p.m.
Thursday, Nov. 24
Blairstown, N.J.
Thanksgiving at For the Animals Sanctuary
Noon to 6 p.m.
Denver
Vegetarian Society of Colorado's Thanksgiving Dinner
12:30 p.m.
Hurry, get early-bird tickets before Friday, Nov. 11!
Durham, N.C.
Triangle Vegetarian Society's Thanksgiving 2011: Vegan Feast and Raffle at Café Parizäde and Spice Street
From 11:30 a.m.
Ft. Lauderdale
Thanksgiving Dinner at Sublime
1 to 4 p.m.
Los Angeles
Vegan Thanksgiving Potluck Party
11 a.m.
Tempe, Ariz.
Thanksliving at Green New American Vegetarian Restaurant
Noon to 4 p.m.
Wilmington, N.C.
Vegan Thanksgiving 2011
4-7 p.m.
Update: VegNews added a list of 15 Thanksgiving events, too! Check 'em out!
Also, if you're in the S.F. Bay Area, you can  dine out on Thanksgiving at these places, and order in from these places (including desserts)! 
[Photo of Peyton from Farm Sanctuary. You can sponsor him!]
∞ posted at 14:47 by laurahooperb
12/18/2009
Vegansaurus Last-Minute (totally selfless!) Holiday Gift-O-Rama! »
It's down to the wire, folks. If you're anything like me, you've left your holiday stuff to the last minute (though, to be fair, you had the best of intentions and meant to get started in September), and now you're faced with the seven-day holiday insanity challenge. Well, friends, I am here to help. Here it is, the Vegansaurus Last-Minute Holiday Gift-O-Rama!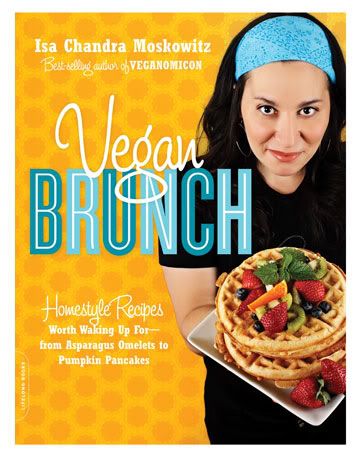 1. Signed cookbooks! Famous vegan cookbook author and all-around great person, Isa Chandra Moskowitz, is selling off signed copies of all her cookbooks! The best part? 100 percent of the proceeds are going to Out to Pasture sanctuary in Oregon. Time is of the essence on this one so order quickly if you want it in time for Christmas! Shipping included, prices are $28 for Vegan with a Vengeance, Vegan Cupcakes Take Over the World, and Vegan Cookies Invade Your Cookie Jar; $32 for Vegan Brunch; and $42 for Veganomicon.
To get your signed book, send a paypal to ppkshop@gmail.com and include the book(s) that you would like. If it's a gift, remember to include the recipient's address! And please let them know who Isa should sign it to.



Perennial favorite Farm Sanctuary is offering holiday gift adoptions again this year! Sponsorship/adoptions range from $10 per month for a rabbit or chicken up to $50 per month for a cow, which pays for all that animal's needs throughout the year. With your adoption, you'll receive your adopted buddy's photo and biography, and best of all, a VIP tour to meet them! 


3. For the salty dog in all of us, Sea Shepherd Conservation Society is offering gift memberships for the holidays. You pay $25 or more in your recipient's name, and they get a certificate acknowledging the donation, a copy of the Sea Shepherd Log, and a sticker with the Sea Shepherd logo (which is, if I may say so, badass). Your membership dollars go toward helping the Sea Shepherd keep saving those whales! There are also options for making recurring donations as well as Sea Shepherd shirts, bags, water bottles, and other goodies on the site if that's more your thing. However you give them money, it's going to a good cause, so spend away!
4. If you're planning on plying someone with vegan cheese (or vegan shoes! or vegan acne medication! what! asshole!) over the holidays, why not order from Vegan Essentials and save 10 percent on any order (including sale items!) with coupon code "holiday10"? OR orders shipping within the continental USA (sorry Hawaii and Alaska! You always get screwed! Oh and every other country, sucks to be you! USA! USA!), you can get a free upgrade from UPS Ground to UPS 2nd Day Air on orders over $50 (total cost excluding shipping). Make sure to choose UPS ground as your shipping option when you check out and you'll be upgraded at
no extra charge. Both offers expire at midnight on Dec. 19 (that's tomorrow!) SO GET ON IT. If you're looking for more delicious vegan treats, VegNews* has a store up and running that includes some damn cute holiday cards & VEGAN MARSHMALLOWS (plus lots more awesome stuff!). Also, giving a subscription (available in tree-free form too for all you people who care about the Environment GOD) to the magazine is only $20 and spreads the vegan love all year long! Finally, Herbivore put out a gorgeous coffee table book of their art. It's a super classy present.

5. Finally finally, just about every animal rescue takes a beating around the holidays. Whether it's a farm animal sanctuary that experiences an influx of turkeys or a cat rescue that overflows with discarded holiday kittens, all animal charities accept donations and are grateful as hell for the help. Is that curmudgeonly aunt of yours a secret rabbit person? Donate to Save A Bunny in her name! Bam! Done! Have a friend who loves cats but can't reasonably take in another one? Donate to Give Me Shelter Cat Rescue, and they'll do the taking in for her. Oh, and there's always the Physician's Committee For Responsible Medicine,* The Humane Society, Rocket Dog Rescue,* Grey2K USA, Animal Place, Compassion Over Killing, Mercy For Animals, Animal Acres, Home At Last, and many, many others. All you need is a credit card or paypal account, and your holiday shopping is just minutes away from being done.

Happy holidays!
*Members of Vegansaurus are presently employed by/volunteer for these organizations.
∞ posted at 12:32 by jordanpattern