01/31/2012
It's a gigantic Matt & Nat sale and there's only one day left!
Matt & Nat is a spectacular Canadian company that makes gorgeous vegan handbags, wallets, belts, carryalls, basically any fancy faux-leather accessory a vegan could want to stow their stuff in. We love Matt & Nat! You love Matt & Nat! And through the end of today, Tuesday, Jan. 31, Matt & Nat is having a big old sale! Go buy stuff like this sassy Santogold purse for nearly 40 percent off! That is a deal!
Go forth and shop, and let no one say vegans are anything but the best-dressed. Non? SI.
∞ posted at 08:02 by seriousmeaveness
04/19/2011
Vegan Cuts: discounts for the vegan folk! »

Vegan Cuts launched today with 40 percent off a vegan skin care kit from Moxie Organix! Vegan Cuts is kind of like Groupon but just for vegan stuff. And I know you vegans are some poor mofos! Every good vegan loves a deal, and every girl band deserves funding. Two Universal Truths.
From the company:
Vegan Cuts makes it easy and fun for their members to discover new vegan companies and shop vegan. Member receive weekly emails featuring exclusive deals from vegan companies. Most deals will be open to people living in the U.S., but some will also be extended to Canada or online shoppers.

Vegan Cuts is run by a vegan couple, John and Jill, who want to see more people shopping with vegan ethics. They feel a commitment to buying vegan food is a great start, but know people can also make a positive difference by choosing vegan options when purchasing clothing, shoes, accessories, body care products and everyday household items. This is why Vegan Cuts will feature a range of vegan products and encourage members to shop vegan by promoting opportunities to save money while eschewing animal cruelty.

Vegan Cuts has a referral campaign that encourages new members to sign up and share a referral link with their friends on Facebook and Twitter. The three people who refer the most new members by Apr. 24, 2011 will be eligible to win a gift certificate from Susan Nichole Handbags, a Texas Treat Tower from Nacho Mom's Vegan Queso and a Coconut Bliss prize pack. For more on the Vegan Cuts referral campaign, read the Vegan Cuts blog post: Refer Friends & Win Awesome Prizes.
Sounds like a good opportunity to BUY BUY BUY while supporting vegan companies. I'm pretty excited! I hope they get SHOES. Maybe they will expand and be a barbershop/coupon website. Because that logo could totally work for a vegan barbershop. Am I right? Or maybe like a vegan plastic surgeon.
You can follow them on Facebook and Twitter if you want to get modern about it. And I know you vegans are some modern mofos!
∞ posted at 11:49 by youtalkfunny
07/13/2010
Vegansaurus Double Features! »
 Welcome to the first biannual, I mean regular, installment of Vegansaurus Double Features, your ticket (ha, oh man am I off to a good start!) to vegan-interest cinema. "What?!" you might ask. "Here's a handy FAQ," I say.
Q: Why movies?
A: Because I ran out of gardening things to talk about and I am a highly respected film critic.
Q: Why vegan?
A: That's a stupid question.
Q: Why double feature?
A: Because the New Yorker always reviews two movies at once, and Vegansaurus, as is evident, is basically the new New Yorker: lengthy articles, thoughtful detachment from political issues, and bougie ads for weird hats.
OK! Enough with all your silly questions. In this issue, we look at two new amazing documentaries about humankind's complex relationship with animals and nature.
Beetle Queen Conquers Tokyo, the first full-length from biologist-turned-documentarian Jessica Oreck, is a beautiful film that uses Japan's national obsession with insects as a way to explore larger questions like how we think of ourselves in relation to nature. Don't let the profundity scare you off: even though this documentary is swarming with insight about haiku, Japanese and Western cultural differences, the urban/nature dichotomy, and the nature of beauty (to name a few!), it's also incredibly easy on the eyes, featuring inventive cinematography that really captures the wonder of its protagonists–-beetles, larvae, moths, and crickets, especially. And for your ears, there's an impressive soundtrack of J-pop and experimental Japanese electronic music. All of this is to say: this is a film that works on multiple levels, and one of the best documentaries so far this year. It's playing RIGHT NOW at the Kabuki in San Francisco through July 15 (Thursday!); I highly recommend it.
Beetle Queen Conquers Tokyo Trailer from Myriapod Productions on Vimeo.
I had the chance to see Ms. Oreck present the film in Los Angeles a few months ago, and she had a lot to say about the film. She thinks that Americans have a lot to learn from the Japanese and their perspective on and appreciation of nature, but acknowledges that, as with all societies, there are a lot of contradictions in that relationship. Vegansaurus readers will probably immediately think of The Cove here. What Beetle Queen shows, however, is how "appreciation" of beautiful insects in Japan has led to both an interest in protecting and restoring their natural habitats and the less-benign commodification of all things insect-related. Yeah, it's cute that Japanese kids play videogames about insects. But commodification has also led to insect collecting of both live and dead bugs, both bought and captured. Japanese pay bundles of yen at large conventions for big beetles to keep as pets, and pinned insect collections are popular hobbies. So, be warned–-for insect lovers, this film isn't always uplifting.
The tangled relationship between collecting animals and habitat preservation is also at the core of Ghost Bird. Ghost Bird is the long-awaited sequel to Jim Jarmusch's Ghost Dog: The Way of the Samurai, starring everyone's favorite weird-eyed actor Forest Whitaker as a hit man who uses samurai techniques. Just kidding, it's a documentary on the supposed rediscovery of the fabled ivory-billed woodpecker. But whatever—same difference!
This truly majestic woodpecker, maybe the most stunning bird that has ever lived in the United States, was thought to have become extinct over half a century ago until a kayaker in an Arkansas swamp caught sight of one in 2004. Ghost Bird outlines what turned out to be the most ambitious, and costly, species recovery campaign in history, fueled not only by excited birders, but by the community where the bird was spotted (which experienced booming economic growth from the ensuing tourism), politicians, and research teams from prestigious universities. While the archival footage of the ivory-billed woodpecker alone is worth the price of admission, the story behind its rediscovery unfolds like a satisfying mystery (or, if you're a dorky birder, maybe the most exciting, cargo-pants-staining mystery you've ever seen), full of dubious motivations and shady characters.
It's a complex tale, to be sure. Especially interesting is that, like Beetle Queen, Ghost Bird show's how man's obsession with a beautiful animal has led to both its collection (and, in this case, destruction) as well as prompting preservation efforts. The scientists working on the "case" use drawerfuls of stuffed specimens of the bird to verify sightings-–specimens collected long ago by other scientists and amateur birders because of the bird's rarity and beauty that, one researcher admits, contributed to the bird's extinction.
While Ghost Bird isn't quite the visual spectacle that is Beetle Queen Conquers Tokyo, it tells an amazing story. Anyone interested in animals, preservation, and Forrest Whitaker should seek this one out!
12/18/2009
A Vegan Etsy Christmas »
Etsy has many vegan items for sale but guess what, they also have a whole vegan section (go over to vegweb.com for a chance to win a VeganEtsy grab bag!)! Their motto is, "we read ingredients" which is great because I HATE READING. So just for you, I searched all through this section to find some lovely Christmas gifts! Yay, I'm the best! Whether you are looking for presents for your favorite vegans or a vegan looking for presents for your fam, there is something on Etsy for everyone. Let's check it out!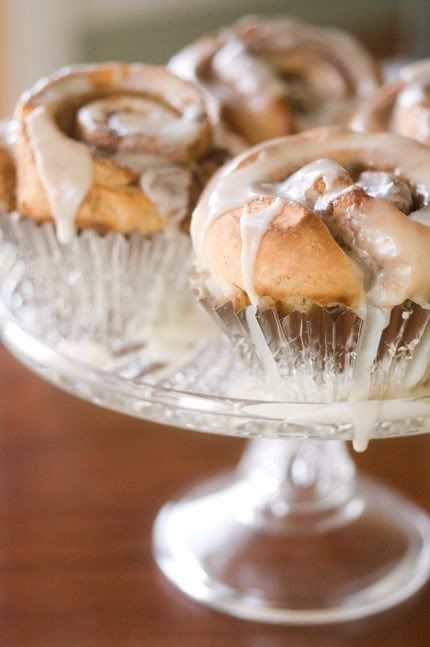 First, Etsy has a plethora of vegan baked goods available! And vegans will do CRAZY SHIT for vegan baked goods, let me tell you! For real, if you are trying to seal the deal with your vegan crush, order a half dozen of these jumbo vegan cinnamon rolls and I guarantee you're in there! Jumbo vegan cinnamon rolls from thecupcakemint for $25.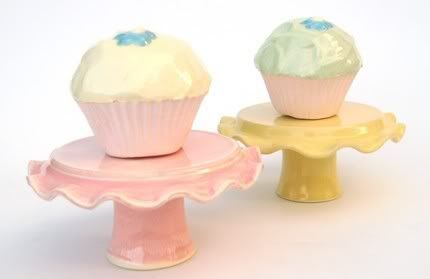 If you have someone who's more into baking, say a vegan cupcake freak? How about getting them this fricking adorable cupcake stand! Admit it, it's goddamn adorable. This little beauty is from vesselsandwares for $20.
Now, if you are like me and all your friends are suddenly like, "OMG! Let's add more people to the world!" then these super-cute diaper cover bloomers are just what you need. People with babies don't really want gifts for themselves anymore (unless it's like free babysitting) so you can totally just buy something for their kid and call it a day. And I know, it's kind of like you're buying baby underwear, which is a little creepy, but it's totally different because for babies, these are basically pants. Babies have no shame. From Earthgroovz for $11.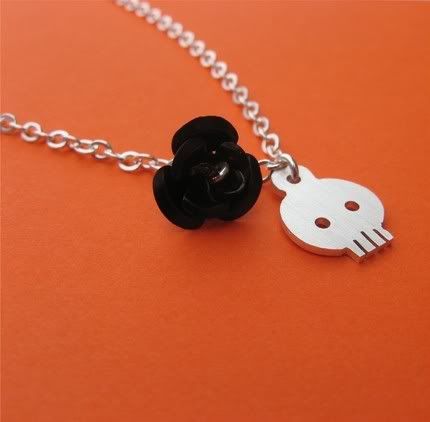 Next we have a superdope necklace, the Dia de los Muertos skull-and-rose necklace from Sparklynn for $25. I kind of love this necklace and the charms are very tiny—tiny charms, so hot right now.

For the traveler in your life (no, I didn't say flaky), how about this cute vegan weekender? All right! Ready to ship from PansyMaiden for $85.

One way we show affection is by keeping people warm (don't question me!) and this neckwarmer will do just that! I mean it says warm in the title. Done and done. The "catch my drift" organic cotton neckwarmer from luxe for $45.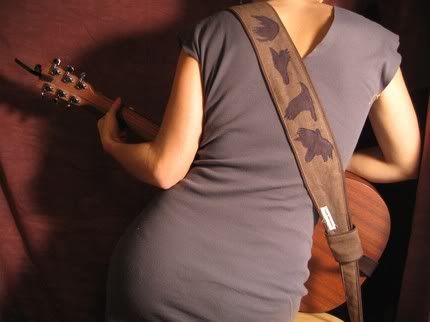 Got a musician in your life? Get them this cool hemp guitar strap! It's got a shweet "flying crow" design. From islandprovisions1 for $48.

And that's what I have for you today! Big shoutout to veganetsy! And happy holidays to all.
[All pictures from respective Etsy stores]
∞ posted at 09:47 by youtalkfunny
11/25/2009
Adults of this species are somewhat terrifying but the kidlets are hella cute. Put them in one of these for the holidays and freak your whole family the fuck out. OMG YOU CAN'T MAKE HIM VEGAN HE'S GONNA STARVE TO DEATH*. Your reply? OR BE A GENIUS.
*or be totally healthy and live longer, better lives than his/her contemporaries. you can tell them that too.
∞ posted at 14:25 by laurahooperb