12/11/2009
Vegan Hightops: You Know You Love Them! »
In honor of my superfantastic new purple hightops from Keep (a Vegansaurus favorite), a vegan hightop round up! Yay! If you are looking for sneakers to "exercise" with, this is not for you. These are fashion sneaks all the way! And I guess I should warn you, for some reason, I seem to prefer my hightops in wackyass colors. I don't know, they're hightops! They're already wacky! Might as well go all the way. To ease you into the hotness, I'm going to start off slow and work my way up to the, shall we say, louder sneaks.

These are my beautiful new hightops, the Elias from Keep. If you are questioning their dopeness, some teenagers walked by me on the street and proclaimed, "damn, her kicks is killin' it." OMG they are teenager approved! That's all the proof I need. Also note, they got these for boys and girls alike. These are $85.
Next up, on the conservative-yet-awesome side of this list, Mahtva from adidas by Stella McCartney. Looking good, ma, looking good. They are $150.

Here we have the "honest to blog" hightops from Modcloth. Ignore the title and the shoes are pretty cool. These are $42.99.
These bad boys are the hooligan sneaker from Alloy for $49.90. They've got a nice mixture of sleek and goofy, am I right? I'm always right!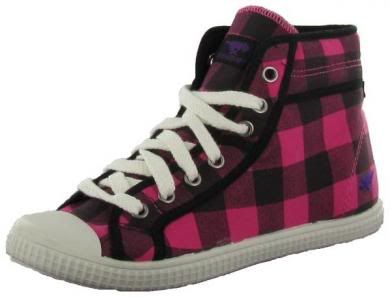 Ok let's throw in some color! That means colour for you British folk. These checkered Rocket Dog hightops from streetmoda.com are a lean $19.99.

Ok, ok, let's get crazy! Diesel has got these super-nutty sequin hightops for $140.90 (again with the 90 cents?) at whatapair.com.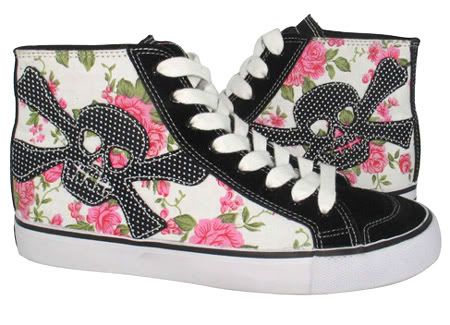 I will not back down! Here are some rose-and-skull hightops for $47.50 from babygirlboutique.com. They are all into the pinup fashions and I guess these are their answer to casual pinup wear. I say, kudos! Imagine these with some dark blue jeans. Superfantastic.
To end things on a crazy note, HOT TOPIC HAS VEGAN SHOES! Yes, the Hot Topic you know and love from your teenage days at the mall. These are kind of fugly…but I think they go far enough to where they're kind of great! Come on, don't be scared! You can do it!

If you want a little tip on wearing crazy sneakers—and Philly girls know about crazy sneakers—my thing is to wear them with skinny jeans and a simple top. Like a white t-shirt or just a simple navy sweater (navy is my bff).
Now, go out, get vegan hightops and be awesome!
∞ posted at 11:00 by youtalkfunny
12/03/2009
The Elusive Vegan Peacoat »
For some people, the whole wool thing can be the most difficult concept of veganism* to grasp. Some people find it ridiculous. I find those people ridiculous! A brief internet investigation quickly reveals the super horrible abomination that is the wool industry. I can't even talk about it anymore because it's making me too sad!
The main point I'm making is DON'T BUY WOOL. In the summer, this isn't so difficult. But when it gets to be wintertime, and all the omnivores trot out their winterwear with no regard for who or what it's made of, clothing choices get more difficult. One such difficulty: the peacoat! Oh, the timeless peacoat, that woolen bastard! It is not easy to find good vegan alternatives. Not easy…for normal humans, that is! For Megan Rascal, it's another story! That's right, brothers and sisters, I'm here with a message of peace and non-wool peacoats for this winter season. Let's get into it!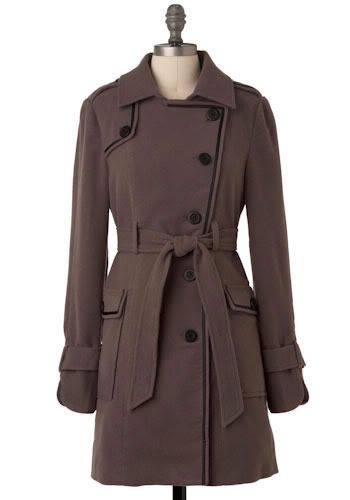 I'm just going to jump in with my top pick, this BB Dakota number from Alternative Outfitters. Look at this mofo. It's THE HOTNESS! It's $72 and hasn't got a lick of wool. Booyah!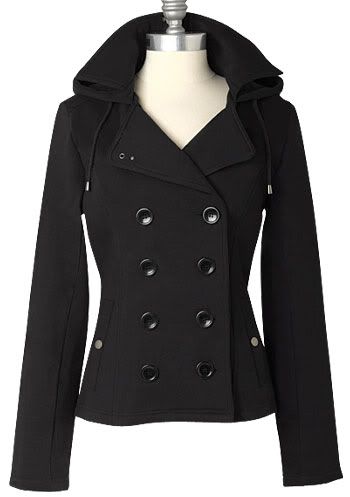 Next, we have a lovely fleece peacoat from Alloy. Remember Alloy? No? Well keep an eye out because they have lots of stuff that just happens to be vegan at very decent prices. This coat is on sale for $49.90. Not bad at all.
Now let's get into some plaid! Wee! Target offers us this shweet plaid number for a mere $69.99. I'm into it.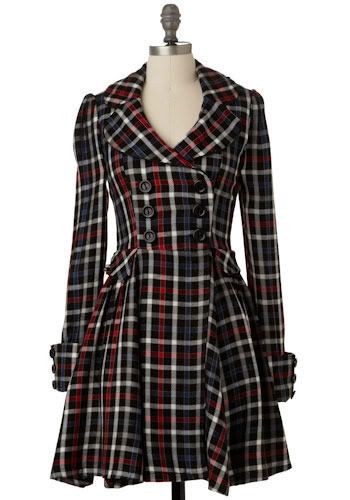 More plaid, this time from Modcloth for $74.99. This one is pretty dope, admit it.
Now this next one I'm specifically including because Zappos saw fit to put this as the beginning of the description: "Show off your smokin' hot bod in the O'Neill™ Blazin Jacket." Smokin' hot bod. All for $68.84. I think I made the right decision.
For the last coat, I'm bringing it upscale again to Theory. Yes, Theory has a non-wool coat for us! It's $395! Yay! But for real, it's Theory. That's for ballers. I like this coat but the first one is still my favorite.

And that's my vegan peacoat roundup! I thank you and the sheep thank you! Yee-ha!

*Screw you spell check! Veganism is totally a word!


∞ posted at 08:02 by youtalkfunny