04/08/2010
Donuts by Vegan Treats (!!!!) »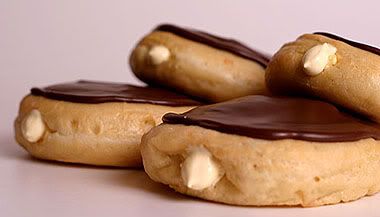 If you're into decadent vegan desserts (uh, why am I even qualifying this?). You're into decadent vegan desserts. If you live anywhere near Philadelphia, you probably have access to the most delicious vegan treats in town: Vegan Treats. My East Village obsession Atlas Café gets a few dozen assorted vegan donuts EVERY TUESDAY (coconut cream, Boston cream [pictured], rainbow sprinkle, chocolate, and cookies and cream). So, haul your going-to-get-so-fat-off-of-these ass to Atlas to get an cookies and cream filled donut! Yeah, I said it. Cookies and motherfucking cream. And by the way, Vegan Treats doesn't do any of that cakey, depressing shit. They fry their yeasted donuts in delicious, soul-stirring oil. Yummy oil.
So like I said, head over to Atlas to get your treats. They come in fresh every Tuesday, but by Thursday if they have any left over, they might give you a discount. They charge $3 (yikes!) but at least something (your wallet) will be getting slimmer from eating all those calories.
[photo credit: Vegan Treats]
∞ posted at 11:11 by tempehtation
11/03/2008
Review: Atlas Café! »
Atlas Café is a wonderful quiet little neighborhood coffee shop of the best sort. It's big enough that there is always an available table (except during real rush periods), yet still feels cozy and welcoming. The baristas are super-friendly and casual (except for ONE dude! What's his problem?) and will remember who yo
u are and stuff, if that's important to you.

Atlas does not quite have a full kitchen, but they do have a large menu with a bevy of vegan options. There are two vegan sandwiches available—the baked tofu (with nori!—probably the best choice), and the baked beet; and two sandwiches which can be made vegan without the cheese—the portobello mushroom and the roasted yam. At least one of their two daily soups is always vegan (go for split pea or lentil if they have it, avoid the mushroom: tastes like gravy!) They have a delicious no-cheese pizza made with tofu, yams, beets, and mushrooms (it sounds sort of weird, but the flavors just work together somehow). For breakfast you can get a bagel with hummus, and opt for tomato, onion and sprouts if you wish. (Would that they had Tofutti, alas.) There is also a wonderfully spicy ginger lemonade which is amazing on a hot day (all five of them).

Atlas consistently gets high marks in "best of" lists for being dog-friendly. You can sit with your dog in the enclosed patio area, as well as in the table area on the street out front. The downside is that smoking is also allowed in these areas.


Beware showing up on Thursday evenings, however, as they usually have a LOUD bluegrass band playing. If you're not there to get down Kentucky-style, then it's impossible to do anything else, like have a conversation or read a book. There's approximately seven to 15 dudes with beards strumming various instruments or washboards as the case may be, and it's just not what I come to a coffee shop for. I actually happen to like bluegrass, and I can't stand being there when the band is playing. I turn right around and go back out. San Francisco is also home to an annual bluegrass festival; Atlas seems to host about half of it. So again, avoid.
[top photo via yelp]
∞ posted at 14:34 by mumblingmynah