06/10/2010
The rad & amazing East Bay Vegan Bakesale is looking for bakers (email them!) and eaters (just show up!) for their next bakesale on Saturday, June 26th. These things are so g-d fun and delicious, if you're not showing up, you're definitely missing out. And look at that list of superstar vegan bakeries they already have lined up HELLO. We'll be there in our stretchy pants to get our binge on!
∞ posted at 10:37 by laurahooperb
06/09/2010
Get vegan comics, help East Bay Humane Society! »
We posted already about the exciting new vegan comics zine Soyfucker, and we're pleased to say that it's now available and all proceeds are going to the Berkeley East Bay Humane Society to help with their rebuilding following their tragic fire last month.
The zines are only $2 a pop, and they're available online at the Soyfucker website. Just look how cute you'll look reading them!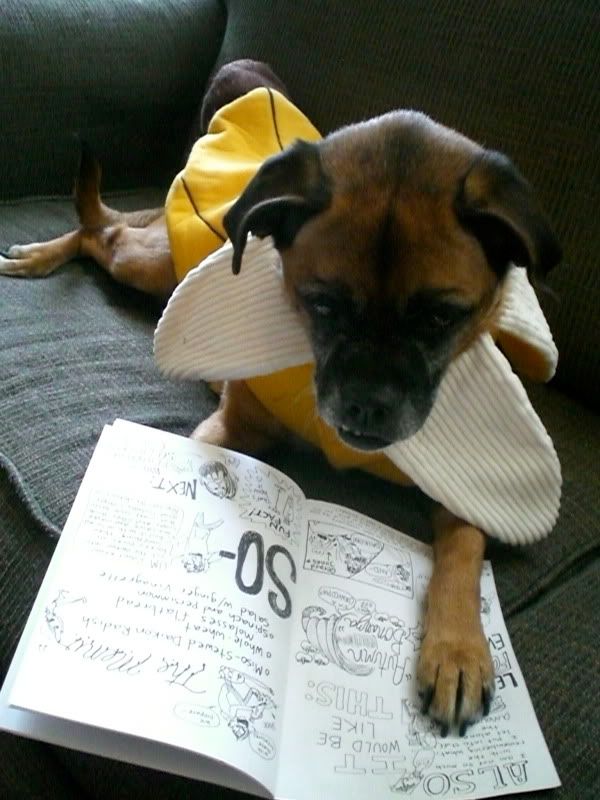 Also, the crack editorial team (Erika) is looking for submissions for Soyfucker Issue 2. Submissions are due July 31, so get to drawing, vegans!
∞ posted at 14:19 by jordanpattern
05/20/2010
VEGANS TO THE RESCUE: There was a fire last night at the Berkeley East Bay Humane Society that killed several cats & is displacing all of their animals. This is incredibly sad but there is something we can do to help! Can you step in and foster a dog or a catl? If so, email them RIGHT NOW. 
∞ posted at 08:28 by laurahooperb