06/30/2011
A zero-packaging grocery store is coming to Austin this year. I can't decide if that's brilliant, or just good marketing for "we sell bulk foods." I would be psyched to shop there though, because I feel like a crazy person whenever I'm trying not to spill chickpeas on the ground as I funnel them into my empty pickle jar at Berkeley Bowl. It'd be way better if we all looked like idiots with chickpeas raining down the sides of our pickle jars.
In.gredients promises to only stock produce that's in season and is trying to go zero-waste. Yet they're planning to carry meat and dairy, which undermines the whole "let's save the world" concept. I emailed their press people to ask about that decision but they never got back to me, so we can now hate on them with impunity.
In related news, it's a good thing Austin isn't in Chicago, because that fine city doesn't allow any bring-your-own-container love. "We are worried about people bringing in containers that are not cleaned very well and then contaminating any surface that they might touch with that," says a public health official to the Seattle Times.
Personally, I'm not worried about that. At all. More scary: E. coli and other bacteria in my sprouts. Insane people with giant knives wanting to cut my head off. Spam.
Despite their lack of commitment to go vegan, I wish the best to the In.gredients people. They're still looking for funding, so all the moneybags out there should maybe donate.
∞ posted at 12:11 by reportingrzurer
01/18/2010
Anna's Brooklyn Supermarket Adventures: Golden Farm, Kensington »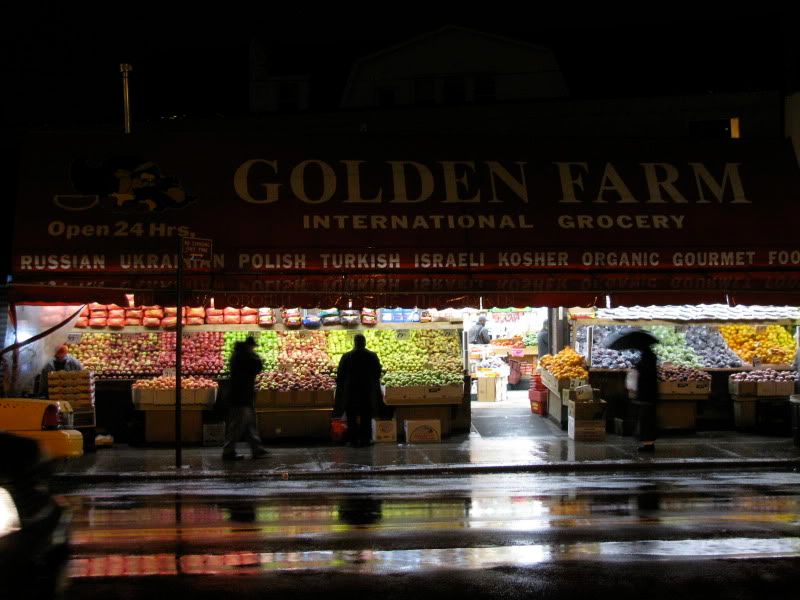 Golden Farm! This peach of a store is in Kensington, at 329 Church Ave. off the Church Avenue stop on the F train. It's always open! ALWAYS. It's a royal mishmash of ethnicities and cultures—an Eastern European supermarket in an Indian neighborhood, with Latina and Asian girls at the registers, each moistening her fingers on a halved cucumber à la Old Russia.

Produce Deals
You can find many good bargains on fresh produce, if you're willing to poke around a bit and not be intimidated by the $6 carton of out-of-season strawberries. Beside the things listed below, root vegetables and cabbage are also incredibly cheap. Jars of pickled tomatoes and sauerkraut are tucked underneath the potatoes—just the right height for little old Polish ladies.
Produce deals
Asparagus, $1 per bunch
Pears (bartlett, Bosc, etc.) $0.79/lb
Apples (granny smith, fuji) $1/lb
Lettuce (romaine, red, etc) $1.50/head
Cabbage (savoy) $0.59/lb
Mushrooms (portobello) $3 for a package of two
Avocados (Hass) $1 each
Peppers (sweet and yellow; tiny, but in good shape) $1.49/lb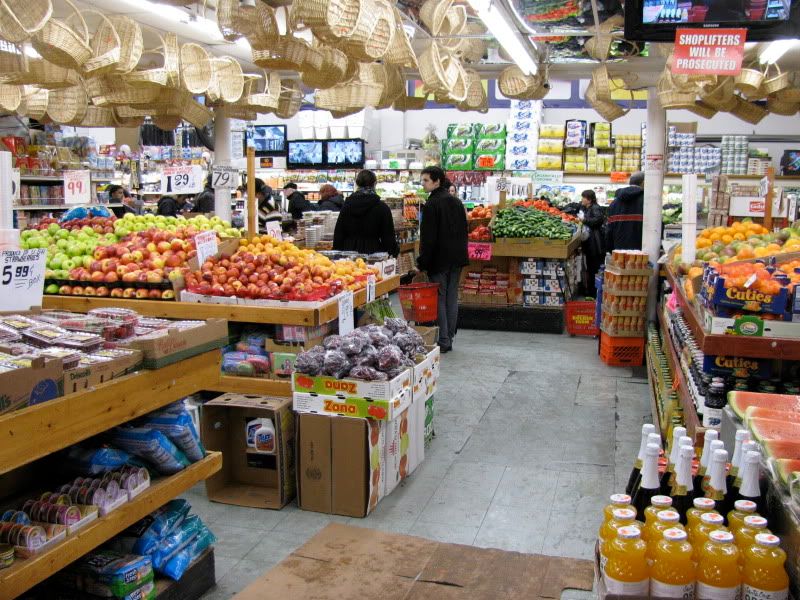 Bulk deals
There's also a reasonably priced bulk fruit/nut section, in old jars with wooden covers. The apricots are dirt cheap ($3.49/lb), gigantic, and unbelievably moist. Pistachios are $6/lb. Other bulk deals: a 2-pound package of buckwheat costs about $1, in the bean/rice section.

I must advise you, though, to get your butts out to this store if only for the "golden prune," an umeboshi lookalike that's out of this world. I've never seen this fruit anywhere else, and it tastes remarkably like an actual plum—tart, sweet, golden. It's dried fruit that actually tastes like it used to be fruit—like it once hung on a tree with wind and rain and everything. It's $6/lb as well, in the jar next to the apricots. Watch out for the pits.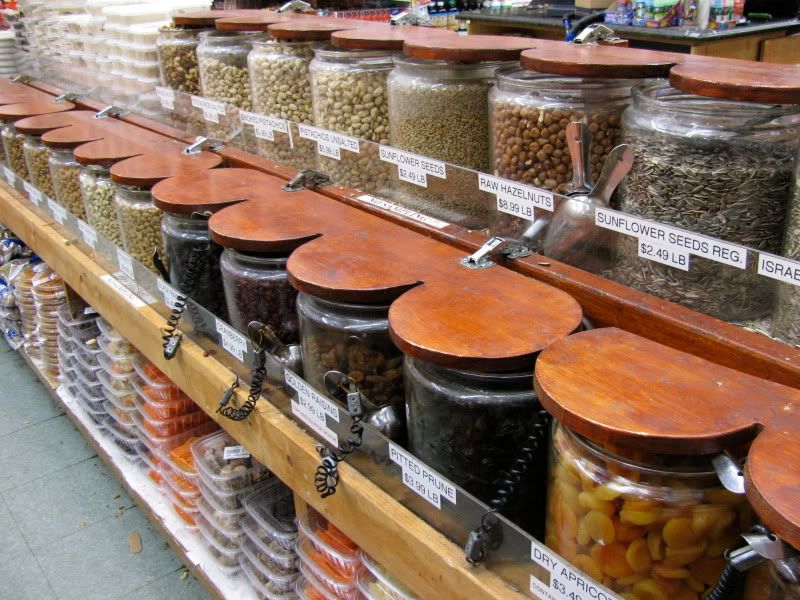 Weird Cool Things:
Oh, there are so many oddities; just go to the jelly section—it's intense. There are fruits that are a little rare, like quince and damson, but there's also totally wacko stuff like watermelon preserves and rose jelly. I almost skimmed right over the jars with sweetened chunks of eggplant and pumpkin. You can buy black poppy seeds in bulk at this store, rose hips, dried camomile, four different kinds of horseradish. Basically, just slow down and keep your eyes peeled.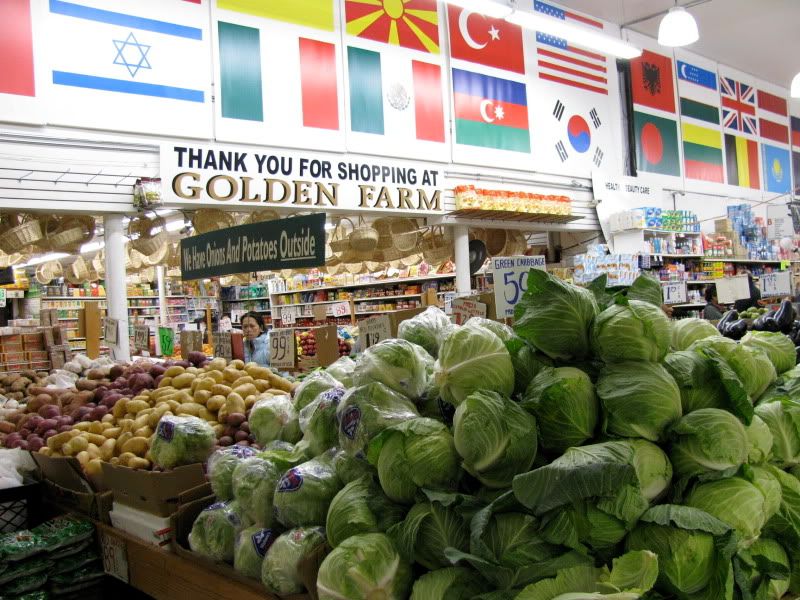 Summing Up:
In addition to being a treasure trove of cheap produce, bulk dried fruit and nuts, and various oddities, this store is just REASONABLY PRICED, all around. In spite of stocking organic produce and things like agave and Amy's, the store is pretty darn cheap, and somehow manages to feel old and homey. It's a good place to drift and daydream.
∞ posted at 08:04 by abitingchance-deactivated201303