10/29/2010
Guest interview: Justine Quart talks to vegan burlesque performer Anja Keister »
Please welcome guest-interviewer Justine Quart!
I love burlesque, especially if it involves a fabulous outspoken vegan performer, go-go dancer and pin-up model who reps compassionate fashion choices with style. In our chat, Anja Keister explains what's is like to source non-feather glam and how the OG diva RuPaul inspired her to perform on stage.


How long have you been vegan?
I've been living fully vegan for about four years now, but I have slowly transitioned to this point since I was 15 (I'm 26 now). This slow transition was quite an internal journey over the past 11 years. I originally stopped eating beef at 15 because mad cow disease had been all over the media around that time and I was so disgusted the farm industry. I grew up on a farm, my father is hunter, at that point I saw no problem with it. I began to lessen my meat intake over the next few years for health reasons because I was overweight and high cholesterol runs in my family. When I entered college I stopped drinking milk because I was studying jazz singing and the mucus production that dairy gives you was causing problems. I also began to cut out pork and poultry at this point; by 19 I was cutting out seafood and by 20 I was calling myself vegan, but I was sloppy about it and still occasionally bought into the ridiculous "humane meat" idea when pressured by friends. It was when I entered graduate school (2007) that I became more active in the vegan community and began to really investigate my ethical stance and really started to move towards a completely vegan lifestyle. Now I have never been happier about my eating.

What's your major reason for choosing a compassionate lifestyle?
With this long transition I've had many reasons: mad cow disease, factory farms, health/weight, animal compassion, physiological (the idea that human bodies aren't meant to digest animal products), and currently animal rights. I can say that being an advocate for animal rights is the only reason that has really kept me vegan. With all the other reasons I found myself cheating because I could twist my thinking to make it justifiable. Coming now from an animal rights viewpoint, I can never see pain, suffering, or death of other living being as justified.

What first inspired you to get involved with burlesque?
I had always loved over the top glamour and theatrics, in fact as child I saw RuPaul on tv and wanted to be her. [The Adventures of] Priscilla, Queen of the Desert, the Rocky Horror Picture Show, and Cabaret were some of my favorite films growing up. The problem is I had no idea how to be that—I thought it was just something that the movies made up. My friend in Jim Thorpe, Penn., invited a few of us to her house for the Jim Thorpe Burlesque Festival weekend. I thought it sounded fun because there were dance and hula hoop classes so I went along. That made me realize burlesque had so much of what I always wanted in life! The dramatics, the glamour, the humor; I loved it all. My full-time job had squashed my ability to do performance art like I had done in college, so burlesque gave me a new avenue [for] my energy and I plunged right in. Two months later I was already performing.


How would you describe burlesque to someone who has never seen a performance?
A simplified way to look at it is "Stripping – Nudity + Playfulness/Comedy = Burlesque," though that isn't always true. That is one of the things that makes the world of neo-burlesque—a term used to describe the current wave of burlesque since the 1990s—so great. Sometimes it's funny, sexy, dramatic, silly, artistic, it [makes] social commentary, or any combination of those.
I guess a general way to describe it is a person (gender non-specific) performs, typically under five minutes, to music and in the process they will teasingly take off their clothes till they are down to pasties and something covering their crotch. Another difference between Striptease and stripping is that strippers typically are performing for a patron, get their tip and then move onto the next patron. Burlesque is about performing for the audience as a whole, using the collective reaction as fuel for the performance. You wouldn't try to put money in a burlesque performer's g-string unless you want to get publicly mocked or possibly kicked out of the venue. One major thing I would like to point out is that in the neo-burlesque scene, much of the audience is women, and performers of all body types are accepted.

Are there other vegan burlesque performers that you know or perform with?
There are actually quite a lot of performers in New York that eat a vegan diet, but many of them wear animal products. While working on my blog, I found Bettina May, who is located in New York, as well as vegan performers in Scotland and Australia. I also got to work with Dale Rio, a vegan pin-up photographer located in Philadelphia who works within the roller derby and burlesque world.

What obstacles do you run into when maintaining a vegan lifestyle while being involved in a feather- and leather-loving performance scene?
I feel that feathers are an easy default. With the vintage look being popular, it is hard to find hair decorations that don't involve feathers; featherless headdresses are even harder to find. I had to do a lot of searching to find feather boa substitutes, but they are out there! I can say that being involved in the burlesque world has made me a more creative performer and a stronger vegan, plus I found out that satin can sometime include silk fibers! I never knew that until I started working with a costume designer.

Any suggestions for places to find saucy vegan-friendly apparel or wares?
Drag-addict.com has some amazing fabric boas which are great for burlesque. Coquette Faux Furriers, run by Bettina May, has some wonderful fake furs that can double as a boa or add spice to pin-up shoots or for a night out on the town. The vegan sex shop has some vegan-friendly sexy heels, but I typically buy my shoes from regular shoe stores after researching the companies online first. You can find some pretty schnazzy stuff on etsy, but it's important to really work with the seller to make sure all the ingredients are up to vegan standards. I've also found working directly with creators can go a long way. I recently approached a burlesque hat maker in NY about creating a vegan hat for me, and we are now in the midst of figuring out a whole vegan hat line!

What would you most like to say to new performers or anyone considering burlesque?
Do it, whether on a stage or in the privacy of your own home. Take classes, go to shows, or if there isn't a scene in your area, get together with some friends and figure out a way to bring some burlesque there.



What are your go-to vegan comfort foods?
Peanut chews, avocados with salt, brussel sprouts with nutritional yeast, and vegetable sushi.

Favorite vegan cookbook?
I use Veganomicon and Vegan Cupcakes Take Over the World a lot but I've also found some great recipes in Quick and Easy Vegan Comfort Food by Alicia C. Simpson. Oh my goodness, the coconut corn chowder in that book is amazing!

Most recommended veg-friendly restaurant in your town?
I would suggest saving up and taking a trip to Blossom Restaurant in midtown if possible. For a more casual dining experience, visit the V Spot in Brooklyn for some Latin-infused classics. If you need a quick bite, the Chipolte on 8th Avenue in Chelsea offers a fake meat option (ask for the "garden blend"), which is currently in a testing phase with the company. And finally, when you need to fulfill a sweet craving, Lula's Sweet Apothecary in the East Village is a sweet shop and all-vegan ice cream parlor that makes their own flavors daily!

Anja is always looking for new people to work with either behind the scenes or on the stage. She recently moved to NYC and is looking for other vegan performers to do all vegan shows for animal groups in in the city. She says, "Neo-burlesque is about creativity, performers having control over their art, acceptance of all and the celebration that accompanies all of this." Check out her website and blog for more info about shows and to contact her directly.

Justine Quart has a penchant for urban exploration and meditation, yoga and boxing, vegan food experimentation and a properly aged whiskey. When she's not dreaming up the next big adventure, she can be found offering kick-ass vegan wellness services at local businesses, freelancing at the SF Appeal and the Bold Italic, or roaming the neighborhood with her partner in crime, el Jefe. Check her out at Dojo Wellness, Heavy Metta, and The Vegan Pin-up (coming soon!).
∞ posted at 08:11 by seriousmeaveness
10/11/2010
Sugar Plum Bakery and Never Felt Better Vegan Store in Sacramento! »
This should totally be a Road Trip Friday post but put fuck it, let's all cut out of work and head to Sacramento righthisminute to enjoy the most amazing vegan treats at Sugar Plum Bakery (with their VEGAN WEEKEND BRUNCH and yo, a coupon for a free vegan cupcake!), at 2315 K St. And now there's even more reason to visit our state's crapital: a new ALL-VEGAN shop above Sugar Plum Bakery, Never Felt Better (2315½ K St.). That's a link to Yelp because the website is under construction but you can fan them on Facebook and find out about specials and all sorts of other magical crap so DO IT.

ENOUGH OF THAT, what can I buy at this store, LAURA!??! Well, FRIEND, Never Felt Better has lots and lots of goodies. You can get handmade vegan bath and body junk, T-shirts, accessories like belts and wallets, cards and postcards promoting veganism, and most importantly, snacks and pantry staples and cookbooks and 'zines. It's the only vegan store in Northern California. GO NOW!


This place is straight adorable and you want to buy everything in it to support them and keep them alive and healthy for a long time. I mean, if we can't use our vegan dollars to support others LIVING THE VEGAN DREAM, what are we good for? That's a serious question for you to ponder on, I cannot provide an easy answer. If you want to rap on your existence and its worth, holler at your pro-bono (unless you can pay? can you pay? this might not be legal) therapist. UNTIL THEN: Visit Sacramento! Eat cinnamon rolls! And tempeh reubens! And then buy wallets! And mimic creme! Oh, and while you're in Sacramento, get your vegan on (yes I did!) at Chipotle with gardein (only place to get it in Northern California!), Noble Vegetarian, Andy Nguyen's Vegetarian, Au Lac Vegetarian, The Green Boheme, and the glorious East African Veggie Burger at Tower Cafe. Sacramento is bringing it! Let's all move there! JOKE I'D RATHER DIE xoxox, total snob asshole. But really, I could see living in Sacramento if a gun was pointed to my head. That's progress, people! Ask Laura from 2008 to choose between death and Sacramento and she'd choose death, hands-down. But Laura from today? She'd choose Sacramento. Followed closely by death. PROGRESS!
[photo via Yelp]
∞ posted at 09:35 by laurahooperb
09/22/2010
Chipotle, I am skeptical of your "revolución!" »
So, Chipotle is calling for an end to the mistreatment of pigs, and now I feel conflicted.
My attention was alerted to this call to arms by the very excellent Suicide Food Blog, which has written up the Mexican food chain in its Monday, Sept. 20 post. Chipotle has a new ad campaign, and it's all about feeling good about what we eat. The ad in question is actually printed on Chipotle's bags and features a hip, hand-drawn-looking manifesto, complete with cute little drawings and flourishes. The text reads:
"¡Viva La Revolución! Okay Pigs, It's time for us to get together and start fixing this system. We see the way that our pig friends get treated at their factory farms, and it's time we fight so all pigs can have the same rights we have! No more tight, confining pens! No more antibiotics or non-vegetarian feed!!!!!!!! We can do it! Yours Truly, el Pig"
Now, I'm all for a total pig revolution, and failing that, I'm all for reforms that lead to better lives for pigs, but I'm not sure I buy it coming from Chipotle. As this post on vegan.com points out, major companies that consume a lot of animal product calling for better treatment for pigs is a good thing with the potential to positively impact a lot of piggies' lives. And that's all well and good, but a slick, focus-grouped advertisement on a fast-food takeout bag does not an actual, accountable commitment to animal welfare make. Is Chipotle going to use meat only from pigs who were not raised in confining pens and were given vegetarian feed? Who knows!
I find this ad to be more of a call to complacency than anything else, which disturbs me. A major restaurant chain is co-opting revolutionary language and imagery to sell "ethical pork" to what it must know is an uneducated population—how many of Chipotle's customers know about harmful pig-farming practices, animal welfare issues, or animal agriculture at all.
The Chipotle website dedicates a full section to "Food with Integrity," which functions basically as their dictionary. According to Chipotle, "Naturally raised" means "raised in a humane way, fed a vegetarian diet, never given hormones, and allowed to display their natural tendencies." There's a lot that that warm-n-fuzzy definition doesn't cover: the contents of the vegetarian diet; how often the pigs are bred; how long they're allowed to live before being sent to slaughter; and what kind of stockyards and feedlots they are sent to come slaughter-time. By creating their own animal agriculture lexicon, Chipotle gives customers license to feel good about eating their Chipotle pork products without any verifiable reasons to. The company's ultimate goal is perfectly clear: "We believe pigs that are cared for in this way enjoy happier, healthier lives and produce the best pork we've ever tasted." And there you have it. While Chipotle may want pigs to lead better lives, their bottom line is how good the pigs taste, and that isn't something I can get behind.
I'm not writing off this campaign completely. As I mentioned, if this move toward more humanely raised pigs is sincere, then it is a good thing; and more than most fast food chains are willing to do. Further, as the vegan.com article points out, sometimes this kind of incremental, populist movement can be the thing that starts people down the road to veganism, and that's great. Still, though, as a vegan, I'm uncomfortable with trumpeting a corporate happy-meat ad campaign as a real step forward, not to mention that I'd feel like a hella sellout carrying my vegan burrito in one of these cheeseball bags.
∞ posted at 10:37 by jordanpattern
11/20/2009
Interview: Paul Shapiro of The Humane Society of the United States! »
Paul Shapiro is kinda like…the greatest guy on earth. He's the senior director of HSUS Factory Farming Campaign. He also founded Compassion Over Killing when he was basically 5. Okay, more like 7, but still. He works tirelessly for the animals while remaining the nicest, coolest guy ever. Honestly, if I did what Paul Shapiro does every day, I'd probably just go around setting things on fire and eating babies. I KID, EVERYONE RELAX! But I'd be one grumpy lady. He's just the raddest best and you should read all about him and then follow him on twitter if you want the latest breaking animal news.
Plus, he's adorable, right?
How long have you been vegan?
Since 1993. Old school. My recollection is that it may have been before the world was in color.
Are you vegan for health, environmental, animal rights reasons, human rights reasons, or a combination?
I wish I could say it was because in Carl Sagan's novel Contact, our species' first communication with non-Earthlings was with a civilization near Vega, but it's really because it reduces animal cruelty and environmental degradation. [Ed., AHH! Jonas wrote about that too! Dorks unite!]
What is your favorite animal?
My late dog, George. Late as in passed away four years ago; he was generally very punctual. You can watch a seven-minute slide show of his life if you'd like. (Give it a few seconds to start and turn your speakers on.)
Do you have any super cute photos of animals to share with us? I just ask because this is something we're super into. Elephants, piglets, and pit bulls are a plus.
George was a pit bull-shar pei mix, so I hope that slide show counts. Or you can see my two cats at facebook.com/paulshapiro.
Favorite vegan food to make?
Really anything that can be put inside a tortilla/wrap. It's a very fast and clean way to eat.
Favorite vegan cook book or website for recipes?
I'm partial to humanesociety.org/recipes
Favorite vegan dish at a restaurant/fave vegan restaurant?
Currently, the vegan "chicken" burrito that's being tested at a DC Chipotle is rocking my world. Since you're in SF, I tip my hat to Herbivore's shawarma, too. (Note that both of these are in a wrap.)
You travel a lot for work. Based on food options alone, which is your favorite city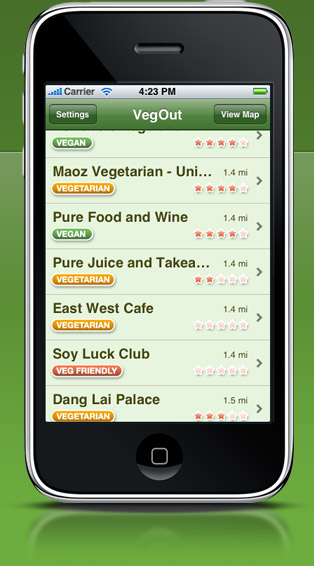 to travel to?
NYC is pretty hard to beat. That said, I was at Araya's in Seattle recently and loved it. All-vegan, all-you-can-eat buffet for $8. Respect.
Any eating tips for traveling vegans?
Get the Veg Out app for your iPhone. [Ed.: we've got it! it is awesome!]
You started an all-vegan band in high school? Please elaborate.
I didn't start the band, but I was the singer of the DC hardcore band Crime Against Humanity. We put out a demo tape and played about half a dozen shows in 1994 before breaking up. We were this close to making it big. And by "this close," I mean not close at all.
We recently met Jonathan Safran Foer (we call him "JSF" around here) who mentioned that he went to high school with you? Were you guys friends? What was he like then? Was he in the band!?
Jonathan is an awesome guy and his success with Eating Animals makes me so happy. I regret to say he was never in Crime Against Humanity. We did go to high school together and knew each other back then, but we didn't become friends until long after that.
If you weren't working for HSUS, what would you be doing?
Begging Vegansaurus for a blogging job. [Ed., Great, now we have to get you fired! WHY DID YOU TELL US THAT!?]
Who are the movers and shakers in the animal protection world who people might not know about, who to keep an eye on to do great things?
It always surprises me how few people in the movement are familiar with the late Henry Spira's work. If you haven't read his biography, you should. In terms of living activists, I'm always amazed at how groups like Mercy for Animals, Vegan Outreach, and Compassion Over Killing get so much done with so few resources. Of course, I love VegNews too, and think they provide a great resource for the movement. Finally, if you don't follow Jason Matheny's work on in vitro meat, check it out; it's something I think has a lot of promise for animals.
How do you think new technologies, like Facebook and Twitter, are changing the game?
They allow me to share photos of my cats and find out who's dating who. They also enable folks to reach a lot of people fast, which is helpful for people who want to help animals. BTW, you can follow me at twitter.com/pshapiro (Ed., FOLLOW HIM. Best breaking AR news and also, he's funny. Bonus points.)
What advice would you give people with a budding interest in animal protection?
The reality of how deplorable the scope and nature of our abuse of animals is can be depressing. Don't let that sorrow consume you. I'm not the first to say that if you're upset by a societal problem, don't agonize—organize!
Animals can't organize and advocate for their interests, so they're dependent on us to speak up for them. It's an immense privilege to be able to work full-time on their behalf, and it's inspiring to see the progress that's now being made, especially for farm animals. That said, you don't need to be an employee of the movement to make a difference. Go at your own pace – pass out leaflets, write letters to the editor, support your favorite animal charities, get your local restaurants to add vegan options to their menus, call your legislators, be a positive example for your friends and family, and so on.
Are you a good cook?
Compared to Tal Ronnen? No. Compared to Josh Balk? Yes.
Are you willing to have Vegansaurus over and cook us a vegan feast? If so, what day?
Any time we're both in DC, consider the red carpet rolled out. [Ed., BOOKING TICKETS!]
∞ posted at 10:11 by laurahooperb
10/22/2009
Chipotle is test-marketing a vegan burrito in its D.C. location and we need to let them that we want it in all 837 of their restaurants! I know walking into a Chipotle in San Francisco is basically like going on a 12-state killing spree (but less understandable I MEAN WHY WOULD YOU DO THAT!?) but you know, sometimes we travel. And think of the poor vegans in Boise JUST THINK OF THEM FOR ONCE YOU ARE SO SELFISH.
Email the company and post on their Facebook wall and let them know, we want all up in that piece. The good people over at Fuck Yeah, Animal Rights tried the burrito in question yesterday and report that it's delicious and the same price as a regular beans-and-rice burrito. We'll take it!!
∞ posted at 11:59 by laurahooperb