03/29/2011
Yeasted meringue coffee cake—I don't know what that means but it LOOKS GOOD! Finding Vegan had a nice breakfast food roundup today and when I saw this coffee cake from My Recession Kitchen, I 'bout died. Actually, I am dead. In lieu of flowers, please send coffee cake. And strapping young available men.
∞ posted at 16:16 by youtalkfunny
02/22/2010
Recipe: East Coast coffee cake »
I decided to chip in a bit for the most recent SF Vegan Bakesale, and I am a big coffee cake fan so I thought, "Hey! I'll make a coffee cake! That's the ticket!" I recently picked up Vegan Brunch by Isa Chandra Moskowitz, and there's a nice little recipe in there she titles "East Coast Coffee Cake." What makes it East Coast, you ask? OMG I asked the same thing! Apparently East Coast coffee cake is "a rich, moist, yellow cake topped with a thick messy crumb topping." OK. I can see that.

My official ruling on this recipe: GODDAMN! It's good. As I previously stated in the bakesale recap, I had more than one piece before I delivered the cake to the sale. Jeez louise, delish! Way better than that quickity-quick biscuit coffee cake recipe I gave you before. Another nice thing about this one, Moskowitz gives you like 82 variations on the recipe including stuff like chocolate, berries, and figs—oh my! I just did the straight-up O.G. for safety's sake.

Ingredients
For the topping:
1 cup flour
1/3 cup brown sugar
1 tsp. cinnamon
1/4 tsp. nutmeg
1/4 cup canola oil, plus up to 2 Tbs. more if needed

For the cake:
3/4 cup non-dairy milk (I used almond milk because that's my new steeze)
1 tsp. apple cider vinegar
1/3 cup sugar
1/2 cup canola oil
1 tsp. vanilla
1 1/4 flour
2 tsp. baking powder
1/2 tsp. salt

For serving:
2 tablespoons powdered sugar (optional)


Instructions
Preheat over to 375F. Grease an 8-inch square pan (Isa says she likes to use a springform pan—interesting). Mix the milk and vinegar together and set aside to curdle.

Make the topping:
Mix together flour, sugar, cinnamon and nutmeg. Drizzle in canola oil by the tablespoonful. Use your fingers to mix until crumbs form. Alternate mixing and adding canola oil until oil is used and large crumbs have formed. Some of the mixture can still be sandy, but make sure you've got mostly large crumbs.

Make the cake:
In a large bowl, mix milk mixture, sugar, canola oil and vanilla. Sift (of course I didn't sift because I'm lazy and sifters are for squares) in flour, baking powder and salt, and mix until smooth.

Pour batter into pan. Evenly sprinkle the topping over the batter and pat down just a bit.

The recipe says bake for 35 to 40 minutes, but honestly (can I be honest?) mine was ready at 30 minutes or even a bit earlier. The cake is done when you can insert a knife into the center and it comes out clean. Let cool for an hour before slicing and serving. Then you can sift the powdered sugar over top after it's cooled—if you feel like it.

And there you have it! If anyone has made any of the variations, please tell us about it in the comments! OR MAIL CAKE TO MY HOUSE.
[photo by Megan Rascal! Recipe reprinted with permission from Isa!]
∞ posted at 09:00 by youtalkfunny
12/16/2009
Recipe: Yummy Biscuit Coffee Cake »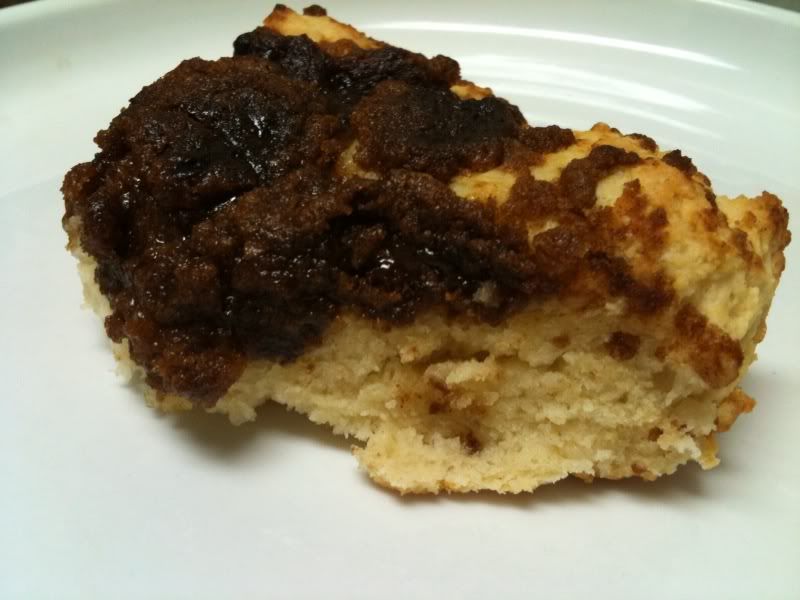 Hello hello! Here we have a delicious coffee cake that borrows a simple biscuit recipe for the batter. Yum!
I love coffee cake and this has that soda-biscuit flavor that reminds me of the old country. It's also super-quick and easy to make! Pro tip: it actually goes just as good with tea as it does with coffee. So versatile!

Ingredients
Cake
2 cups flour
1 Tbsp baking powder
1/2 tsp salt
4 Tbsp Earth Balance (or other butter substitute)
3/4 cup soy milk

Topping
1 cup loosely packed brown sugar
2 Tbsp flour
3 Tbsp Earth Balance (or other butter substitute)
2 tsp cinnamon
1/2 tsp ginger

Directions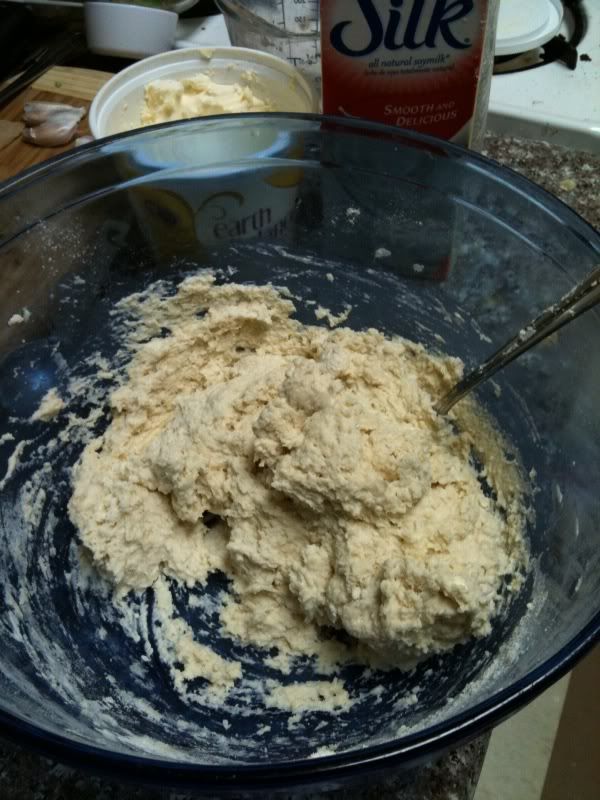 Pre-heat the oven to 450 F.
Grease small baking pan.
Combine the dry ingredients in a bowl. Using a fork, blend the Earth Balance into the dry ingredients. Mix in soy milk.

In a small bowl, mix together brown, flour, cinnamon, ginger and Earth Balance. I use my hands because it's easier to break down the Earth Balance that way. But wash your hands first, dirtball!


Now, plop spoonfuls of the biscuit batter into the pan. Spread it around a bit so it covers the bottom of the pan. Now, take clumps of your topping mixture and sprinkle it over the top of the biscuit mixture until it's all gone. Don't bother putting too much toward the edges because it'll just get kind of burnt over there.

Cook in oven for 12 to 15 minutes. Voila!
[Images by Megan Rascal]
∞ posted at 10:01 by youtalkfunny