12/18/2009
Rest stops for beavers, delicious trichinosis, hating on bacon, Tamale Fest and more in this week's link-o-rama! »
Vegan Tamale Fest at Papalote on Saturday!!!! Yes! That's tomorrow, Dec. 19, beginning at 11 a.m. at the 3409 24th St. at Valencia Street location. Bay Area vegans, you are obligated to show up and eat as many tamales as you possibly can. Then, buy more to take home and freeze. Where there's demand, there'll be supply!
Wir liebe euch, beavers! Berlin cares about its minuscule beaver population—made up of younger beavers who'd left the rural colony to seek their fortunes in the capital—so much that the city built them a rest stop in the Spree river. Consider my heart warmed.
Let's be friends on Facebook, anti-bacon vegans.
Sweden's burning of 3,000 wild rabbits as an alternate to heating oil is the number-one "Oddball News Story" of 2009? You crazy (asshole) for this one, Time.
If asked to design a USB stick that was "neutral in appearance and lack[ed] emotional appeal," would you cover it in real animal fur? No? That actually makes you sick to your stomach? Get out of my aesthetics.
I use that "the world is fucked" tag for almost every link-o-rama, because of things like this slide show of Ringling Bros. "trainers" using electrical shocks to "teach" baby elephants "fun circus tricks." Humans are the best!!!
Dang it you guys, San Francisco is running out of sourdough bakeries. I have no idea, but it's true. Looks like 2010 is the year of getting some starter and learning to make your own sourdough loaves.
Thanks to Kim Flournoy for the creamless creamed spinach recipe the Obamas reportedly love! Sweet winter spinach sounds delicious.
Omega-3 is good for the brain and the body, and readily available for human consumption via a little fish called the menhaden. So let's eat them all up RIGHT NOW and never mind the consequences!
People used to get trichinosis all the time from eating pigs; now they get it from eating bears. BEARS. Also walruses, deer, cougar, and wild boar (Pollan!). The solution, according to a scientists at the CDC: keep eating bear! Just use a meat thermometer, OK?
Animal studies have shown that diets lower in protein lead to longer lives. Is this a net win for us who don't eat meat, or a net loss because all the fucking studies were performed on fucking animals who didn't sign up to live in a lab on reduced rations? Yes, I'm even against experiments on fruit flies. It's called compassion, asshole.
The Drakes Bay Oyster Farm was caught farming clams in a harbor seal refuge. Good move, guys; is there anything stupider than angering Marin environmentalists?
Vegansaurus contributor Zoë Stagg discusses cruelty-free (Christian) holidays with Eve of the SF Appeal at VidSF!
Finally, how about a recipe for vegan caramels laced with cardamom from Manifest: Vegan? Sounds amazing.
∞ posted at 18:13 by time-for-naps
11/20/2009
Interview: Paul Shapiro of The Humane Society of the United States! »
Paul Shapiro is kinda like…the greatest guy on earth. He's the senior director of HSUS Factory Farming Campaign. He also founded Compassion Over Killing when he was basically 5. Okay, more like 7, but still. He works tirelessly for the animals while remaining the nicest, coolest guy ever. Honestly, if I did what Paul Shapiro does every day, I'd probably just go around setting things on fire and eating babies. I KID, EVERYONE RELAX! But I'd be one grumpy lady. He's just the raddest best and you should read all about him and then follow him on twitter if you want the latest breaking animal news.
Plus, he's adorable, right?
How long have you been vegan?
Since 1993. Old school. My recollection is that it may have been before the world was in color.
Are you vegan for health, environmental, animal rights reasons, human rights reasons, or a combination?
I wish I could say it was because in Carl Sagan's novel Contact, our species' first communication with non-Earthlings was with a civilization near Vega, but it's really because it reduces animal cruelty and environmental degradation. [Ed., AHH! Jonas wrote about that too! Dorks unite!]
What is your favorite animal?
My late dog, George. Late as in passed away four years ago; he was generally very punctual. You can watch a seven-minute slide show of his life if you'd like. (Give it a few seconds to start and turn your speakers on.)
Do you have any super cute photos of animals to share with us? I just ask because this is something we're super into. Elephants, piglets, and pit bulls are a plus.
George was a pit bull-shar pei mix, so I hope that slide show counts. Or you can see my two cats at facebook.com/paulshapiro.
Favorite vegan food to make?
Really anything that can be put inside a tortilla/wrap. It's a very fast and clean way to eat.
Favorite vegan cook book or website for recipes?
I'm partial to humanesociety.org/recipes
Favorite vegan dish at a restaurant/fave vegan restaurant?
Currently, the vegan "chicken" burrito that's being tested at a DC Chipotle is rocking my world. Since you're in SF, I tip my hat to Herbivore's shawarma, too. (Note that both of these are in a wrap.)
You travel a lot for work. Based on food options alone, which is your favorite city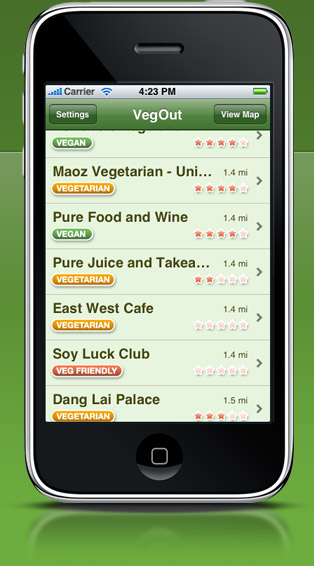 to travel to?
NYC is pretty hard to beat. That said, I was at Araya's in Seattle recently and loved it. All-vegan, all-you-can-eat buffet for $8. Respect.
Any eating tips for traveling vegans?
Get the Veg Out app for your iPhone. [Ed.: we've got it! it is awesome!]
You started an all-vegan band in high school? Please elaborate.
I didn't start the band, but I was the singer of the DC hardcore band Crime Against Humanity. We put out a demo tape and played about half a dozen shows in 1994 before breaking up. We were this close to making it big. And by "this close," I mean not close at all.
We recently met Jonathan Safran Foer (we call him "JSF" around here) who mentioned that he went to high school with you? Were you guys friends? What was he like then? Was he in the band!?
Jonathan is an awesome guy and his success with Eating Animals makes me so happy. I regret to say he was never in Crime Against Humanity. We did go to high school together and knew each other back then, but we didn't become friends until long after that.
If you weren't working for HSUS, what would you be doing?
Begging Vegansaurus for a blogging job. [Ed., Great, now we have to get you fired! WHY DID YOU TELL US THAT!?]
Who are the movers and shakers in the animal protection world who people might not know about, who to keep an eye on to do great things?
It always surprises me how few people in the movement are familiar with the late Henry Spira's work. If you haven't read his biography, you should. In terms of living activists, I'm always amazed at how groups like Mercy for Animals, Vegan Outreach, and Compassion Over Killing get so much done with so few resources. Of course, I love VegNews too, and think they provide a great resource for the movement. Finally, if you don't follow Jason Matheny's work on in vitro meat, check it out; it's something I think has a lot of promise for animals.
How do you think new technologies, like Facebook and Twitter, are changing the game?
They allow me to share photos of my cats and find out who's dating who. They also enable folks to reach a lot of people fast, which is helpful for people who want to help animals. BTW, you can follow me at twitter.com/pshapiro (Ed., FOLLOW HIM. Best breaking AR news and also, he's funny. Bonus points.)
What advice would you give people with a budding interest in animal protection?
The reality of how deplorable the scope and nature of our abuse of animals is can be depressing. Don't let that sorrow consume you. I'm not the first to say that if you're upset by a societal problem, don't agonize—organize!
Animals can't organize and advocate for their interests, so they're dependent on us to speak up for them. It's an immense privilege to be able to work full-time on their behalf, and it's inspiring to see the progress that's now being made, especially for farm animals. That said, you don't need to be an employee of the movement to make a difference. Go at your own pace – pass out leaflets, write letters to the editor, support your favorite animal charities, get your local restaurants to add vegan options to their menus, call your legislators, be a positive example for your friends and family, and so on.
Are you a good cook?
Compared to Tal Ronnen? No. Compared to Josh Balk? Yes.
Are you willing to have Vegansaurus over and cook us a vegan feast? If so, what day?
Any time we're both in DC, consider the red carpet rolled out. [Ed., BOOKING TICKETS!]
∞ posted at 10:11 by laurahooperb
10/14/2008
Vegansaurus wants to be your friend »
…with benefits.
Please become our fan on Facebook, follow our Flickr pool, and add us on Twitter (as an added bonus, all of our posts are automatically linked on our Twitter stream thanks to the magic of the internet!).
If you just want to admire our beauty and elegance from afar, you can subscribe by email or add us to your RSS reader.
If you want more contact with us, we're going to need to see some kind of promise ring.
∞ posted at 15:04 by mariadiaz-deactivated20130202