12/13/2010
Gifts that give back! For vegans and beyond! »
That's right errrybody, a Vegansaurus Gifts That Give Back list! Because there is nothing like secretly imposing your values on others! I think I've got something for everyone on here. I'm kind of known for being the best gift-giver in the world so you're pretty lucky I'm here. Now, it's not as easy to recommend stuff for strangers but I found some good presents. Let's do this!
First up, this is a present for your fashionable dog-lover. What? Why, yes, I guess that does describe me very well! And I can assure you I would love to get this:

This is the "found my animal" set and it's available at Uncommongoods.com and on the manufacturer's site. It celebrates all the adopted pups out there! Totally leather-free, each leash has a little brass tag with a number on it, counting your dog among the league of the proud rescue dogs. They have super-cute harnesses on their site too, all totally cotton. The best part, 25 percent of their profits go to the Louis Animal Foundation. Awesome!

Now for the "foodie" ("foodie" is like more stigmatized than "hipster" in my mind) or tea-lover, Douglas Fir tea! You can purchase the tea from my favorite vegan sneaker company, Keep! Made by the Juniper Ridge, 10 percent of sales go toward "protecting the western wilderness." Ha! You thought I was only going to do animal charities, didn't you! Well, guess what: lots of animals live in the wilderness so it's important to protect our environment, too! Plus, I know lots of people that care about the environment and don't care about animals so they will like the extra benefit from the gift and not know that you are secretly supporting the vegan agenda. Ha! Ha-ha!
Above we have a nice gift set from Aveda. Toiletry gift sets rule. I said it. Plus with this set, you get a little tagua nut accessory, sustainably made by women in Colombia: "Aveda's alliance with indigenous people and women artisans in Colombia helps support BETTER FUTURES FOR 400 FAMILIES, and helps PRESERVE 400 RAINFOREST ACRES." Dope!
For the bambino in your life, here's a super great gorilla from miYim:
A portion of the proceeds go to everyone's favorite ape-woman, the Jane Goodall Institute. I'm really into the description of the stuffed animal: "…this thoughtful and realistic looking Gorilla…" Does he look thoughtful? Or realistic? Doesn't realistic mean we'd see his frank and beans?

Here's another good gift for kids or a family:
The Mission: China board game, available at Amazon, is all about endangered animals! Plus, a portion of the proceeds go to Conservation International. I will admit that I totally enjoy playing board games with my family on holidays. Don't tell anyone!
Now this next thing, I'm totally into:
A wildlife habitat kit! Awesome! Perfect for the gardener or just I guess anyone with a house or backyard. It's available from the National Wildlife Federation. So cool! Shut up, it is cool.
For my next trick, candles that give back!:
With Jimmy's candles, five dollars from every candle goes toward charity. You get to pick the charity from a list that includes Paws SF and the ASPCA, so that rules. I know candles aren't the most exciting thing ever but you can kind of give them to anyone and they are actually useful, unlike 90 percent of presents. Oh! And all the candles are soy. Shweet.
OK, OK, this list is getting long! I will leave you with one final idea:
OK that's two but they are from the same place! This is the Treahouse crossbody and the Mend messenger from the Mend collection and they benefit Invisible Children. See, I don't only care about animals! I care about kids too. But that's where I draw the line! Kids and animals. They are innocent and we should take care of them. Plus, these bags are FLY! Come on, you know I'm right.
There you have it! A nice list if I do say so myself. Happy holidays!
∞ posted at 11:21 by youtalkfunny
12/21/2009
Dane with a mission »
One of my favorite dogs on twitter is @Mozartdane. Yes there are dogs on twitter and yes I have a favorite one. Why is Mozart my favorite? Because he's an amazing artist! Mozart is a puppy mill rescue dog who now lives at the Harlequin Haven Great Dane Rescue in Ohio and it's there where he discovered his love of painting. Mozart sells his paintings on his website and all proceeds go to the dog rescue.
Here's his artist mission statement:
I am the Harlequin Haven Great Dane

Rescue Spokesdog against puppy mills pet stores, and homeless dogs. I have dedicated my life to this cause and in doing so I create art by painting with my paws. Painting helps me to overcome my pain of my early days in a puppy mill and also helps with bringing awareness to these issues.
Mozart came from one of the MANY Amish country puppy mills that are all over Ohio and Pennsylvania. People think the Amish are all nice just because they don't use electricity—it's just not true! I mean I'm sure there are nice Amish people, but Amish country hosts some of the largest and most horrifying puppy mills in the United States. It's madness! Good thing Mozart is here to raise awareness.
This painting is one of my favorites: "Dane-berry Fields," $65.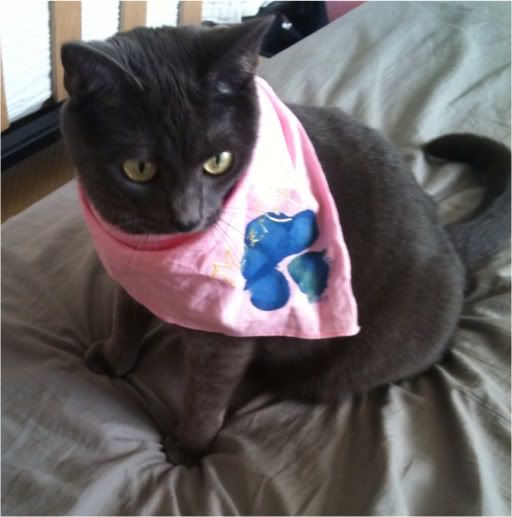 And if you aren't ready to buy a painting, Mozart also sells great stuff like this bandanna, modeled by my cat Mitsy. It's signed by Mozart himself! Awesome.
∞ posted at 11:00 by youtalkfunny