11/24/2009
Loving Hut! Part two, Megan Rascal's take! »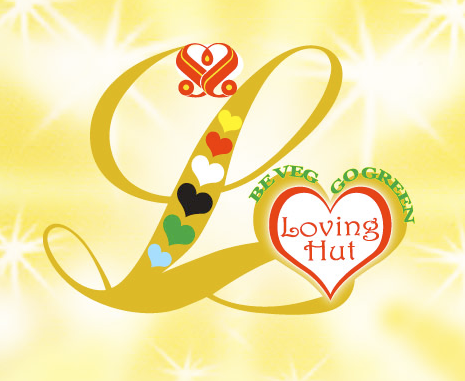 First of all, I'm not saying Loving Hut is run by a cult, but I think they might be run by a cult. And a fairly young blond woman seems to be at the helm [Ed.: she's actually a 10,000 year-old Vietnamese woman who made a pact with the devil so that she might be the best poet, painter, musician, jewelry designer, fashion designer, and self published writer IN THE ENTIRE LAND]. But despite pictures on the walls and pamphlets everywhere, no one really bothers you about their agenda or even explains it and that is just fine with me. And before you say anything, I'm totally into their logo! Well I'd cut out a bunch of the crap but I really like the Lavern and Shirley style L with the pretty hearts! Admit it, you like the hearts.

The service was kind of awful. And I hate complaining about service; like you could pour hot coffee down my back and I'd still tip 20% (totally happened one time with a stripper in Phoenix but it was a vodka tonic and I was in love), but this guy was pretty bad. He forgot our food and then was just never around though we were one of a few tables occupied. But then I heard him talking to a table of young scamps and he told them that, actually, he was volunteering—you know, in the name of veganism! I said, good, because nobody should be paying this dude. Except maybe to be all tall. Tall people, always taunting me.

The whole time we were there, they also had people outside tabling with pretty awesome felt vests on. I was just thinking that maybe the volunteer kid could be out there tabling and they could put more effort into service in the restaurant because people remember that shit. We can put up with it for the sake of vegan food but I doubt a non-vegan would deal with that again.

First we got the potato salad. It was pretty good. It was more like the deviled egg recipe I used to make (back when I was vegetarian and sold Tupperware) because it was very mustardy and had relish in it. It also had pasta shells in it, which was interesting, but as potatoes are vegan, maybe we can just have potatoes in potato salad. I guess I'm more of a traditionalist; the vegan-mayo based recipe floats my boat just fine.

The spring rolls were EXCELLENT. I love spring rolls and it's hard to find bad ones but these were extra extra crispy, just the way I like. They didn't come with that orange-colored sauce they usually come with which made me sad. But they were extra extra crispy… just the way I like!

I'm sad to say it but our entrees were not super. I got the pad thai and my pal got the crispy noodle. It was nice to see pad thai without egg in it so that was cool. It was spicy which I'm not used to with pad thai but maybe that's because I'm a whitey and other restaurants dull it down for me. My dining partner, the beautiful Asli, did NOT like her crispy noodles. She was very excited for the fake shrimp that came on top—some kind of yam paste made to look like real shrimp—but she didn't like them that much. And there was way too much sauce, it was spilling over the sides of her plate. Kind of gross. Another thing to note: the portions were super giant, like would easily feed 2.


One great thing is that they have lots of dessert options! Mostly cakes. The other day, a friend of mine brought me some chocolate from there in exchange for DRUGS (I told him he couldn't pay me because then I'd be a drug dealer but I did accept the cake though because I think that's a grey area). I'm still obsessed with the vegan cupcake movement but a nice slice of chocolate cake is always appreciated. They have carrot cake too, that's what I'm going to try next! That and some items from the "western" section of the menu—there's vegan pesto!

All in all, I definitely think it's worth a try. It's a nice place; the interior is simple and kind of mod—lots of white. Oh, you also get tea with your meal which is lovely.
∞ posted at 15:40 by youtalkfunny