03/22/2012
"Hank," the winner of the Humane Society's 5th annual Dog of Valor competition, is a hero indeed. OK don't cry!: When his owner was being attacked by her boyfriend wielding a hammer, Hank shielded her with his giant great dane body and probably saved her life. Hank sustained broken ribs and a fractured hip but he and his owner are now OK. In fact, they are making things better for other victims of abuse! The shelter that took in Hank's owner, the Rose Brooks Center, just couldn't refuse Hank after his bravery. He was the first pet they had allowed to stay there but now he has inspired them to add an addition that will accommodate people with pets who are in need of refuge! Yay Hank!
∞ posted at 17:01 by youtalkfunny
12/21/2009
Dane with a mission »
One of my favorite dogs on twitter is @Mozartdane. Yes there are dogs on twitter and yes I have a favorite one. Why is Mozart my favorite? Because he's an amazing artist! Mozart is a puppy mill rescue dog who now lives at the Harlequin Haven Great Dane Rescue in Ohio and it's there where he discovered his love of painting. Mozart sells his paintings on his website and all proceeds go to the dog rescue.
Here's his artist mission statement:
I am the Harlequin Haven Great Dane

Rescue Spokesdog against puppy mills pet stores, and homeless dogs. I have dedicated my life to this cause and in doing so I create art by painting with my paws. Painting helps me to overcome my pain of my early days in a puppy mill and also helps with bringing awareness to these issues.
Mozart came from one of the MANY Amish country puppy mills that are all over Ohio and Pennsylvania. People think the Amish are all nice just because they don't use electricity—it's just not true! I mean I'm sure there are nice Amish people, but Amish country hosts some of the largest and most horrifying puppy mills in the United States. It's madness! Good thing Mozart is here to raise awareness.
This painting is one of my favorites: "Dane-berry Fields," $65.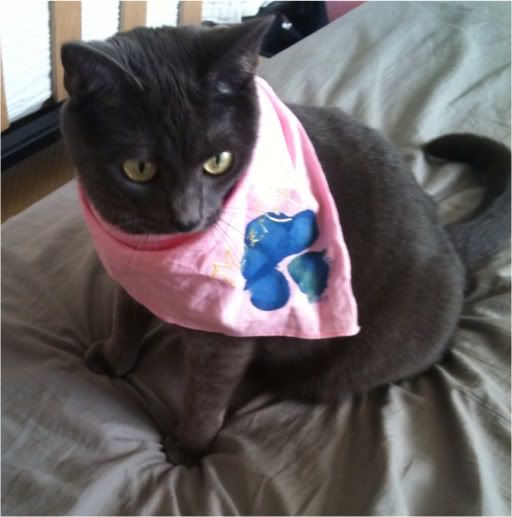 And if you aren't ready to buy a painting, Mozart also sells great stuff like this bandanna, modeled by my cat Mitsy. It's signed by Mozart himself! Awesome.
∞ posted at 11:00 by youtalkfunny