03/27/2013
The Teaches of Isa: perfectly browned tofu! »
Having trouble getting gorgeous, crispy tofu for your stir-fry? Let Isa help you with her simple guide. Turns out all you really need are a good pan and a good spatula. Then you practice till you get it right every time!
[photo by Brian via Flickr]
∞ posted at 09:00 by seriousmeaveness
11/18/2010
Quick-Ass San Francisco Bay Area Thanksgiving Guide! »
You guys! We'll add to this but for real right now, here's what you can do if you have no family because of distance or fighting or deaths or what have you. HERE GOES:
Restaurants serving vegan Thanksgiving!
Millennium is having an amazing Thanksgiving meal, as always. It's $60 ($30 for kids under 12!), and the menu looks unsane. Go on, get fancy!
Souley Vegan is doing a special Thanksgiving menu (info is further down the post). I'm hoping for a veganized deep-fried turkey leg. I wanna get Medieval on your asses! 
Café Gratitude returns with their FREE VEGAN THANKSGIVING! No matter that it's raw, it's free! I mean, you're already vegan, might as well become a full-on holiday meal weirdo. Oh, and it looks like you might have to work? But, er, FREE FOOD!
If you want to get a meal at a supermarket and bring it home, check out:
Whole Foods varies what it offers store-to-store. Our pals in Los Angeles, quarrygirl, got the Whole Foods dinner last year and looooooved it. Search by store location on their site, or give your closest store a call and find out what they're offering!
Andronico's has a pretty rad deal at their eight Bay Area locations! They're introducing a vegan meal this year and it sounds delicious:
Field Roast: Wild rice, cranberry, fig and grain roast en croûte (1 pound)
Roasted root vegetables (1 pound)
Vegan yukon gold mashed potatoes (1 pound)
Vegan mushroom gravy (½ pint)
Cranberry orange chutney (½ pint)
Vegan pumpkin pie (6 inches)
It's only $30 for all that awesome food! GET ON IT! 
AND NOW: it's DESSERT TIME! That means PIE!!
You can get vegan options at Mission Pie (order ahead!), Bike Basket Pies (OUR FAVORITES! Best pie in the Bay Area! Order ahead!), or pick one up at Rainbow Grocery or Whole Foods. Also, check out all our our local vegan bakeries and see if they might make you up something special? Bet they will! A cake from Sugar Beat Sweets? Cupcakes from Fat Bottom Bakery? A giant cinnamon roll from Cinnaholic? A toffee treat from Wholesome Bakery? Nabolom Bakery has lots of good vegan options! There are pies and Weekend Ruiner cinnamon rolls from A Fire Inside. Idle Hands Baking Company makes cupcakes and cakes if you aren't a pie person. Or get a pumpkin pie ice cream cake from Maggie Mudd—that flavor's coconut milk-based, it's intense. The options are endless, but you better call now!
Also, if you don't want others to do the dirty work, you could totally make your own fabulous Thanksgiving, lazy!
Now, let's get fat, American-style! Happy Thanksgiving!
[photo credits: top, QuintanaRoo; middle, digiyesica; bottom, sweetbeatandgreenbean]
∞ posted at 16:04 by laurahooperb
12/18/2009
A Vegan Etsy Christmas »
Etsy has many vegan items for sale but guess what, they also have a whole vegan section (go over to vegweb.com for a chance to win a VeganEtsy grab bag!)! Their motto is, "we read ingredients" which is great because I HATE READING. So just for you, I searched all through this section to find some lovely Christmas gifts! Yay, I'm the best! Whether you are looking for presents for your favorite vegans or a vegan looking for presents for your fam, there is something on Etsy for everyone. Let's check it out!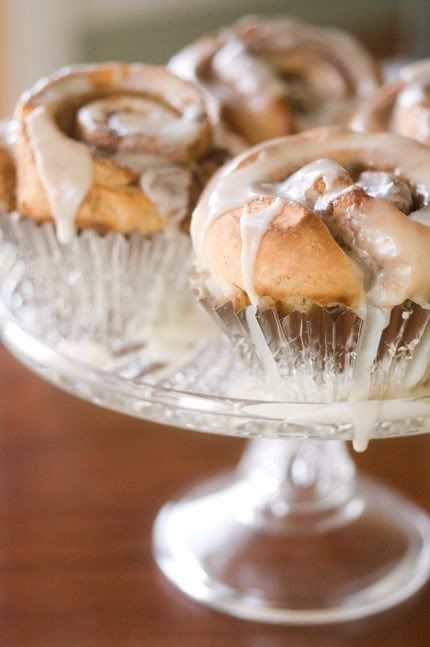 First, Etsy has a plethora of vegan baked goods available! And vegans will do CRAZY SHIT for vegan baked goods, let me tell you! For real, if you are trying to seal the deal with your vegan crush, order a half dozen of these jumbo vegan cinnamon rolls and I guarantee you're in there! Jumbo vegan cinnamon rolls from thecupcakemint for $25.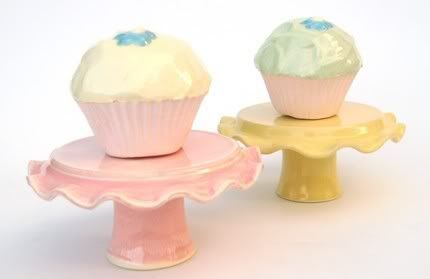 If you have someone who's more into baking, say a vegan cupcake freak? How about getting them this fricking adorable cupcake stand! Admit it, it's goddamn adorable. This little beauty is from vesselsandwares for $20.
Now, if you are like me and all your friends are suddenly like, "OMG! Let's add more people to the world!" then these super-cute diaper cover bloomers are just what you need. People with babies don't really want gifts for themselves anymore (unless it's like free babysitting) so you can totally just buy something for their kid and call it a day. And I know, it's kind of like you're buying baby underwear, which is a little creepy, but it's totally different because for babies, these are basically pants. Babies have no shame. From Earthgroovz for $11.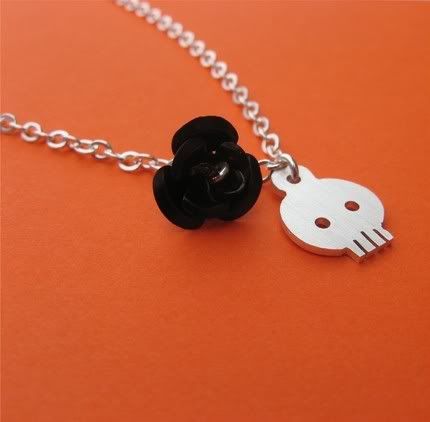 Next we have a superdope necklace, the Dia de los Muertos skull-and-rose necklace from Sparklynn for $25. I kind of love this necklace and the charms are very tiny—tiny charms, so hot right now.

For the traveler in your life (no, I didn't say flaky), how about this cute vegan weekender? All right! Ready to ship from PansyMaiden for $85.

One way we show affection is by keeping people warm (don't question me!) and this neckwarmer will do just that! I mean it says warm in the title. Done and done. The "catch my drift" organic cotton neckwarmer from luxe for $45.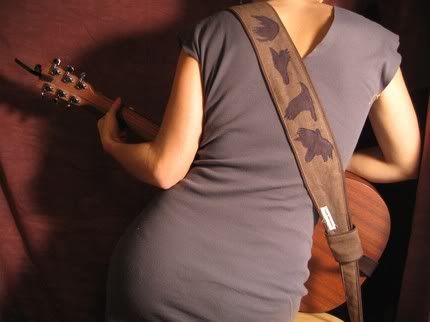 Got a musician in your life? Get them this cool hemp guitar strap! It's got a shweet "flying crow" design. From islandprovisions1 for $48.

And that's what I have for you today! Big shoutout to veganetsy! And happy holidays to all.
[All pictures from respective Etsy stores]
∞ posted at 09:47 by youtalkfunny
12/17/2009
The poor vegan's guide to eating raw and organic on the cheap in the Bay Area »
As an early 20-something living in the Mission, working for just above minimum wage at a peace nonprofit in East Bay, balancing my drive to be an ethical consumer while adhering to a hella tight budget can be a real challenge. To avoid breaking the bank, I often bypass expensive bars, shops, concerts, clothing stores in favor of free or inexpensive local shows, lectures, art openings, meditation classes and second-hand clothing and wares.  But as an ethical vegan who eats primarily raw, when it comes to feeding myself and those I care about, there are no exceptions: I refuse to purchase anything but organic, local when possible, fresh produce and raw vegan food.
It's a no-brainer that a diet rich in raw foods is extremely healthful and sustainable for the planet. Cooking foods, especially greens and other nutrient-dense vegetables, kills their live enzymes and makes them less usable by the body. I personally believe that life is about balance, and I am certainly not out to keep anyone from downing ample quantities of Souley Vegan's sinfully good baked Mac n' Cheese. But it's indisputable fact that we vegans need to care for our health. I would argue that the raw food movement has been really remarkable in that it brings a lot of folks to veganism that might not otherwise be motivated to care about food-justice issues. The vegan and raw food movements definitely intersect, but it would be naïve to say that someone who is raw is vegan. Many raw foodists eschew cooked foods but still eat raw dead animals and consume feminized animal protein (raw cheese, milk, etc.).
Unfortunately, raw organic vegan food in the Bay Area has gotten a bad rap for being pretentious (ahem, Landmark) and/or financially inaccessible. This keeps a lot of lower-income folks, especially minorities, out of the raw food movement. A recent raw food festival I went to at the Living Light Raw Culinary Institute in Fort Bragg, Calif., featured speakers, music, tons of raw food products and ultra-fancy, expensive appliances like Dehydrators, sprouters, spiralizers, and ultra-fancy juicers and blenders and, unsurprisingly, very few young people and people of color. This event only further confirmed my suspicion that the raw vegan divide seems to follow class and age lines, and that's something that I think can easily change. It's something I want to see change.
So how is it possible to be an organic raw vegan food while living on the cheap? My first piece of advice is to glean as much information as you can from the Internet about what raw foodism is all about and how to do it right (you probably won't feel super hot if you eat only raw nuts and dried fruit). For some Bay Area-specific tips, check out my nifty guide below. If you're lower-income and struggling to be a raw food vegan, please share your story with me. I would love to help us band together to figure out creative ways to make raw veganism easier and more fun!
1. Go to Farmers' Markets as they are about to close. Many vendors offer surplus produce at free or heavily discounted prices.
2. Check grocery stores produce sections for bulk bags of slightly bruised or perfectly ripe organic produce. These are often marked down to almost nothing.
3. Find a Food Not Bombs in your area: The vegan organization provides free, mostly organic vegan meals, which often include raw food.
4. The Gratitude Bowl. Café Gratitude offers a sliding-scale raw vegan dish. It's filled with kale and tahini and is very filling. If you can afford to subsidize someone else's bowl, it's a great way to support lower-income folks' access to raw food veganism.
5. Visit Alive!* at the Tuesday and Thursday Ferry Building Farmer's Markets. They offer many hearty items at a much smaller price than they do at their restaurant.
6. Host a raw vegan potluck with your friends. Everyone can chip in and defray the costs while creating a delicious spread. Try Gone Raw for recipe tips.
6. Buy Kaia Foods.* A raw vegan company located in Oakland, Calif., Kaia is committed to making truly affordable raw foods including granolas, sunflower seeds and fruit leathers that are delicious and totally healthy. Plus they donate 1% of their profits to combat world hunger.
7. Sprout your own sprouts! Bike over to Rainbow (or any other grocery store) and pick up some bulk dried chickpeas, mung beans, lentils (just not kidney or black beans, they are poisonous raw!), soak them overnight, then let them air-dry in a mason jar with a bit of cloth or mesh on top. Rinse them once or twice a day, letting them air dry until they have cute little tails. To avoid any bacteria that might grow in those wet, moist environments, after sprouts are full grown, soak them in a bowl of water with a tablespoon of hydrogen peroxide (it's totally safe!) for half an hour. Rinse, and store in an airtight container in the fridge for super-filling, super-cheap, protein-rich, crunchy treat for salads, wraps, etc.
*Full disclosure: my beautiful, also raw vegan girlfriend works at Kaia Foods and I myself worked for a total of one days at the Alive! Farmers' Market stand.
This post was written by Sarah E. Brown. Thanks, Sarah!
∞ posted at 16:51 by time-for-naps