05/23/2011
Book review: The Vampire and the Vegan, Book l: Food »
Jeez, it's like I'm in grade school all over again with my book report, but without all the blacking out and forgetting to breathe due to a very real fear of public speaking. Fuck, just talking in general is sometimes too much for me to handle. Fortunately for me, my social anxiety meds come over the counter in the somewhat inexpensive form of PBR vitamins and exercise.
All right, let's do this so I can get back to watching Twilight VERY IMPORTANT other things I have to do! The Vampire and the Vegan is by first-time novelist Merlene Alicia Vassall. Her writing style is fast-paced and easy to read, yet she is a writer that spoon-feeds! I always get the impression authors who do this have no faith in their readers to remember any details, so they must keep repeating themselves over and over and over again. I dislike it immensely. I WANT STRONG CHARACTER DEVELOPMENT! I WANT MYSTERY!
The Vampire and the Vegan takes place in Washington, D.C., through the eyes of a vampire named Pearl. I wish I could give you some background into her character, but there isn't much. It seems her (undead?) life revolves around her dinners, which consist of men hoping to get lucky with her. Pearl chooses her victims based on their "necromantic energy," which lingers in their bodies from the animals that they eat—the more horrifying and hideous the death/slaughter of the meat consumed, the more appealing the energy is to her. Pearl can actually visualize, while feeding on these men, the deaths of the animals they have eaten in their lifetime. This is where Vassell shines as a writer, illustrating in very descriptive terms the inhumane and terrifying ways that factory-farmed animals (even a lobster in a tank) are treated and killed. When it comes to veganism, Vassell can intellectualize it! Unfortunately, that makes parts of this book read more like a "Why Vegan?" pamphlet than a novel.
When Pearl meets her neighbor Salaam, he invites her up to his apartment to share his Thai take-out, which happens to be…VEGAN! She begrudgingly joins him, all the time wondering why she doesn't want to make him dinner, but—OH! his body isn't saturated with the "necromantic energy" she so craves. Tofu just doesn't do it for her—I get it Pearl, I'm a seitan girl myself.
Soon enough, Pearl and Salaam become friends, as Pearl lives a very lonely, isolated life. Salaam begins to teach her everything there is to know about being vegan! She feels so guilty as she keeps consuming human animals!
This book got pretty good reviews on Amazon, and from watching this video featuring Vassar, I have to admit I like her. I just don't think horror/fiction is the right genre for her. The book is not scary, not funny, the sexy times are neither hot nor sexy (maybe because the term "making love" totally freaks me out), the characters are pretty one-dimensional and there is NO VAMPIRE LORE, traditional or made-up (Stephanie Meyer, I'm talking about you and your "vegetarian" vampires). Vassar's background is in grant-writing, and I feel it shows in her writing style. She's excellent at addressing the hows and whys surrounding veganism—describing the slaughters, espousing nutritional information and explaining how to live the lifestyle. Unfortunately, she falls short at transforming and flowing that knowledge into a work of fiction.
Even though I didn't particularly like this book, I still want to applaud Vassel for finding a new and creative way of addressing and promoting veganism. According to most of the reviews on Amazon, her readers want to stop consuming as much meat, even abstain altogether. That, my friends, is a job well done! Admittedly, when I'm drunk on PBR the wonders of vitamins and exercise, I do things like judge a book by its title. In this case I was hoping for a work of camp-filled horror or lust, ideally BOTH. I'm not going to lie to you, I've seen every episode of Buffy the Vampire Slayer, more than once (culty, not campy—yo, I know my horror genres). Don't take my word for it, I've got an R. Patz calendar hanging by my bed. (My bed covered in Twilight sheets from Hot Topic! JK, I have no idea if Hot Topic carries Twilight sheets. I'm also not almost 30 and sleep in a twin bed. Covered in Edward Cullen sheets.)
Vegansaurus got a hold of this book for free. I don't know how, Laura sent it to me. If you are a single, hot male I will give you my addy as well. J/K, I'm holding out for Robert Pattinson.
∞ posted at 07:58 by jennybradley
09/17/2010
Oh hi, Hot Topic, how have you been? Haven't seen you around lately. I guess we've both been busy. Or rather, YOU'VE been busy, stalking us from the hedges surrounding Vegansaurus HQ and posting Craigslist ads to lure unsuspecting dinos to your creepy casting couch. "This dino-tastic tee has an adorable veggie-saurus. Compare this gentle giant to a T-Rex: vegetarians make better dinner guests." That's right, stealing our intellectual property is so adorable! Or, wait, HOLD THE PHONE THERE, are they saying vegetarians make better dinner guests than vegans? It's hard to miss the obvious jab against the gentle, misunderstood pink T-rex. Either way, consider this your C&D, bitches. (Or next time, spell our name right! All press is good press! Etc.!)
∞ posted at 09:54 by stevesimitzis
12/11/2009
Vegan Hightops: You Know You Love Them! »
In honor of my superfantastic new purple hightops from Keep (a Vegansaurus favorite), a vegan hightop round up! Yay! If you are looking for sneakers to "exercise" with, this is not for you. These are fashion sneaks all the way! And I guess I should warn you, for some reason, I seem to prefer my hightops in wackyass colors. I don't know, they're hightops! They're already wacky! Might as well go all the way. To ease you into the hotness, I'm going to start off slow and work my way up to the, shall we say, louder sneaks.

These are my beautiful new hightops, the Elias from Keep. If you are questioning their dopeness, some teenagers walked by me on the street and proclaimed, "damn, her kicks is killin' it." OMG they are teenager approved! That's all the proof I need. Also note, they got these for boys and girls alike. These are $85.
Next up, on the conservative-yet-awesome side of this list, Mahtva from adidas by Stella McCartney. Looking good, ma, looking good. They are $150.

Here we have the "honest to blog" hightops from Modcloth. Ignore the title and the shoes are pretty cool. These are $42.99.
These bad boys are the hooligan sneaker from Alloy for $49.90. They've got a nice mixture of sleek and goofy, am I right? I'm always right!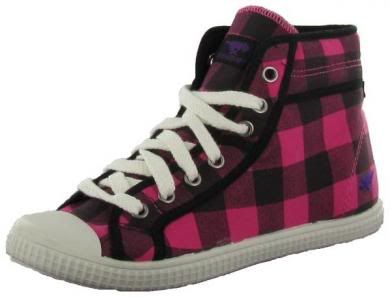 Ok let's throw in some color! That means colour for you British folk. These checkered Rocket Dog hightops from streetmoda.com are a lean $19.99.

Ok, ok, let's get crazy! Diesel has got these super-nutty sequin hightops for $140.90 (again with the 90 cents?) at whatapair.com.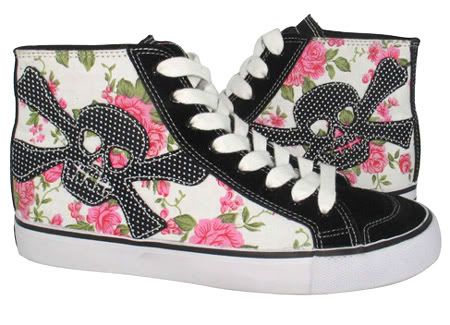 I will not back down! Here are some rose-and-skull hightops for $47.50 from babygirlboutique.com. They are all into the pinup fashions and I guess these are their answer to casual pinup wear. I say, kudos! Imagine these with some dark blue jeans. Superfantastic.
To end things on a crazy note, HOT TOPIC HAS VEGAN SHOES! Yes, the Hot Topic you know and love from your teenage days at the mall. These are kind of fugly…but I think they go far enough to where they're kind of great! Come on, don't be scared! You can do it!

If you want a little tip on wearing crazy sneakers—and Philly girls know about crazy sneakers—my thing is to wear them with skinny jeans and a simple top. Like a white t-shirt or just a simple navy sweater (navy is my bff).
Now, go out, get vegan hightops and be awesome!
∞ posted at 11:00 by youtalkfunny