11/14/2012
Tonight! Vegan eats and wine at Cerruti Cellars in Oakland! »

Get fancy tonight at Cerruti Cellars with a JLD [Jack London District] Cash Mob event! Per our tipster, Annie:
Cerruti Cellars is a kid-friendly, dog-friendly Tudal Family winery/tasting room located at 100 Webster Street in Oakland. Cerruti Cellars produces award-winning wines from grapes grown in Napa Valley. All wines are vegan and some wines are biodynamic and/or organic.

 El Taco Bike will be serving dinner. It will have vegan chips and guacamole and $2 vegan veggie tacos.

Jade Chocolates will be selling amazing vegan (and non-vegan) chocolates. 

Cerruti Cellars will be offering exclusive cash mob holiday wine sets at special prices.

Spend $20 on wine and enter to win one of many great raffle prizes from other businesses in the Jack London District.
Hooray! Tacos and wiiiiiiine and supporting local businesses! Get yourself set up for Thanksgiving and winter holiday celebrations in one fell swoop! For more information, get in touch with JLD Cash Mob via Facebook or Twitter.
∞ posted at 09:00 by seriousmeaveness
08/10/2010
No Worries, vegan Filipino restaurant coming to Oakland! AND THEY'RE HIRING. »
We tried No Worries last year at World Veg Fest and fell in love. I mean, in luuuuurve. We ate so much vegan Adobo that we had to be wheeled out of this event dedicated to healthy living. OOPS! Anyway, at Veg Fest, the No Worries team was talking about plans to open in the Jack London Square area of Oakland and now we find out it's really happening and they're hiring (GET A JOB, LAZY! Also, we assume that by "welcoming appearance" they mean that you should pop a few buttons at the top of the blouse, honey.) Vegansaurus HQ(ish) is within spitting distance (how uncouth!) of their new location and you best believe we're gonna be hitting this place up on the regular. And by on the regular, I mean I am the bird lady currently standing in front of their building. Don't be afraid to say hi, JUST NO EYE CONTACT.
UPDATE: Heard from Jay at No Worries and he says they'll be opening at 1442 Franklin St in downtown Oakland in September. So not spitting distance but walking distance (even for me, the laziest of JLS residents) (oh! and close to 12 Street BART!)
Thanks to David Surcamp for the heads-up! He's the dude who brought you those ridiculous Weekend Ruiner cinnamon rolls at last's SF Vegan Bakesale. Bow down!
∞ posted at 10:22 by laurahooperb
12/29/2009
Encuentro! »
Encuentro, a new vegetarian restaurant in Jack London Square, is a pretty modern, minimalist space. Floor-to-ceiling windows and corner wood tables create a hip ambiance. I went with two other people, and a quasi-filling lunch for us cost $30 (which is a bargain, especially compared to its creator's flagship Millennium in SF). Note that the menu is not entirely vegan—many dishes contain cheese and I believe one menu item has eggs. We got a bunch of dishes and split them; I highly recommend doing this as the portions are on the smaller side, and you want to taste as many different things as possible.
Between the three of us we split the arugula and pear salad with Banyuls vinaigrette, hazelnuts, hazelnut-vanilla oil; avocado, olive oil and cilantro bruschetta with chile jam and black salt; the tempeh bacon sandwich with sun-dried tomato jam and avocado topped with romaine; and a split-pea soup [Ed.: all menu titles are [sic]]. The salad had by far the most interesting flavors. You can really taste the vanilla oil, and the hazelnuts add such an important crunch texture to the dish. The bruschetta had perfectly toasted bread. As a huge fan of avocado, I couldn't not love the dish. An order consists of two pieces of bruschetta—more than enough for one person, but kind of difficult to split between three! I found the sandwich definitely underwhelming. I think the flavors could have been more pronounced and the tempeh a little crispier to add some texture to counterbalance the gooeyness of the avocado.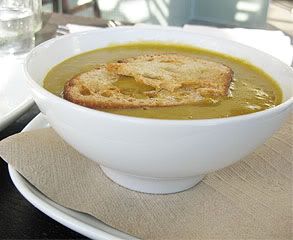 Overall, Encuentro strives to create a place where people can gather. I do think that the menu offers ample opportunity for people to share many dishes; however the space and the ambiance did not. It seems a little bourgeois, like it's catering to a very specific crowd of people—maybe the power/business lunchers. It's so hip and modern—almost in a frigid way—that I can scarcely envision people hanging out there. The food is very delicious, though, and when ordered smartly you can get a pretty reasonable deal. The portions are a bit smaller, maybe a testament to the bourgeois attitude I couldn't help but feel. Perhaps their ideal customer has the luxury of not being completely filled up by the food, the luxury to simply order to taste instead of to nourish.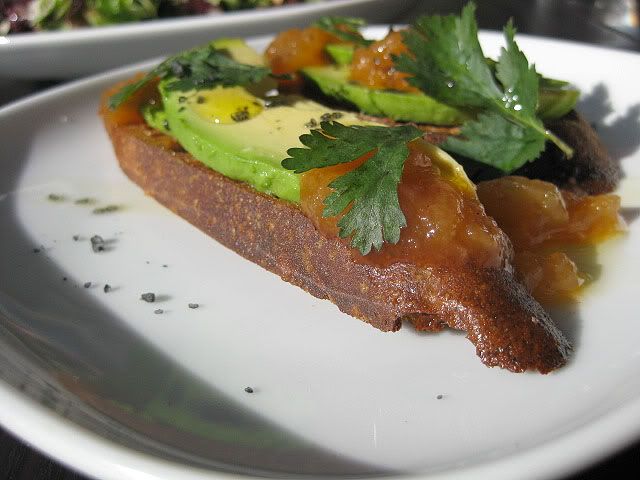 That said, I do recommend that you experience Encuentro for yourself. It may be different things to different people, and I don't want to color your perceptions too much!! We left the restaurant feeling a bit unsatisfied, like we could go for another light lunch or something. I wouldn't recommend this place to someone who is completely famished!
[All photos by Brianna]
∞ posted at 15:19 by tempehtation
11/09/2009
More specifically, the second or third week of November, in Jack London Square in Oakland. It will offer wines and vegetarian small plates. You're invited to contact Eric directly and ask him to please at least make most of the dishes vegan or easily veganizable. Because that's dope that he's keeping it all vegetarian but really, you are ERIC TUCKER from MILLENNIUM. We have expectations, Tucker. Your empire is built on the backs of vegans so do not forsake us or we'll go totally non-violent and pacifist on your ass!
∞ posted at 12:13 by laurahooperb