10/28/2011
Trade your down for coconuts! »

[The Insular Jacket from Nau—it's filled with Cocona!]
I saw this on Ecouterre and it's pretty awesome. This jacket is insulated with Cocona, an insulation made from discarded coconut husks!:
COCONA\ˈkōˈkōnˈä\

n 1 a: Trademarked name for a lightweight, breathable fiber derived from coconut-husk waste discarded by the food-service industry. b: Reduced to charcoal, combined with recycled polyester, and spun to maximize its surface area for warmth retention and moisture wicking. c: Said to resist odors better than traditional polyester fill. 2: Used in Nau's insular jacket, a two-layer, sealed-seam shell with a helmet-compatible hood that the Portland clothier describes as "made for the mountain."
Totally rad. Down is the worst. Geese are plucked live on some farms because it yields more down (if you kill them first, you only get one batch of feathers). And as the video linked above shows, it's virtually impossible to be sure the down you are buying doesn't come from live-plucking. So how about an environmentally friendly, cruelty-free alternative! Huzzah!
∞ posted at 08:18 by youtalkfunny
04/11/2011
Vaute Couture is having a BIG sale! Get up on that, fools. Coat season is coming to an end in New York but I hear it's über-cold in SF! Besides, they got some jackets for us non-West Coasters and hey, it wouldn't kill you to plan ahead! If history is any indication, winter will be cold.
∞ posted at 11:27 by youtalkfunny
01/04/2011
Some kind of hot/cold fashion/weather pun: Men's winter coat round-up! »
What up, homeboys?! I didn't forget about you! I know you get cold. How about some nice winter coats?
But not before a refresher on the evils of down (not for faint of heart):

So sad. And as the video says, there is no way to tell where the down in any particular jacket comes from. Let's look at pretty coats and be happy we don't hurt geese.
First up, this Patagonia number.


This is your standard hooded-bomber that anybody can wear. It's filled with primaloft and made of 100 percent recycled polyester! Yay! Besides the many eco-benefits of these down-alternative coats, many of them say down-alternatives mean you stay warm when the coat gets wet. NICE! We RULE!
Here's a rather exciting coat, the Special Blend Rifle insulated jacket.


I'm into it. It's kind of subtly '80s.
Here's a handsome coat!


Hello, Shimmer Me Timbers jacket from Columbia! Let's cozy up!
For a grown-up look, here's the Hamilton jacket from Marmot.

What's up, dad! No, but for real, I like this jacket. And it has like 80 million features, which is exciting!
Let's get a little hipper with this Under Armour coat.

This jacket highlights another bonus you get from synthetic insulation: you can move! It's warm but thin.
Here's my favorite, a good-old Carhartt parka!

There is nothing better than a nice boy in a Carhartt—that's my word! Holler at me, Carhartt boys!
Finally a vest! It's the Baffin vest from Marmot.


I wouldn't recommend this vest for everybody but it's pretty cool. Only get it if you think you can pull it off. Just leave it home if you're going out on the Razor, please.
There you go, boys! Stay warm!
∞ posted at 10:19 by youtalkfunny
01/08/2010
Ladies! It's a vegan leather jacket round-up! »
Nothing says bad-ass quite like a faux leather jacket. LADIES, AM I RIGHT? Now that the winter is here in full swing, I recommend picking up one of these babies if you want to be hotter than Danny Zuko and the Fonz combined (except better, because you're vegan.). [Ed. And worse because you've never been on Arrested Development. AH LIFE.]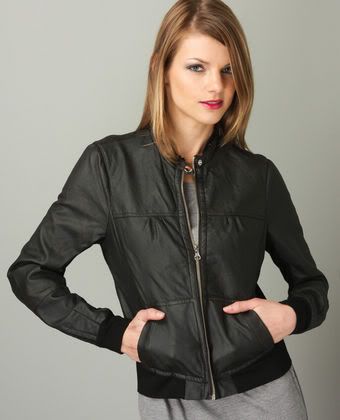 Lulu's is my own little hidden gem, and they have a decent stock of vegan shoes, bags and of course, jackets. The Motocross jacket ($54) is perfect for everyday and looks sick with a pair of aviators. Dress it up by pairing it with this Dubai Night black vegan leather clutch.
My absolute favorite faux leather jacket comes from Silence & Noise. They have a great collection of styles that can be easily found at Urban Outfitters. If you're the hipster or brass knuckles type, I recommend the Silence & Noise Studded Faux Moto jacket ($148). It's durable, stylish and looks great on top of a slinky dress. [Ed: DEAR GOD THAT IS A SHORT DRESS. Lady, I'll See You Next Tuesday.]
If you're more of the ride-on-the-back-of-a-Vespa type, there's the Silence & Noise Faux Leather Biker Jacket ($128). Sexy when paired with helmet.
And if a large chunk of money happened to fall out of the sky and into your pocket, then you might be interested in purchasing the crazy-expensive yet fabulously cute Stella McCartney Coated Boucle Motorcycle Jacket, now only $987 at Bergdorf Goodman's! [Ed: This is great because I'm totally swimming in money TOO BAD FOR THE REST OF YOU SEE YOU NEXT TUESDAYS!]

Of course, you can always check out my favorite veg shoe and jacket staple, Mooshoes, which currently has a black unisex bomber jacket ($165).
Other rad sites with more awesome jackets are veganessentials.com and alternativeoutfitters. Please check them out and report back if there is any cuteness because I've got to go eat a sandwich. Cheers!
[Images courtesy of: lulus.com, urbanoutfitters.com, bergdorfgoodmans.com, and mooshoes.com]
∞ posted at 12:02 by bohemianvegan