02/18/2010
As previously reported, a Loving Hut is coming to Union Square. Lo and behold, that fucker is in Westfield Mall. One shopping spree at H&M followed by vegan feast at delicious cult restaurant, coming up!
[Thanks for the pic, Tessa!]
∞ posted at 13:55 by laurahooperb
11/24/2009
Loving Hut! Part two, Megan Rascal's take! »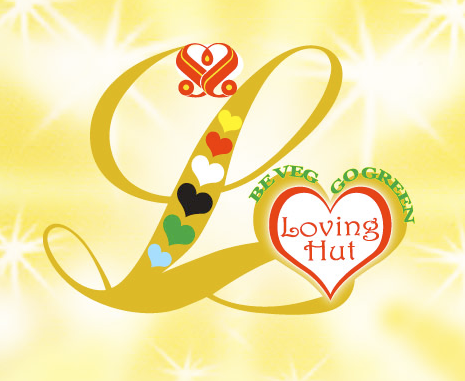 First of all, I'm not saying Loving Hut is run by a cult, but I think they might be run by a cult. And a fairly young blond woman seems to be at the helm [Ed.: she's actually a 10,000 year-old Vietnamese woman who made a pact with the devil so that she might be the best poet, painter, musician, jewelry designer, fashion designer, and self published writer IN THE ENTIRE LAND]. But despite pictures on the walls and pamphlets everywhere, no one really bothers you about their agenda or even explains it and that is just fine with me. And before you say anything, I'm totally into their logo! Well I'd cut out a bunch of the crap but I really like the Lavern and Shirley style L with the pretty hearts! Admit it, you like the hearts.

The service was kind of awful. And I hate complaining about service; like you could pour hot coffee down my back and I'd still tip 20% (totally happened one time with a stripper in Phoenix but it was a vodka tonic and I was in love), but this guy was pretty bad. He forgot our food and then was just never around though we were one of a few tables occupied. But then I heard him talking to a table of young scamps and he told them that, actually, he was volunteering—you know, in the name of veganism! I said, good, because nobody should be paying this dude. Except maybe to be all tall. Tall people, always taunting me.

The whole time we were there, they also had people outside tabling with pretty awesome felt vests on. I was just thinking that maybe the volunteer kid could be out there tabling and they could put more effort into service in the restaurant because people remember that shit. We can put up with it for the sake of vegan food but I doubt a non-vegan would deal with that again.

First we got the potato salad. It was pretty good. It was more like the deviled egg recipe I used to make (back when I was vegetarian and sold Tupperware) because it was very mustardy and had relish in it. It also had pasta shells in it, which was interesting, but as potatoes are vegan, maybe we can just have potatoes in potato salad. I guess I'm more of a traditionalist; the vegan-mayo based recipe floats my boat just fine.

The spring rolls were EXCELLENT. I love spring rolls and it's hard to find bad ones but these were extra extra crispy, just the way I like. They didn't come with that orange-colored sauce they usually come with which made me sad. But they were extra extra crispy… just the way I like!

I'm sad to say it but our entrees were not super. I got the pad thai and my pal got the crispy noodle. It was nice to see pad thai without egg in it so that was cool. It was spicy which I'm not used to with pad thai but maybe that's because I'm a whitey and other restaurants dull it down for me. My dining partner, the beautiful Asli, did NOT like her crispy noodles. She was very excited for the fake shrimp that came on top—some kind of yam paste made to look like real shrimp—but she didn't like them that much. And there was way too much sauce, it was spilling over the sides of her plate. Kind of gross. Another thing to note: the portions were super giant, like would easily feed 2.


One great thing is that they have lots of dessert options! Mostly cakes. The other day, a friend of mine brought me some chocolate from there in exchange for DRUGS (I told him he couldn't pay me because then I'd be a drug dealer but I did accept the cake though because I think that's a grey area). I'm still obsessed with the vegan cupcake movement but a nice slice of chocolate cake is always appreciated. They have carrot cake too, that's what I'm going to try next! That and some items from the "western" section of the menu—there's vegan pesto!

All in all, I definitely think it's worth a try. It's a nice place; the interior is simple and kind of mod—lots of white. Oh, you also get tea with your meal which is lovely.
∞ posted at 15:40 by youtalkfunny
06/08/2009
Supreme Master merchandise! »
Laura has spoken before about wanting a Loving Hut apron, as worn by the waitstaff (or at least the ladies on the team), and through some odd path of links, I found myself at Supreme Master's official merchandise site this morning.
Unfortunately, as far as I can tell, she does not sell those adorable aprons. She does, however, make shopping bags, mugs, coasters, travel utensil sets,
baseball caps, and "animal neck pillows" adorned with the Loving Hut logo.
You can also purchase a polka dot fedora for your dog.
If you haven't already checked out her wikipedia page, it is a pretty good read, especially the story about the island she had illegally built out of rocks in the Biscayne Bay in Florida six years ago. She also had a 30-foot boardwalk built connecting the island to the property she owned in Florida, under the name "Celestia De Lamour." Oh, those crazy vegans.
∞ posted at 12:10 by time-for-naps
10/22/2008
Review: Loving Hut! »
Loving Hut. Yes, it has the grossest name around. Loving Hut. It reminds me of somewhere a girl would go to lose her virginity to an elder. And I mean ELDERLY elder. I'm Gonna Puke Hut.
Other than that, this place is delightful. I am reviewing the SF location today but there are two others that just opened in Palo Alto and Milpitas. It's apparently part of a huge chain that's all over Taiwan, Vietnam, and Hong Kong. It's a Ching Hai Enterprise and so is filled with cult-like awesomeness, including a large television that plays Supreme Master TV on loop. I don't get to watch much TV and I love it/hate it/want to marry it so when I'm in a room with one, my eyes immediately wander towards it. However, since SMTV is basically unwatchable insanity, it was both a blessing (to my friends who enjoy my company SO MUCH) and a curse (to ME, can we get some Gossip Girl up in here?!).
The menu is available to view and download on their website, but don't expect to find the exact same menu at the restaurant you go to. The prices are also totally different. But the weird thing is, they're cheaper at the restaurant than on the site. I don't know what that's about, some sort of reverse bait and switch?! Mama like! Most of the food is Chinese with some Vietnamese influences and a slight touch of crazy town. They also have a section of the menu titled "Western Food," which is basically burgers, club sandwiches and spaghetti. See above about crazy town. So far, the standouts have been the Triple Happiness, pictured below—it's like these deep-fried layers of gluten, taro and bread. Kinda like a savory gluten baklava. I think. Just try it. I think. Basically, you'll either love it or think it's kinda funky. Russian Roulette!; the Ocean Platter, above—basically a big platter of delicious fried foods and yummy dipping sauces, a huge hit with everyone; Spicy Cha Cha—yam crescents that are deep-fried to look and taste like shrimp HOW DO THEY DO IT; and the Won Ton Noodle Soup with fake pork! SO GOOD! The Guru's Curry and the Veggie Stew are also delicious, basically just big pots filled with potatoes, carrots, and soy protein chunks—beef-esque. also, that's a great fake word—in a yellow curry/gravy mixture. They have white and brown rice available and lots of drinks—NO ALCOHOL! Ching Hai does NOT imbibe!—ranging from the tasty vegan Thai iced tea to the insanely foul to adults/insanely delicious to kids, e.g. some sort of tropical drink mixture with vegan gelatin in it. I don't know, I think I'm 10 sometimes and so I ordered it and then it came out and it was like drinking warm liquefied jello. Raunchy.
They have desserts too. Stay away from the cakes (sub-par Black China) and go for the fried bananas and ice cream! Soon they're supposed to have fried ice cream (!!!) but they haven't perfected it at the SF location and so we wait. Eagerly. I want that g-d fried ice cream. It's available in Palo Alto currently so strongly considering making the drive in five minutes, JOB BE DAMNED! WHAT HAVE YOU EVER DONE FOR ME! BESIDES GIVE ME MONEY AND A SENSE OF PURPOSE! I say, nuts to THAT! I need fried ice cream like I've never needed anything! Actually, to be real, I need fried ice cream like I need a hole in the head. I just really want it. Really, really, very badly. I mean doesn't that sound amazing? Also, I almost accidentally typed "friend" instead of "fried" 90 times in the above paragraph. What that says about me, I do not want to know. Probably that I'm really cute and fun.
Okay, also, two more quick awesome things. According to Loving Hut, SF is located in Canada. I feel like if this election doesn't go well, this map will be called foreshadowing as half of SF is likely to move there. SNAP! Kind of! Also, the interior of the SF Loving Hut is like eating in the Taiwanese future. It's all super-bright and clean with floating hearts and shit. You sort of expect your waitress to be one of the Jetsons. Love it. This place is good for dinner with a few friends but not going to be great for large groups and not at all romantical. Unless you think Clockwork Orange is sexy and then, eat here and after that, check yourself into the psych ward, you sick fuck! Alternately, CALL ME!
∞ posted at 11:17 by laurahooperb
10/03/2008
New restaurant alert: Loving Hut! »
Via Eater SF, apparently a new vegan restaurant is opening up in Chinatown! It's called Loving Hut. I took a look at the menu, and it appears to be a faux-meat bonanza, Chinese style, a favorite of the Vegansaurus gang! The dinner menu has a few nods to the "HK-style" Chinese cafe (a Chinese restaurant that also serves American dishes), so it has stuff like spagetti and a "tofu club sandwich" in addition to the standard variety of noodle and rice dishes.
Who are these people? They are the "fastest-growing International vegan fast food chain in the world." This new Chinatown location appears to be their seventh. The copy on their website is already pretty great. They say: "At Loving Hut, all dishes are prepared free of animal ingredients (vegan) and served lovingly, in a graciously decorated, pure and peaceful environment, giving one a heavenly feeling."
We will see how heavenly it makes us feel when they open up on Saturday, Oct. 11!
Update: True to form, an intrepid Yelper has already reviewed the place, even though they haven't even opened! The reviews for their Milpitas location seem very promising, so I'm even more excited to have another venue for fake meat Chinese in the city!
∞ posted at 21:17 by mariadiaz-deactivated20130202