12/27/2010
Chocolate chantilly update: Hell yes, it works.
I used unfancy chocolate chips, and subsituted ¼ cup of water with Amaretto. One whisk attachment in a handheld mixer, varying between speeds 1 and 3 out of 10, took about five minutes to make this insane concoction so thick it defies gravity. And eating it is like eating a big thick cloud made of chocolate—it's dense, but so airy! In the bowl is about a fourth of the whole recipe's worth, which I could not finish over two days, because it's super-rich.
Seriously, 10 minutes of work and you'll never use tofu for mousse again. Make it!
∞ posted at 12:38 by seriousmeaveness
12/23/2010
Recipe: Chocolate Chantilly: The Best Chocolate Mousse of Your Life under 5 minutes (and using only two ingredients).
by Hervé This and Heston Blumenthal
serves four
Ingredients
9.35 oz./265 g. bittersweet (70 percent cocoa solids) chocolate, chopped (preferably Valrhona Guanaja)
1 cup/240 ml. water
4 Tbsp sugar, optional

Instructions
1. Place a large mixing bowl on top of another slightly smaller one, filled with ice and cold water (the bottom of the large bowl should touch the ice). Set aside.
2. Put chocolate and water (also sugar and/or liquor if you're using) in a medium-sized pan and melt the chocolate over medium heat, stirring occasionally.
3. Pour the melted chocolate into the mixing bowl sitting on top of ice and water, and start whisking with a wire whisk (or an electrical hand-held mixer) until thick. Watch the texture as you whip and make sure not to over-whip as it will make the mousse grainy. If the mousse becomes grainy (which is possible at your first try), transfer it back into the pan, reheat until half of it is melted, pour it back to the mixing bowl and whisk again briefly.
4. Divide into four serving cups and serve immediately. 
[Recipe source via boyfriendreplacement]
(Source: foodfuckery)
∞ posted at 08:25 by seriousmeaveness
12/03/2009
Vegans, draw near. This is how to get through winter. »
Okay, so. HERE'S THE THING.

You know when you're at home? And you can't move? Because it's utterly disgusting outside, and yea, darkness DID descend upon the earth at four fucking pm, like unto the apocalypse? And your brain is all, Give Me Things That Are Tasty, and you are all, I Am Sorry But I Must Lie On The Couch For Nine Hours?

Well.

I am going to reveal one of the secrets of the universe to you. Because I am a GOOD PERSON. Yes.

You can make this without sharp knives, or recipes, or patience, or a trip to the store, or basically any of the gumption that people (especially vegans) must muster up to cook for themselves in winter. This is the thing you do when you come home and drink tea and it's Not Enough, and you still have that Need To Drink Tea feeling. When your soul requires uber-comforting.

SO.

You take a banana.

You cut into it with a butter knife to make a pocket.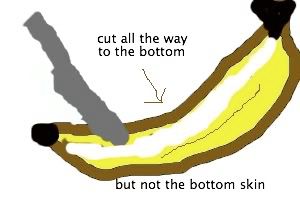 You stuff the pocket with chocolate chips.


You could wrap it in tinfoil, or not. Whatever. I don't.


You shove it on a tray and in a hot oven. 350-ish.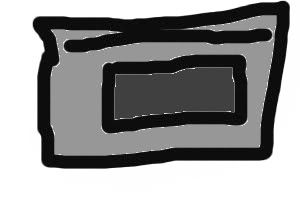 After a while, pull it out. It should be hot all the way through and kind of bubbly.

You have NO IDEA how this tastes. It does not taste like chocolate + banana. It does not even taste like food. It is like biting into a strange alien fruit made of lava and kindness. Or like a really expensive dessert. In any case, it will deliver a vital shock to your neural centers.


You are WELCOME.


∞ posted at 10:19 by abitingchance-deactivated201303