10/08/2010
VEGANARCHY! »
We here at Vegansaurus are mostly vuppies. That means "vegan yuppies," and I just made it up. And it isn't even true anyway, because we're all poor. Still, we're always on the lookout for new vegan shoes and bags and coats to tell you to buy so we can live vicariously through your credit cards!
Not all vegans are as pwned by the Man as we are, though, and we respect them for it. If you're interested in radical veganism (which is kind of redundant, but you know what I mean!), you could pick up some reading material at a cool 'zine shop like Needles and Pens (3253 16th St.), or you could do the really radical thing and stay in your chair and just download this PDF of Total Liberation, an anarchist vegan 'zine from Providence, RI whose philosophy is that "Capitalism, patriarchy, and other hierarchic systems of domination determine the way in which we desire as much as they do our objects of desire. This issue is an attempt at defamiliarizing the normalcy of a desire for butchered animals."
The zine has essays, stories, and, our favorite, recipes. Wasn't that a fucking radical mouse click you just made?
Total Liberation is looking for contributors for their next issue, too. So pull out that MacBook Pro and write them up something good in Microsoft Office! 
04/05/2010
Post-Punk Extravaganza! »
Portland-based publishing juggernaut and zine clearinghouse extraordinaire, Microcosm Publishing, launched their Post Punk Extravaganza tour on April 1, and YOU should be excited! Why? Because vegan chef/travelin' man, Josh Ploeg, will be coming along, presenting a vegan cooking show based on his book, In Search of Lost Taste.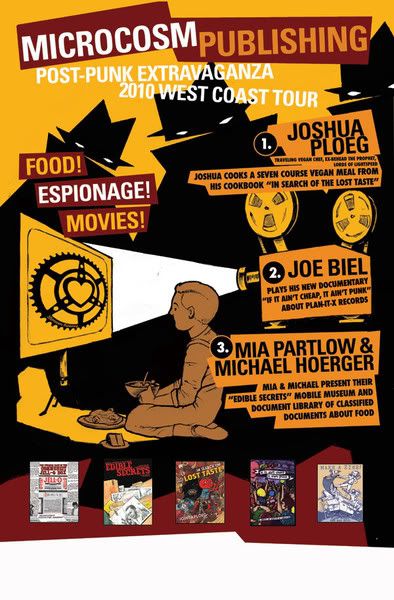 It promises to be a fun time for all, and it's going down on Sunday, Apr. 11 at 6 p.m. in Oakland at Issues, and on next Monday, Apr. 12 at 7 p.m. at Needles and Pens here in San Francisco. Be there, or be a dried-up husk of an old punker!
∞ posted at 12:03 by jordanpattern