07/24/2012
Cute Neuaura heels at Compassion Couture! »
These are the hotness! They're the Mulberry from Neuaura and apparently they are exclusive to our friends Compassion Couture. I'm totally in love with black velvet. It's just the blackest black, right? So much blacker than other materials that pretend to be black. What's that about? It's prob some science stuff. That Science, always telling me the secrets of the universe. Yup, Science can't keep a goddamn secret. 
∞ posted at 03:46 by youtalkfunny
04/12/2011
Five vegan heels I'd wear if I hated my ankles »
Alternative title: I get cranky in high heels. But dang it, sometimes I just want to dress like a stripper. Every time I try though, I become a total asshole. A taller, hotter asshole but still, you can't go around being a jerk just because your feet hurt. But if I were capable of tolerating them, these are the crazy high heels I would wear!
I enlisted the help of my kid sister Cally as she knows everything about fashion (and very little about anything else!). She's such a dear, the poor girl. Ever since I found the "gmail this" bookmarklet, she gets gaggles of emails asking for her opinion on every vegan shoe from here to outer space. She's always nice when she responds and tells me all the shoes I like are ugly. Now you too can benefit from her fashion expertise as all these shoes are Cally-approved! Let's start this party:

Sea Peep-toe Pump from olsenHaus. I actually managed to pick this pair out myself! Cally's thoughts: "I LOVE these ones. Totes cutes. You could wear them with tons of stuff and they would even be cute with tights in the winter." Totes.

Galaxy Hokkaido Foster Glitter Pumps from Stella McCartney. These are the hotness, or as Cally phrased it, "they are like wham bam." Wham bam, indeed.


Glamour Pump from Hearts of Darkness by Cri de Coeur at Mooshoes. This pair I picked out too though it's hard to go wrong with a black pump. But these are hella tall! And with the amount of whiskey I drink, anything over two inches is just irresponsible. Cally's thoughts: "They are be-a-utiful. Love a good black pump."

GoMax Ashland 13 from Lulu's. Now these shoes are only $31 which normally I would think is a great thing but I feel like that means you will DEFINITELY break your ankle. Cally's thoughts on these: "Pretty shape." Word.

Nashira from Neuaura at Mooshoes. OK, these are not approved! They are my wild card that Cally officially rejected: "I don't like the weird colors." But they remind me of Mondrian and that's dope. I'd be walking all around like, Check me out, jerks! What? I can't hear you over how hot I am! Everyone would really like that.
That's all for today! Let's all thank Cally for dropping some knowledge.
∞ posted at 10:43 by youtalkfunny
09/20/2010
Vegansaurus NYC: Pilgrimage to MooShoes »
My friends! I've been to vegan fashion Mecca and I can now tell you with all certainty that Allah loves us! The proof is in all the beautiful vegan duds at MooShoes. OMG you KNOW Megan Rascal was dying, as I do love a nice vegan shoe. And the women working there were very nice! Even though I insinuated that their cat was fat within the first five minutes I was in the store. I'm all class! They have two cats actually who are both large and both adorbs, and apparently one will kill your dog.
What can I report? Matt & Nat are doing their thing with the wallets! Like, whoa. Novacas, olsenHaus (sorry, that's how they write their name) and Neuaura all continue to hold it down with the hotness in the ladies' shoe department. I bought a sweet pair of Novacas boots and I also picked up these dope Neuaura oxfords:

I know I'm currently unemployed but I have to go on INTERVIEWS, jerks! If I had to interview someone and they were wearing these shoes? I'd be like, "yes sir, I DO believe you're a rocket scientist! Hired!" See? Easy. "Work experience" is out, dope kicks are in.

They also had shoes from Keep, some cute shirts by Herbivore and lots of stuff by Vegetarian Shoes. There were many plenty of sneakers for my homeboys in the crowd; I like a nice caramel-colored men's dress shoe, but I didn't see any. There were some sharp black ones though, and you guys could step up your game a little. JK! I love you! Take your shirts off! Send me pictures!
Disclaimer!: they totally gave me 10 percent off—maybe because I said I was writing about them; maybe because I'm awesome and people just love doing stuff for me all the time. Another possibility: I spent a shit-ton of money.
Bonus!: It's around the corner from Babycakes! After I got my new interview shoes, I bounced over to Babycakes and got my interview cinnamon doughnut. No, it was just a regular cinnamon doughnut! Got ya! Oh, you.
∞ posted at 07:37 by youtalkfunny
01/19/2010
Vegan boots here, get your vegan boots! »
I almost kept this to myself because I'm a jerk…but I'm not scared of you! Go ahead and enter! We'll see who's the last woman standing!
Note that you can't just leave any old comment, they are judging on creativity. Also note that these would totally look better on me.
∞ posted at 08:01 by youtalkfunny
11/30/2009
Flip Winter the Bird with Your Very Own Vegan Boots! »
Put your sandals away kiddies, winter is here! That means it's boot season. Don't let all the Uggs and leather boots get you down, there are plenty of vegan boot options. Where? I'll tell you where! I've searched online and compiled a brief sampling of some of the superfly options available. YOU'RE WELCOME.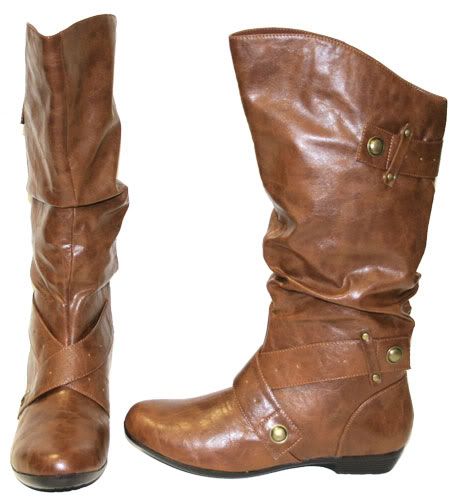 First up, Madden Girl Cazino tan pleather slouch boots from Alternative Outfitters. Clocking in at a lean $69, these boots are dope and I want them. Moving on!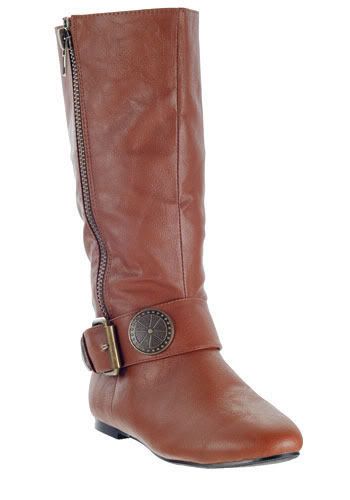 I present, the westward bound boots for $54.99 from ModCloth. If you are concerned you can't pull these off, STOP BEING CRAZY.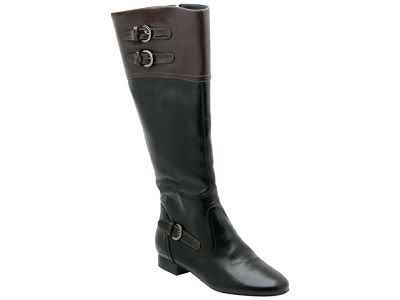 Next, we got the Narmada boot on MooShoes. For $165, these riding boots can be yours! And you can pretend you own a horse! A rescue horse you saved from a life of misery in the rodeo! It'll be great.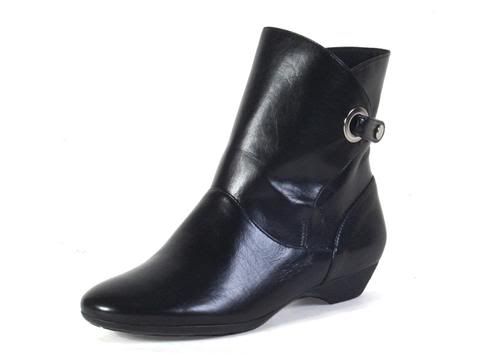 Let's move on to "booties" as they're uncomfortably called. Vegan Chic has the Narmada boot from Neuaura for $124.99. If you don't think these are awesome, you are crazy and I feel bad for your whole family.

On the cheaper side of booties (that's what she said?), here is a lovely pair of boots for Go Jane: the leatherette buckled ankle boot. These bad boys are only $17.70.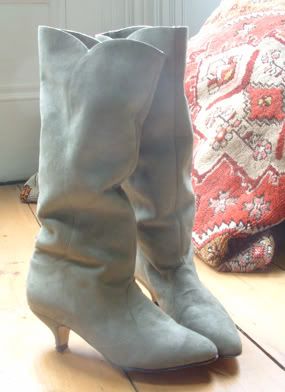 For my last act, I am leaving you with an amazing pair of boots you cannot afford. Unless you can afford them in which case, let's get married! I'm an excellent cook and I'm great in bed. These boots, named Finn (the picture is actually of an older model with a different name, but it's the same), are made by my favorite vegan shoe company of all time, Beyond Skin. They are 100% vegan AND they are supercool about production, like no sweatshops. As it says on their site, "fret not, no humans, animals or small children were harmed in the making of our shoes." The problem isn't the shoes, it's the damn U.S. dollar! It sucks! We can't compete with the British pound! So the boots are £ 224 and according to google, today that is $368.50. Yowza. Actually, that's not HORRIBLE. They last a long time. Anyway, buy them for me! Yay! It'll be great.
∞ posted at 13:56 by youtalkfunny