02/02/2010
Vegansaurus NYC: Bonobo's Real Food »
For the past few months, my life in New York City has revolved around the strange non-neighborhood that is "Flatiron." Not quite Midtown, not quite downtown, not even the fucking Upper West Side, this strange little corner is where people go en route to somewhere else. That is how I walked by Bonobo's dozens of times, not realizing that it was actually a place for eating. It's covered by scaffolding and obscured by a Quizno's and a Southern-themed restaurant called Live Bait that serves Hurricanes (naturally, I have been there).
Finally, one night on the way to work, I stopped in and picked up some dinner, wanting to eat something healthy and not the pizza my work provided on the weekends. I still ended up having some pizza. Why? Because Bonobo's ended up being made of fail.
Bonobo's has a cooler with foods that are already prepared, so I decided to just make a selection there. If there's one thing that vegan restaurants and Latino people have in common, it's that we are both agonizingly slow at everything. So, I knew better than to ask them to prepare me something. I believe that was probably my fatal error.
After throwing down my hard earned $15 dollars for the privelege of a "Nori roll" with "nut pate" (anything described as "nut meat" that's not in the description of a gay porno flick is not cool!) and a "raw coconut chai" the dubiousness began to seep in. My family didn't come to the United States 30 years ago so that I could pay $15 dollars for food that wasn't even cooked. They came to give us a better life, and I knew, upon biting into the first tasteless roll, that the better life did not involve this.
OK look, I'm not a raw foods girl; If it's not deep-fried, I am probably not interested in it. But, I've been to Cafe Gratitude. I've gotten down with it. I have a palate, I swear. However, I can not abide by this foolishness. The side salad the nori rolls came with was no different than the loose spring mix you can buy at any grocery store. Not even the dressing could salvage it.
The one positive item was the coconut chai. But really, how can you go wrong with coconut water and some spices? That's cheating.
In conclusion: I think I like looking at pictures of bonobos versus actually eating there.
[Image by Flickr user Jeroen Kransen via Creative Commons]

∞ posted at 08:01 by mariadiaz-deactivated20130202
02/01/2010
Unhappy cows, the power of YouTube, and a loserly D.A.'s office »
An undercover video exposé of a New York dairy farm made the rounds on YouTube earlier this week. I haven't watched it (even reading the description was monumentally depressing), but it apparently featured tail-docking. Tail-docking is the process of cutting off a calves' tails, ostensibly to prevent them from flicking manure (and spreading disease) when they grow up.

Now, besides the fact that they wouldn't BE flicking their own filth into each others' eyes if they weren't all jammed in like Lincoln Logs, this is uncool for several reasons. First, it hurts a lot (no pain meds). Second, it doesn't work (studies prove it!).

Worst of all, though, can you imagine being a cow without a tail—unable to flick away flies? It would drive anyone nuts. In fact, it makes these cows are so miserable that it may even interfere with their milk production.

The people who produced the video showed it to the Cayuga District Attorney's office, and tried to get them to investigate the dairy farm. The Cayuga D.A. wussed out:
Assistant District Attorney Diane Adsit said in an email that many of the actions shown in the videotapes "are commonly accepted practices used to protect both animals and farmers on large dairy farms."
"While shocking to look at, these practices are not necessarily illegal," Adsit said. If an investigation by the local SPCA leads the organization to file animal-cruelty charges, "we will prosecute anyone so charged," she said.

If you read the stomach-turning description of what actually went down, it's clear that she either hasn't seen the video or doesn't know what she's talking about. We're not just talking about a little rough treatment here.

The good news is, New York State Assemblymember Linda Rosenthal announced the introduction of a bill to ban tail-docking (Yay!). It's already illegal in California and most of Europe; hopefully New York will be next.
∞ posted at 08:02 by abitingchance-deactivated201303
01/13/2010
Help Haiti: Bakesales forming in NY, LA, SF, Portland. Join in! »
Veganites,

Yesterday morning a 7.0 earthquake devastated Port-au-Prince, the capital city of Haiti—it was the area's worst earthquake in 200 years. It literally  pulled everything to pieces. Here's the New York Times' coverage.

How can you help? In several ways! You could most definitely donate directly to Doctors Without Borders, The International Rescue Committee, or check out our friend Brant's list of charities based on their charity navigator score.
OR, you could also help organize a vegan bake sale!
If you're in San Francisco, a bakesale is being organized for Saturday, Jan. 23 in Patricia's Green (on Hayes Street at Octavia Street), from 11 a.m. to 4 p.m. If you're interested in participating, please email Jen ASAP! Let's DO THIS, SF VEGANS!!!
RAINY DAY ALERT FOR SAN FRANCISCO: If it rains the day of the sale, head down the street to Mercury Cafe at on Octavia and Page st. We'll be inside with our delicious goods!
Other cities that are making it happen: @IsaChandra is organizing the Portland one; the user @miharu is taking on the Los Angeles one; @DaynaR in New York is looking for other people.

Isa put up a list of the bake sales on the Post-Punk Kitchen site—of course, there aren't lots of details yet, but they'll get filled in as we make them happen.

If you're in a city that's not represented, let us know! Join the PPK thread and get one started! NOW, GO!
∞ posted at 16:11 by abitingchance-deactivated201303
01/04/2010
Road trip: Babycakes in LA! »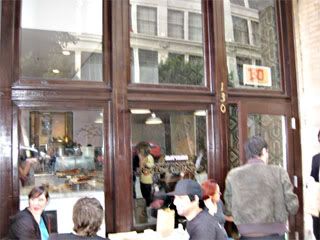 Babycakes has always been a staple of my New York living experience. Whenever I buy a new pair of shoes at Mooshoes, I always pop over to Babycakes to see what's cookin' (or bakin', to be precise). I'm kind of miffed that the mostly gluten-free, vegan bakery offers dairy creamer for their coffee (I mean, soy creamer, coconut milk creamer, rice milk, almond milk— there are thousands of alternative milks out there that don't involve the exploitation of animals!!!!), but they sure as shit know how to pound out some delicious goods. My hips, thighs, and butt are even more miffed that I have such an affinity for Babycakes' delicious, decadent cupcakes—red velvet, anyone?!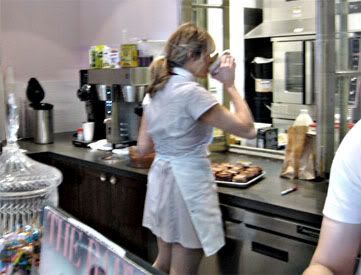 Upon hearing that a new Babycakes was slated to open in LA today, I knew KNEW I had to haul ass (21 miles to be exact) to make it to the opening. And boy, am I glad I did. Erin McKenna was there (pictured in super-stalker fashion), in the flesh not two feet away from me icing some beautiful cupcakes. "Hi, I'm Brianna and I live in New York and I love Babycakes and I love you," I gushed to her. She's super-sweet and amazing and I was so happy to be in her presence. So, how does the LA location stack up to the NYC one?
LA is super-spread out, and although downtown is being gentrified, it's still pretty inconvenient for most people in the Valley, in the beach communities (Santa Monica, Venice), in the UCLA area, etc. Babycakes LA is in an unassuming space in downtown, in the Historic Core district, where parking is scarce (and expensive!). The space itself is fairly large and much more open than the Lower East Side location in New York—but I think it loses some of its charm in that respect. The old-fashioned feel you get from Babycakes NYC just didn't translate to its new West Coast locale. No more wooden barstools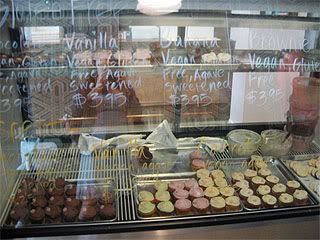 or cutesy decor; on the flip side there's more room to breathe and sit and enjoy the goods: there are about three tables inside, and some sitting space outside.
As for the food, I'm fairly sure the baked goods in LA are more delicious than the original. I went with my mom and we practically cleaned out the place: four mini brownie bites (two filled, two unfilled), a cinnamon sugar donut, two cupcake tops, corn bread, a cinnamon toastie with cranberries, and some coffee. Out of all of the food sampled (read: devoured), my mom and I agreed that the cinnamon sugar donut was the most delicious. Almost churro-y in flavor and texture, the old-fashioned shape gave this donut some scrumptious charm. In the 20 minutes we were there, an entire tray of three dozen donuts completely sold out—they're quite the popular menu item, apparently! The NYC donuts I tried about a month ago have NOTHING on the LA versions. The rest of the baked goods were, of course, delicious. The cornbread was moist and flavorful, the oozing chocolate brownie bites were decadent (but appropriately sized), the cupcake tops cut down on calories and gave you the go
od stuff (it was basically a sliver of cake with a huge dollop of yummy YUMMY icing) and even though the coffee was mediocre, I still enjoyed it—mostly because the whole place put me in a great mood. Pictured is someone else's order: a chocolate chip cookie sandwich, a brownie bit (yum), and two donuts, the cinnamon sugar (!!!!!!!!) and chocolate.
Overall, Babycakes LA was worth the trek. I exited the shop feeling like a lardass, and it was then that I knew the bakery had done its job. Hopefully, its semi-obscure location, at 130 East 6th St., won't deter people from frequenting the adorable shop, but only time will tell. I believe the shop is open from 10 a.m. to 8 p.m.
[All photos by Brianna]
∞ posted at 08:10 by tempehtation