07/11/2011
Guest post: Vegansaurus NYC: Red Bamboo is delicious! »
Go to Red Bamboo. GO NOW!

This is what it looks like.


I'm pretty sure those two people aren't always there so don't consider them a landmark.

I have been fairly interested in having a big meal at this establishment ever since I'd first heard the buzz. One of my louder vegan pals had raved about one of their burgers declaring it the NYC faux-meat mecca; I raised my eyebrow.
I invited my friend, Michael, he's a lovely vegan and also a lovely person, and we had  great time. The ambiance is pleasant and the service was excellent. Please note that I work in the restaurant business and I don't just throw around the word "excellent" when it comes to waiter skills. I got standards! And I thought the food was super good.
They have an extensive menu with a TON of options on it. However, it is a vegetarian place, not a vegan place, but all the vegan food items are clearly marked. Yay for convenience. Boo for not being 100 percent vegan.
To be clear. This Red Bamboo food is not healthy food. It is not for the ultra-health-conscious. Do not go to Red Bamboo if you are in the mood for a salad. I know many folks like to keep their grub on the "whole food" side, and I would not recommend a Red Bamboo outing for you folks. It is for junk food lovers!

We had buffalo wings for an appetizer. (sorry, no photo, I was busy EATING) Then we had 2 entrees. Michael is nice so we shared a little.

I had the cashew "chicken."


Yum city! Seriously some of the best "chicken" I've had in my young vegan life. My mouth is totally watering looking at this pic.

Michael had a dish whose name I can't remember. I think it was Dante's Cuisine? I scanned the online menu and that was the only thing that sounded familiar. Whatevs. It was good.


I'm way too hungry to be writing this right now.

I say yay Red Bamboo. Deliciousness! Not too expensive either and huge portions; I took some home and ate it for lunch the next day.
We also had a peanut butter chocolate something cake? It was awesome. I LIKE EATING! I especially liked eating at Red Bamboo and will definitely go again. Yum yum. Apparently they had another location in Brooklyn and it used to be yummier but they revamped it and serve dead things now? Two thoughts on this: 1) TOTAL HATE; 2) The West Village one is plenty yummy. Still eat there. Don't let that Brooklyn incident keep you away from the drumsticks. You're worth it.
Laura Yasinitsky is a writer, comic, waitress, and animal-lover based in New York City. She has appeared on Comedy Central's Open-Mic Fight and writes for US Weekly's Fashion Police. You can follow her silliness on Twitter @LaraYaz and read about her animal friendly adventures here.
∞ posted at 06:26 by seriousmeaveness
11/02/2010
Dude, Janet Jackson is (almost? or is?) vegan!? And she loves eating at vegan restaurants! I had no idea! Ms. Jackson's ('cause I'm nasty!) music has gotten me through many rough times, namely middle school through present day. Anyway, she was on Jay "I am your grandfather but worse because we're not related and I have a fucking tv show" Leno last night talking about all her favorite vegan restaurants, she loves Vegan Glory (she loves the tacos and chicken nuggets!) in Los Angeles and Red Bamboo (she loves the chicken parmesan!) in New York City. She is so very adorable and Jay Leno is THE WORST OMG GRANDPA GET OFF THE AIR.
Now, please excuse me while I go listen to "If" a million times. OMG, let's totally talk about favorite Janet songs now. What's yours!? There was a point in middle school when I dressed all in black and ran around my house acting out the entire Rhythm Nation album. There was definitely some moves during "Black Cat" that were not PG-13 and I think I might have dry-humped a couch at one point? My parents must have been entirely checked out for the majority of my childhood because how was I not institutionalized!? 
∞ posted at 11:36 by laurahooperb
12/14/2009
Vegansaurus NYC: Brooklyn's Red Bamboo turns to the dark side »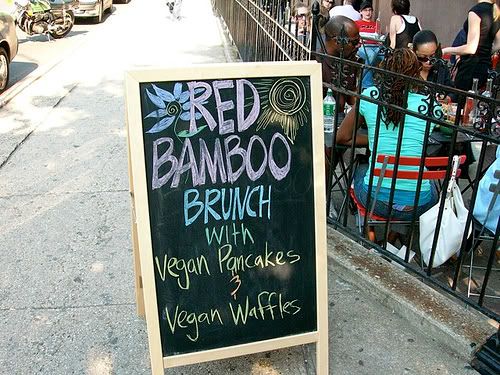 The major downgrade of the week goes to Brooklyn's Red Bamboo. It was reported on Friday that the vegetarian soul restaurant will close at the end of the month and re-open as "Poppa's Place" with a menu chock-full of meat. (I'm already gagging). David Bukszpan, the restaurant's publicist, claims they will still be serving their most successful vegetarian dishes such as the soy Cubano sandwich and soul "chicken," and blames the "skyrocketing" price of soy for the change. Chef Brian Ahearn, called a "fake-meat sorcerer" is reportedly staying with the restaurant through the transition.
Although it's not the best vegetarian restaurant in New York, I've taken a many carnivores to this place and the vegan tacos alone helped change their meat-loving ways. Apparently, Red Bamboo will also be having a New Year's Eve/goodbye vegetarian bash on December 31, so stay tuned.
∞ posted at 10:05 by bohemianvegan