01/11/2010
Anna's Brooklyn Supermarket Adventures: Sheepshead Bay, Q Train »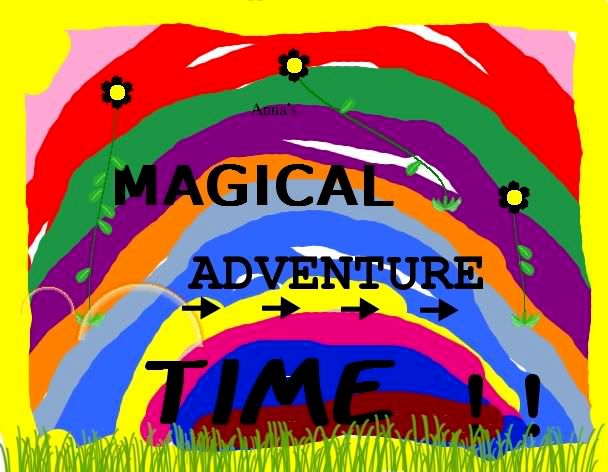 Ladies and germs! Jelly-jars and pickled calves' brains! Lucid fellows and damselflies! Hello, one and all. I invite you, implore you, invoke you to follow me on my MAGICAL ADVENTURES!!

This is the first of a series of posts chronicling Awesome Supermarkets in Brooklyn (and maybe other places). Vast places, rich with eggplant and pineapple and odd varieties of jam! Strange places, with languages that you cannot read! Sometimes even grisly places with strange squiggly meat-parts! But mostly… CHEAP PLACES.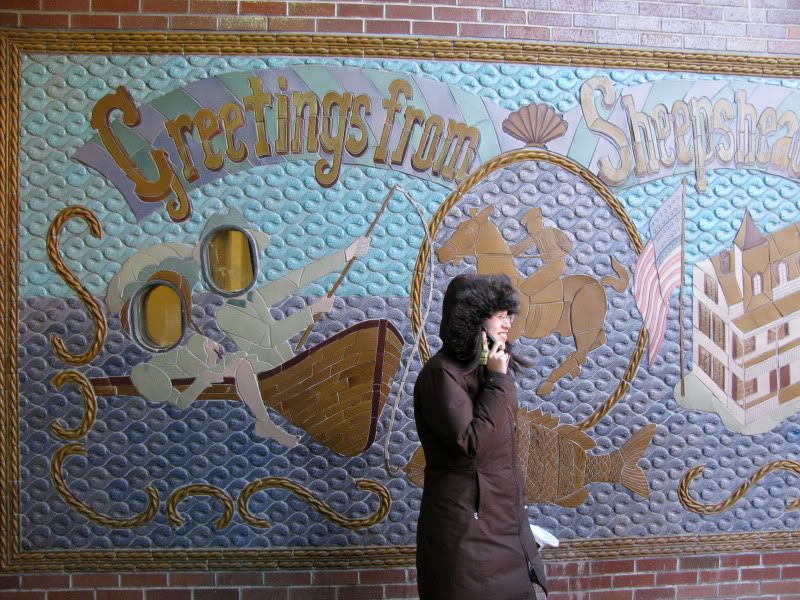 Stay close, bold vegans, under my Whisking Cloak, as I transport you first to Sheepshead Bay. It's one of the last stops on the Q train, and the population seems to be mostly Russian and Chinese. Lots of little old ladies in fur coats. But don't get mad at them, they're little and old and Russian.

(The lady pictured is neither little, old, nor me. I don't know if she's Russian or not.)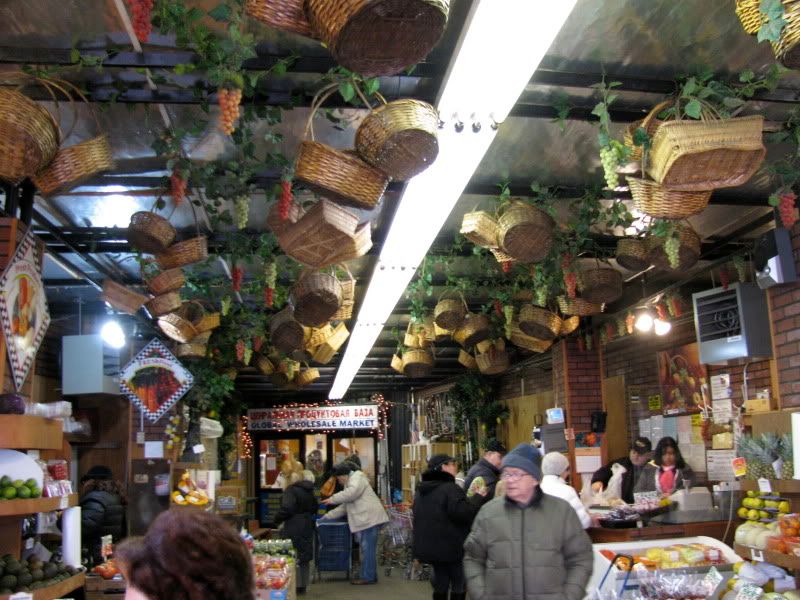 When you get off the train, a plum of a supermarket is hiding next to the CVS, at 1414 Sheepsheadbay Rd. It is camouflaged, like a secret beehive. Draw closer, dear vegan, and enter the Outer Chamber of Mostly Overpriced Produce. There are baskets hanging from the ceiling, and fake vines! Press onward!

The actual store, Global Wholesale Market, is open seven days a week, from  9 a.m. to 9 p.m.

CHEAP/AWESOME: tea, bread, beer, chocolate, pickled things in jars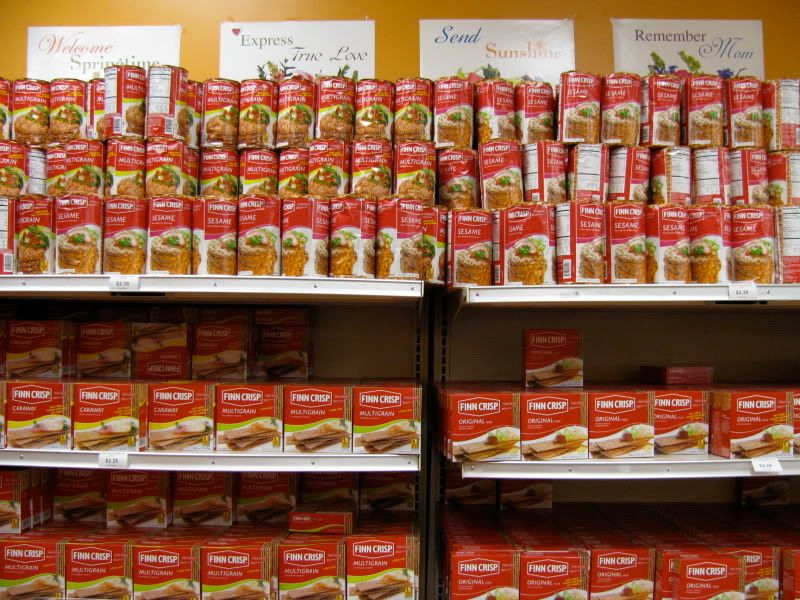 Russian supermarkets are good for the winter, or bunkers, or hunkering down. They're good wartime food. They're rations, like chocolate and nuts and pickles and jam. The produce isn't always great, but dollars to doughnuts the bread/tea/chocolate selection is ace.

This Russian supermarket, like some others, induces glee solely through the cheeriness of its displays. A wall of Finn crispbread! A sale on Borscht! Chocolate boxes as big as your torso!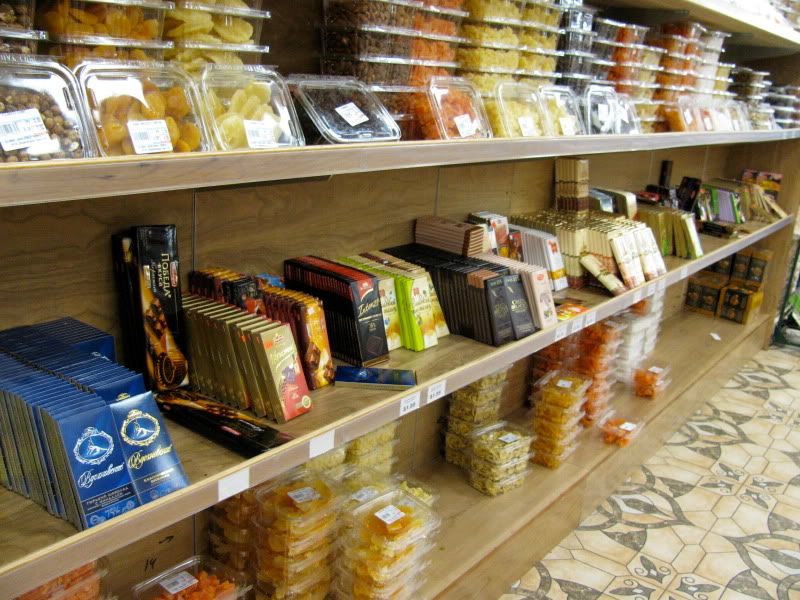 If you poke around a bit, you will find not just huge candy-boxes, but an aisle full of chocolate bars. And many are vegan! And hella cheap! (There are often English translations on the back.)

This chocolate bar is as long as my forearm. Its title is "airated rum chocolate". Yes, it is flavored like rum. It is vegan, and about $2.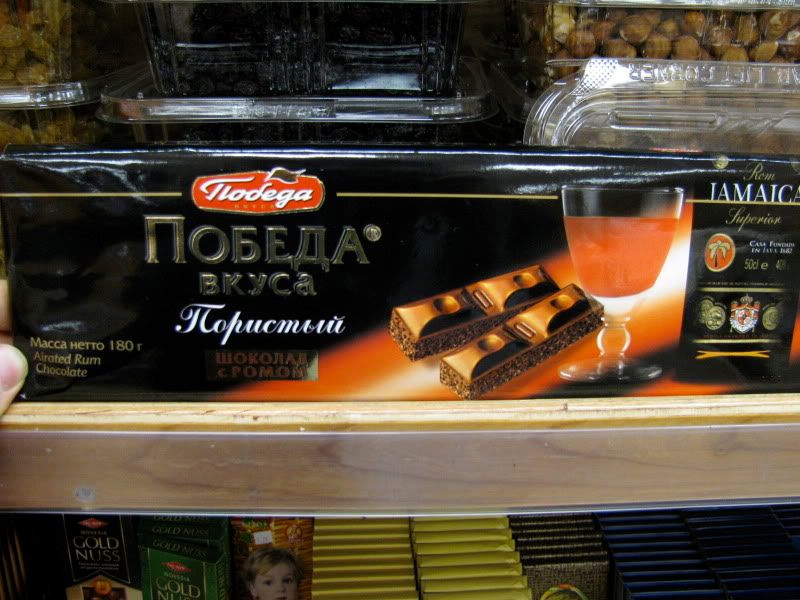 Most tea is under three dollars, and comes in surprising incarnations.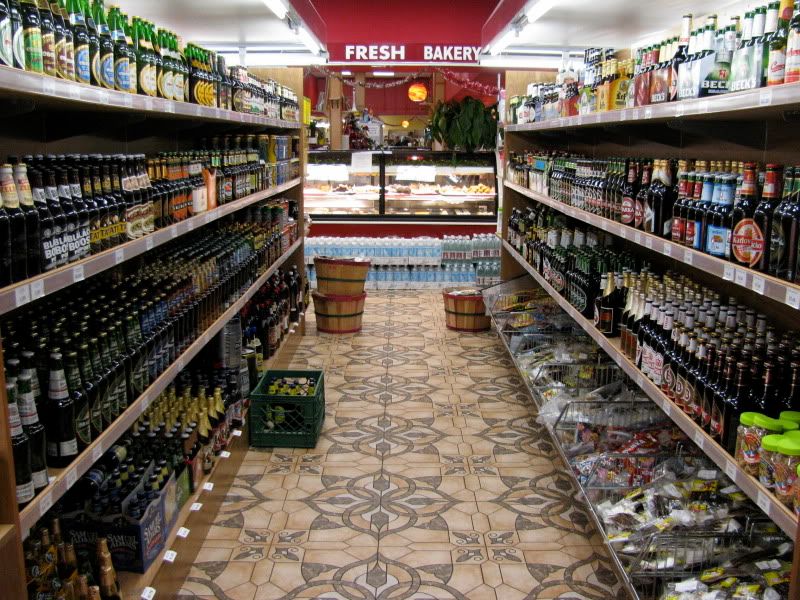 That's nearly it for pictures, except this weird beer! Just ignore the freeze-dried fish in baskets near the floor.


Oh man, I wish I could show you all the rows upon rows of bread! Squishy whole-wheat with seeds, round nutty loaves, so many kinds of pumpernickel, gigantic round bagels, baguettes, bread so dark and dense it was positively dangerous.
But they cottoned on to my camera and asked me to stop taking photos! And rather than sneaking around, I felt bad, and obeyed. Which is too bad, because the bread and the Things in Jars were completely awesome to behold.

More supermarkets, photos, and neighborhoods to come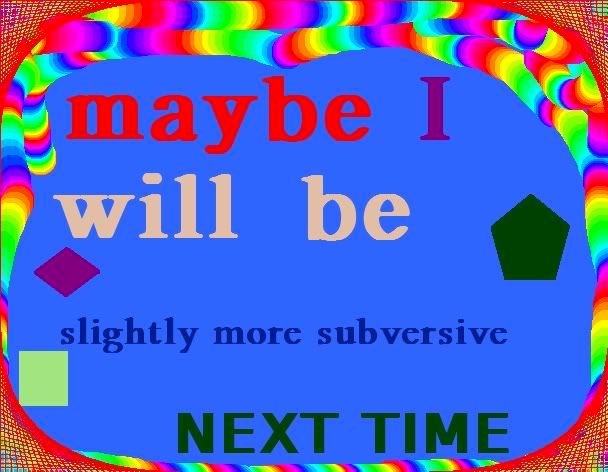 ∞ posted at 10:11 by abitingchance-deactivated201303
09/22/2008
Review: Samovar Tea Lounge! »
First off, they have a vegan cupcake here. It's chocolate. It's the size of a walnut. It costs $6. Do with that information what you will, but listen now and hear me later: a cupcake that costs more than a call girl should fucking do something nice for you. Like tell you you're pretty while doing your taxes and giving you magical powers. Oh, and taste MOTHERFUCKING DELICIOUS. This cupcake did none of those things. One demerit.

Other than that, the veggie and vegan options are clearly marked on the menu and they are plentiful. They even have a vegan Thai iced tea! Most of the meals are centered around a certain type of cuisine—Japanese, Indian, Russian (I KNOW, WTF?!), etc.—or you can order small plates and teas à la carte. It's a bit pricey for the amount of food you get, but I've always been quantity over quality so there you go. I mean, I'd rather have a bucket of pasta—literally, an entire bucket. Like the kind you usually put a mop in. Filled with pasta—than one AMAZING ravioli. I guess you could tell that much by looking at me so A) fuck you for judging me and B) fuck that ravioli and fuck those bitches who take one bite of that ravioli and are like, "This is the best thing I've ever eaten!" Well, bitch, that is because you haven't eaten since the Clinton Administration (those were the days!). I have no time for you or your skinny-ass antics. Seriously, I want to send you all to Jurassic Park to be eaten by dinosaurs like in the documentary.
Get more info on Samovar and its two locations here. Adding links is pretty fun.
[photo via yelp]
∞ posted at 16:49 by laurahooperb