11/22/2010
Shark fin soup is bad news! Here's how you can help! »

Poor sharks! They are being hunted and killed for their fins to make shark fin soup. SF Appeal had a great piece about the issue last week and I learned so much! The soup is a traditional dish in many Asian countries served at special occasions. It's supposed to show how much of a baller you are because it costs up to $100 a bowl. LAME! SFAppeal and other sources are blaming the shark's bad rep for the indifference to the fact that 70 million sharks are killed annually and 30 percent of shark species are threatened with extinction. Seventy million? Goddamn. Many times, because people don't want shark meat, their fins are cut off while the sharks are still alive and then they are just dropped back into the ocean to die. OUCH! You can see just how awful it is on YouTube but I won't assault you here.
Sea Shepherd (everyone's favorite vigilantes) has a campaign against shark-finning, part of which is changing your perspective on sharks:
Myth:  Sharks are bloodthirsty man-eaters and ruthless killing machines.
Reality:  More people are killed each year by falling vending machines than by sharks.
San Francisco has a lot going on with regards to shark-finning. Wild Aid, which seems pretty awesome, has its headquarters in SF. Check out their volunteer opportunities. San Francisco-based journalist Erica Gies is also involved with Wild Aid; read about her efforts on spot.us—a very interesting site on its own I might add. You can also read her interview with shark-activist and Goldman Environmental Prize-winner Randell Arauz. Sea Stewards has an initiative called The Shark Sanctuary that is devoted to better understanding and conservation of sharks in the Bay Area. You can sign their petition to the city to ban shark fins and shark fin products in SF. Hawaii actually became the first place to ban shark fin soup earlier this year; maybe San Francisco could be next?!
On a national level, here's a list of restaurants to avoid because they serve shark fin soup. New York and San Francisco totally stand out with the most restaurants listed. L.A. and Las Vegas do pretty well, too. Stopsharkfinning.net has a list of other ways you can help. You can also donate money to the Sea Shepherd for their shark conservation work. Read Oceana's report on the international fin trade here.
[images via Stop Shark Finning and SF Shark Sanctuary]
∞ posted at 13:30 by youtalkfunny
08/04/2010
Lion's Share Industries: t-shirts by vegan artists »
Hey everybody! Look what they are doing in Seattle: limited edition t-shirts all designed by vegan artists! Of course, to this I say, "OMG." Anika Lehde, founder of Lion's Share Industries, is one of my favorite people on twitter. She has a blog about vegan stuff in Seattle and tweets as @veganscore. I am not in Seattle because I am allergic to rain so unfortunately much of what she reports on is lost on me. But not these t-shirts! I like this one best:
I've loved owls ever since I found out Athena, by far the best Greek goddess, loves owls. The artist, Maré Odomo (sometimes Vegansaurus commenter and all around super talented famous person), has this to say about the design:
"Who cooks for you" is how birders and ornithologists interpret the Barred Owl's call, but I felt that it was relevant for this shirt because we should always be thinking about where our food is coming from. Also, owls are awesome. The imagery for the shirt was partially inspired by the episode of "Pokémon" where Ash sees that Ho-Oh flying into the sun."
How very interesting! 180 shirts are produced for each design so get them while they're hot. Also nice to know is that 15 percent of the profits for this series will be donated to Sea Shepherd Conservation Society. I love the Sea Shepherds because they are so darn HARDCORE. So with one little t-shirt, you can support the Sea Shepherds AND some super vegan artists. Nicely done!

∞ posted at 10:03 by youtalkfunny
12/18/2009
Vegansaurus Last-Minute (totally selfless!) Holiday Gift-O-Rama! »
It's down to the wire, folks. If you're anything like me, you've left your holiday stuff to the last minute (though, to be fair, you had the best of intentions and meant to get started in September), and now you're faced with the seven-day holiday insanity challenge. Well, friends, I am here to help. Here it is, the Vegansaurus Last-Minute Holiday Gift-O-Rama!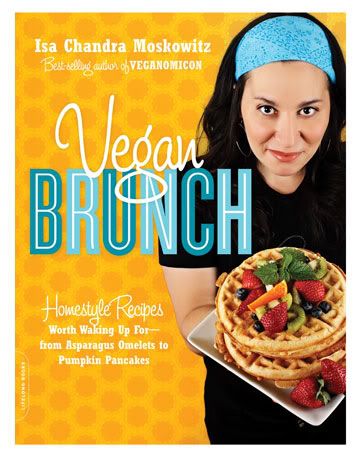 1. Signed cookbooks! Famous vegan cookbook author and all-around great person, Isa Chandra Moskowitz, is selling off signed copies of all her cookbooks! The best part? 100 percent of the proceeds are going to Out to Pasture sanctuary in Oregon. Time is of the essence on this one so order quickly if you want it in time for Christmas! Shipping included, prices are $28 for Vegan with a Vengeance, Vegan Cupcakes Take Over the World, and Vegan Cookies Invade Your Cookie Jar; $32 for Vegan Brunch; and $42 for Veganomicon.
To get your signed book, send a paypal to ppkshop@gmail.com and include the book(s) that you would like. If it's a gift, remember to include the recipient's address! And please let them know who Isa should sign it to.



Perennial favorite Farm Sanctuary is offering holiday gift adoptions again this year! Sponsorship/adoptions range from $10 per month for a rabbit or chicken up to $50 per month for a cow, which pays for all that animal's needs throughout the year. With your adoption, you'll receive your adopted buddy's photo and biography, and best of all, a VIP tour to meet them! 


3. For the salty dog in all of us, Sea Shepherd Conservation Society is offering gift memberships for the holidays. You pay $25 or more in your recipient's name, and they get a certificate acknowledging the donation, a copy of the Sea Shepherd Log, and a sticker with the Sea Shepherd logo (which is, if I may say so, badass). Your membership dollars go toward helping the Sea Shepherd keep saving those whales! There are also options for making recurring donations as well as Sea Shepherd shirts, bags, water bottles, and other goodies on the site if that's more your thing. However you give them money, it's going to a good cause, so spend away!
4. If you're planning on plying someone with vegan cheese (or vegan shoes! or vegan acne medication! what! asshole!) over the holidays, why not order from Vegan Essentials and save 10 percent on any order (including sale items!) with coupon code "holiday10"? OR orders shipping within the continental USA (sorry Hawaii and Alaska! You always get screwed! Oh and every other country, sucks to be you! USA! USA!), you can get a free upgrade from UPS Ground to UPS 2nd Day Air on orders over $50 (total cost excluding shipping). Make sure to choose UPS ground as your shipping option when you check out and you'll be upgraded at
no extra charge. Both offers expire at midnight on Dec. 19 (that's tomorrow!) SO GET ON IT. If you're looking for more delicious vegan treats, VegNews* has a store up and running that includes some damn cute holiday cards & VEGAN MARSHMALLOWS (plus lots more awesome stuff!). Also, giving a subscription (available in tree-free form too for all you people who care about the Environment GOD) to the magazine is only $20 and spreads the vegan love all year long! Finally, Herbivore put out a gorgeous coffee table book of their art. It's a super classy present.

5. Finally finally, just about every animal rescue takes a beating around the holidays. Whether it's a farm animal sanctuary that experiences an influx of turkeys or a cat rescue that overflows with discarded holiday kittens, all animal charities accept donations and are grateful as hell for the help. Is that curmudgeonly aunt of yours a secret rabbit person? Donate to Save A Bunny in her name! Bam! Done! Have a friend who loves cats but can't reasonably take in another one? Donate to Give Me Shelter Cat Rescue, and they'll do the taking in for her. Oh, and there's always the Physician's Committee For Responsible Medicine,* The Humane Society, Rocket Dog Rescue,* Grey2K USA, Animal Place, Compassion Over Killing, Mercy For Animals, Animal Acres, Home At Last, and many, many others. All you need is a credit card or paypal account, and your holiday shopping is just minutes away from being done.

Happy holidays!
*Members of Vegansaurus are presently employed by/volunteer for these organizations.
∞ posted at 12:32 by jordanpattern
08/21/2009
Dan Barber's feet of clay, Ra-Ra-Rasputin, your fucked-up Manolo boots, a falafel truck, stupid scientists, and a busy Bay Area weekend in the Link-o-rama! »
If you have ever called yourself an activist, even if only in the mirror with post-shower anger-hair, you must get yourself to the a.Muse Gallery tomorrow from noon to 2 p.m. for the School Lunch Sound-Off! Make Vegansaur Laura's tireless work on behalf of the nation's wee vegan and vegetarian children worth all the missed sleep (GET IT?).
Also among your obligations, locals: visiting Jonas and Minty Lewis at SF Zine Fest, the only Vegansaurus-endorsed fest in the country!
Circus protests continue through the weekend! That is an exclamation mark of outrage, by the way.
Don't forget, Saturday from 11 a.m. to 9 p.m. is the first-ever San Francisco Street Food Festival! Admission is free, and there will be food and cocktails, with no item over $8, all on Folsom Street between 25th and 26th Streets. The vendors list appears to have a decent number of veg dishes, but not too many, so get there as early as possible, lest the omnivores devour all of everything like a cloud of unethical locusts.
Captain Paul Wilson of Whale Wars (unintentionally?) gives the best quotes ever, explaining his decision to make the Sea Shepherd a "vegan vessel." To wit: "About 70 million tons of tuna goes into cats everyday. In fact, in a natural world, if a cat ever came face to face with one of those fish, the fish would eat the cat." He's right—have you seen how big tuna fish are?
NEWSFLASH: Eating loads of "fatty foods" negatively affects one's cognitive abilities, i.e., makes you fucking stupid. Ha ha, McDonald's, we knew you were the devil—except, wait, the data from which the researchers drew their conclusions were gathered from ANIMAL EXPERIMENTS? Whoops! Maybe certain biologists need their cognitive abilities checked; Vegansaurus is enrolling you in our next Animal Torturers' Reeducation Camp right now.
Hey Golden Gate Restaurant Association: your eternal nemesis, Healthy San Francisco, hasn't ruined your business forever and ever EAT THE POOR. Perhaps this is linked to the flat-tax/fee some restaurants began charging patrons to compensate for all the money they expected to hemorrhage; perhaps helping the uninsured is a good idea after all. Keep on keepin' on with that lawsuit, GGRA, you totally don't look like cheap heartless bastards.
"No, it's not ocelot fur, it's, um, 'cava'! Cava fur! Totally not endangered in their native, um, Spain! Yes, northeastern Spain; this boot is such a fresh look at Mr. Blahnik's classical Spanish style, DON'T YOU THINK?"
Remember how Dan Barber swore that if he couldn't convince his geese to enlarge their livers naturally, like his hero Eduardo Sousa, he wouldn't prepare or eat foie gras ever again? Yeah, turns out he didn't exactly mean it like that, and Sr. Sousa was not pleased. Sousa, keeper of the freest-range foie-gras-producing geese in the world, also found certain other "cruelty-free" foie gras bird farms to be literally nightmarish.
More street food is coming, and soon! The Liba falafel truck will be parked at the corner of De Haro and Alameda Streets sometime in "early September;" being fairly crazy for falafel, Vegansaurus very eagerly anticipates this happy event.
Next weekend, Aug. 28 to 30 at Jack London Square in Oakland, is the second annual Eat Real Festival. Admission is free, and they have all kinds of entertainment planned, as well as a full-on farmers' market and a beer "shed." The list of vendors looks pretty impressive, too. Don your finest eating-wear and join Vegansaurus—it is rare we miss an opportunity to eat on the cheap—though we will of course be missing the butchery contest on Saturday, Aug. 29, because, puke. Go go go, eat eat eat! Fight that nasty "unnaturally thin and anemic vegan" image!
Also happening next Friday, Aug. 28, is Sweet Justice, "a benefit for the AETA 4." What, and who? The Animal Enterprise Terrorism Act is an ugly piece of legislation introduced in 2006 by one of Vegansaurus' own elected representatives, evil betrayer Senator Dianne "fuck your civil rights" Feinstein. The AETA 4 are four activists who were arrested by the Joint Terrorism Task Force of the FBI in February of this year because of their alleged terrorist activities related to protests against the University of California's animal-testing policies. In light of the behavior of the protesters against members of Congress, especially the violent, hateful messages those protesters boldly espouse—going to a presidential appearance with loaded guns!—one wonders exactly what kind of agenda the JTTF/FBI have here. Less depressingly, Violet Sweet Shoppe baked goods will be at this benefit, so, that's all right.
On my (Meave's) last night in Mexico, while I was enjoying some bean-and-chile tamales, the most amazing song with the most amazing video appeared on the televisions mounted on various walls of the restaurant. Its brilliance was marred by the decision of the members of the group, Boney M., to all wear various furs throughout the video—that shit was grotesque. I believe the flaunting of these nasty, ghoulish items of clothing is why the song, "Rasputin," never attained the fame in the U.S. it otherwise deserved because seriously, never was I more surprised and delighted by a music video than by this one. Let's boogie:

∞ posted at 17:08 by time-for-naps