10/14/2010
Keep ups the ante! Animal Collective's Ramos soon to be in adult sizes! »
If you can remember all the way back to Monday (lush), you may recall the kids' Ramos by Geologist, the latest addition to the Keep and Animal Collective collaboration. Well guess what?! People were all like, "Screw the children's, I want a pair!" And Keep has delivered: the Ramos by Geologist will soon come in adult sizes. She-bangs! (That's going to be my new exclamation of choice. Thanks Ricky!)
This picture is just a mock-up because I guess they were so excited about the announcement, they didn't want to wait until they actually make one of these shoes. I'm into this mock-up though; you're seeing something that doesn't exist! It's basically a unicorn. Just kidding, unicorns are totally played. It's more like a libertarian who doesn't annoy the shit out of me [Ed.: us!].
∞ posted at 15:20 by youtalkfunny
10/04/2010
Keep reveals the second Animal Collective Collection shoe! »
This is the Guerra hightop designed by Deakin of Animal Collective; it's the second shoe in their collaboration with Keep shoes. As Meave previously wrote, Keep will donate all the profits from sales of this Collection to the Socorro Island Conservation Fund. SWEET.
My official word: I'm into them. You know I love a hightop but I'm also super into embroidery. Shut up, I am. Deakin was inspired by his scuba-diving:
Telling friends how psyched I was to have seen Blue Fin [sic] Tuna, I also realized that though they have eaten Blue Fin, [most people] have no idea what tuna look like. I thought it would be cool to represent tuna in some way that I thought looked sweet and would want to wear.
That's true, right? He was prob like, "I saw a bluefin tuna!" and his homies were probably picturing a can of tuna floating along. Maybe some sashimi.
I like these better than the first shoes from the collection; they are more wearable in my opinion. Dark blue, no cartoonish pictures. A little artsy-craftsy. Dope.
[Sorry peeps, I'm sick with British germs so you may notice a few less exclamation points than usual. PS: I'm back from my vacation!]
∞ posted at 10:02 by youtalkfunny
09/07/2010
Vegan sneaks for a good cause »
Check it out! For the month of September, my favorite vegan sneaker company, Keep, and online store pickyourshoes.com will donate proceeds (not sure how much) from the sale of Keep sneakers to Greenpeace to help clean up the Gulf oil spill. Huzzah!
Keep made me sad when they stopped offering the insane variety of color and pattern choices they used to have. Seriously, it was crazy; they had like 12 different color choices for each sneaker and I loved it. Now they only offer a few choices for each sneak! Lame! But they are still the dopest vegan sneakers around and I still love them. But guess what? It looks like pickyourshoes.com has some of the old sneaker models Keep doesn't sell anymore! Exciting! To me! I have these fly-ass shoes, "The Nuss," (pictured left) which Keep still sells but not in this pattern anymore. These shoes are the hotness and I get like a million compliments an hour when I wear them. I like to call them my Pacific Northwest skater shoes. Get 'em while they're hot!
∞ posted at 06:58 by youtalkfunny
12/11/2009
Vegan Hightops: You Know You Love Them! »
In honor of my superfantastic new purple hightops from Keep (a Vegansaurus favorite), a vegan hightop round up! Yay! If you are looking for sneakers to "exercise" with, this is not for you. These are fashion sneaks all the way! And I guess I should warn you, for some reason, I seem to prefer my hightops in wackyass colors. I don't know, they're hightops! They're already wacky! Might as well go all the way. To ease you into the hotness, I'm going to start off slow and work my way up to the, shall we say, louder sneaks.

These are my beautiful new hightops, the Elias from Keep. If you are questioning their dopeness, some teenagers walked by me on the street and proclaimed, "damn, her kicks is killin' it." OMG they are teenager approved! That's all the proof I need. Also note, they got these for boys and girls alike. These are $85.
Next up, on the conservative-yet-awesome side of this list, Mahtva from adidas by Stella McCartney. Looking good, ma, looking good. They are $150.

Here we have the "honest to blog" hightops from Modcloth. Ignore the title and the shoes are pretty cool. These are $42.99.
These bad boys are the hooligan sneaker from Alloy for $49.90. They've got a nice mixture of sleek and goofy, am I right? I'm always right!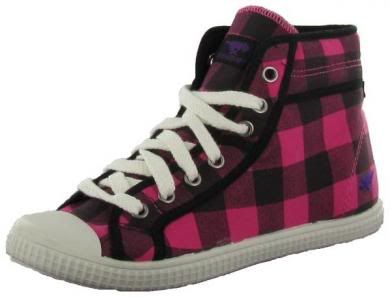 Ok let's throw in some color! That means colour for you British folk. These checkered Rocket Dog hightops from streetmoda.com are a lean $19.99.

Ok, ok, let's get crazy! Diesel has got these super-nutty sequin hightops for $140.90 (again with the 90 cents?) at whatapair.com.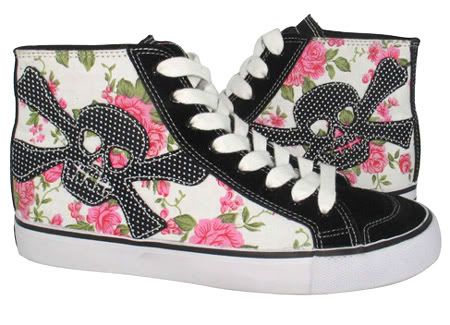 I will not back down! Here are some rose-and-skull hightops for $47.50 from babygirlboutique.com. They are all into the pinup fashions and I guess these are their answer to casual pinup wear. I say, kudos! Imagine these with some dark blue jeans. Superfantastic.
To end things on a crazy note, HOT TOPIC HAS VEGAN SHOES! Yes, the Hot Topic you know and love from your teenage days at the mall. These are kind of fugly…but I think they go far enough to where they're kind of great! Come on, don't be scared! You can do it!

If you want a little tip on wearing crazy sneakers—and Philly girls know about crazy sneakers—my thing is to wear them with skinny jeans and a simple top. Like a white t-shirt or just a simple navy sweater (navy is my bff).
Now, go out, get vegan hightops and be awesome!
∞ posted at 11:00 by youtalkfunny