12/11/2010
Get Thee to East Bay Alternative Press Festival in Berkeley TODAY! »
If you live in the Bay Area, then cram another thing onto your already-overflowing calendar, for today is the East Bay Alternative Press Festival! Why is this of interest to vegans, you ask? Well, for one, it's location puts it in quick walking distance from Saturn Cafe, Cinnaholic, and Green Papaya, but also, Friend of Vegansaurus, Erika from Soyfucker comics is going to be there, so you can stock up on her cuss-laden vegan comics zines to give to all your friends and family this holiday season. Huzzah! Plus, our Jonas will be there with Family Style, Jen Oaks, Susie Cagle, and many more veg favorites!
What's more, Erika came up with her own list of reasons you should check it out:
It's free to attend.
Local writers and arteests.
Zines and the such make great holiday presents.
We have 100% less burning sage than the Telegraph Holiday Street Fair.
So, come on down! Meet some folks! Buy some presents! Eat some stuff! It'll be a grand old time, and I can't think of a better way to spend a Saturday afternoon.
∞ posted at 09:51 by jordanpattern
08/21/2010
Issue 2 of Soy Fucker is available! Plus, SF Zine Fest is a-comin'! »
Hard copies begin shipping out on Tuesday, Aug. 23! Can't wait? Can't blame ya. Soft copies are also for sale, and you can read them, like, now.* Only two bones, and it goes to Deep Roots Sanctuary. What are you waiting for?
*depending on your internet speed.
(via soyfucker)
In other zine and comic news, SF Zine Fest is coming up (Labor Day weekend, Sept. 4 and 5!) and lots of awesome veg artists are gonna be there, including Jesse Reklaw (he made this year's Zine Fest amazing poster too!), Ashley from Fat Bottom Bakery with Barefoot and in the Kitchen, Rick and Eve of Monkey + Seal (seriously BUY THIS!), Minty Lewis from P.S. Comics, Susie Cagle, Jen Oaks (OMG BUY THIS!! Oklahoma Animals FTW!), and our own Jonas Madden-Connor. SO MUCH TALENT!!
OH ALSO, I am making a zine. It is about being fat and it's called FAT ZINE. It comes with free candy because that's how fat people do. Susie and Jen are doing sexy fat lady drawings and there might be glitter involved. Lots and lots of glitter. Y'all ready for this?
∞ posted at 18:04 by laurahooperb
06/09/2010
Get vegan comics, help East Bay Humane Society! »
We posted already about the exciting new vegan comics zine Soyfucker, and we're pleased to say that it's now available and all proceeds are going to the Berkeley East Bay Humane Society to help with their rebuilding following their tragic fire last month.
The zines are only $2 a pop, and they're available online at the Soyfucker website. Just look how cute you'll look reading them!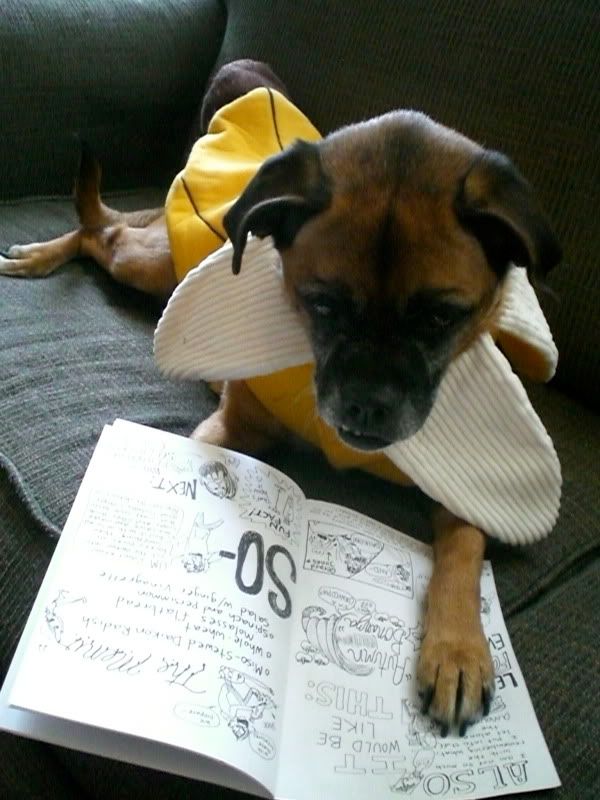 Also, the crack editorial team (Erika) is looking for submissions for Soyfucker Issue 2. Submissions are due July 31, so get to drawing, vegans!
∞ posted at 14:19 by jordanpattern
04/28/2010
All your vegan comics are belong to Soy Fucker »
… or something.
Anyway, Erika, friend of Vegansaur Jordan, is doing a cool thing and putting together a vegan comics zine. The goal is to get as many vegans as possible to contribute, and the deadline for submissions for the first issue is coming up! No need for mad comics skillz or fancy equipment—Soy Fucker is a labor of fun, so vegans of any and all skill levels are encouraged to submit.
The only real rule is that comics artists and/or writers must be vegan. Other than that, pretty much anything goes. Comics don't have to be about vegans or veganism. More details (including the format and size, etc.) can be found at soyfucker.tumblr.com.
Submit your scrawls to artwork@soyfucker.com and make the Soy Fucker mascot banana dog happy!
∞ posted at 08:24 by jordanpattern