08/02/2010
Monday Night RAW »
I have to admit I was a little worried as I headed to Heather Haxo Phillips' raw cooking class on Monday night. I mean, I'm a baker. Also, the only shot of wheatgrass juice I ever had made me barf (not kidding). I'd also just been in an internet fight with a raw foodist who made some pretty crazy-ass claims about the benefits of raw food (like that you can eat 3,000 calories of it a day and still lose weight). So, yes, I was a bit worried I would be in for an evening of specious nutritional claims, barf-inducing (literally - I had a bad wheatgrass reaction once, so I was worried about the possibility of actually barfing) healthy juice, and cold food.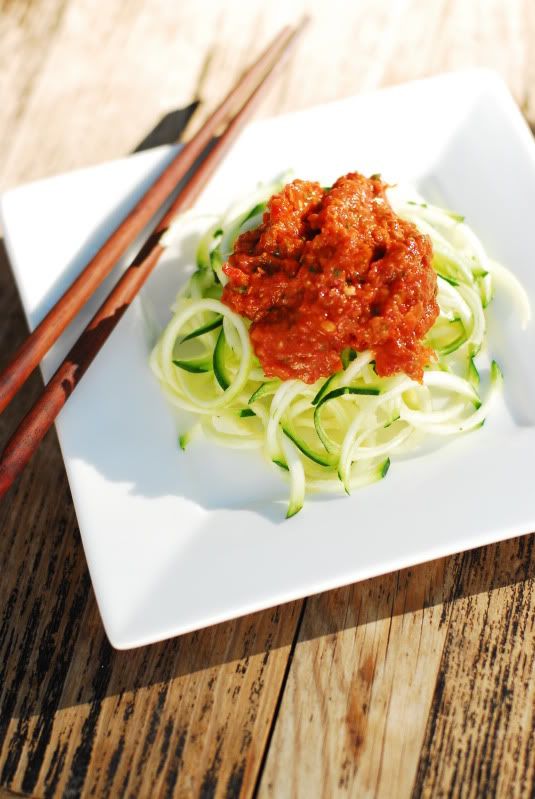 I needn't have worried.
The 2.5-hour class was really fun and inspiring. Chef Heather walked us through six separate raw breakfast dishes (with samples of each), giving clear, easy-to-follow directions for each one. Contrary to popular belief, you don't need to have a $10,000 raw kitchen to make awesome raw food, and you don't have to spend 12 or more hours on each dish. Chef Heather recommends a Vitamix (which, yes, are spendy, but they're also crazy useful and apparently last forever) and a dehydrator, which isn't so bad. Using those two tools (and with the aid of a mesh strainer bag and a food processor), the class watched as Chef Heather produced green juice, green smoothies, raw oatmeal, raw granola, raw crepes, and raw cinnamon rolls: an impressive display!
Unlike many of the raw recipes I've looked over in the past, many of Chef Heather's creations require just a couple sentences of instruction and not a lot of unusual ingredients. Probably the most unusual thing we used were the oat groats used to make the raw oatmeal - which are available readily at health food stores and groceries throughout the Bay Area. Also unlike many of the raw recipes I've seen in the past, these seemed like things I might actually make; delicious, hearty breakfast that involves soaking something for 8 hours and then putting it in a food processor? Yes please - and way more nutritious than my norm.
While I may not be convinced to become a raw foodist just yet, Chef Heather's class definitely opened my eyes and made raw food seem like something I could do at home. I'll definitely be giving the raw granola a go, and have sworn to attempt to make green juice in my own home. Oh, and almond milk! Holy crap you guys - I've never been a big straight-up milk fan; it's always just a necessary component of cereal or coffee, but the raw almond milk in this class blew my freaking mind. I will DEFINITELY be trying that one at home. You can't imagine how awesome almonds, a couple dates, and water can be until you try it. DO IT.
Heather Haxo Phillips teaches classes all over the Bay Area, and this vegan recommends them (especially intriguing is the nut milks and cheeses class coming up on September 13). Check out the class schedule and also the Raw Bay Area website (a great resource), and get, um, un-cooking!
∞ posted at 10:40 by jordanpattern