09/07/2011
Book review: Thrive Foods by Brendan Brazier! »
You know who Brendan Brazier is, right? He's a Canadian-born professional Ironman triathlete, international bestselling author, and creator of VEGA natural whole food products and supplements. He's pretty much a vegan superhero, and he just released a brand new, ultra-informative book called Thrive Foods, which was ever-so-kindly sent to me for review.
The perfect follow-up to his acclaimed vegan nutrition guide, The Thrive Diet, Thrive Foods covers some of Brazier's original material and delves into much more detail. The first four chapters cover everything you'd ever need to know about the foods we eat and how it translates to fuel and well-being in the body. Chapter one, Health's Dependence on Nutrition, discusses nutrition's effects on the body and mind, from stress levels to sleeping patterns. Chapter two, Eating Resources, discusses in glorious detail the effect of our diets on the environment—did you know that livestock production uses 70 percent of all arable land, and 30 percent of all land surface on the PLANET?
Chapter three, An Appetite for Change, explores what Brazier calls the Nutrient-to-Resource Ratio, which analyzes the total amount of each natural resource that goes into a food's production in exchange for the amount of nutrients it offers. He presents the most beneficial foods based on personal health and environmental preservation. Brazier introduces the Eight Key Components of Good Nutrition in chapter four, and suggests some nutrient-dense pantry essentials for any healthy vegan's home.
The recipes arrive in chapter six, and they are pretty incredible. Thrive Foods features 200 recipes, from Brazier himself and also a slew of celebrity vegan chefs like Amanda Cohen (Dirt Candy), Chad Sarno (Saf, Whole Foods' Health Starts Here program), and Tal Ronnen. Some of the recipes are straight from the menus of some of our favorite vegan hotspots, like Candle 79, Millennium, and Fresh. Candied grapefruit salad! Baby zucchini and avocado tartar! Wild rice with kabocha squash and sage butter! Chocolate-chip maple maca ice cream! OK, I'm drooling.
Brazier has created a consummate guide to health and nutrition for every human being, regardless of athletic prowess. Thrive Foods is an encyclopedia of well-being and I can't think of anyone who wouldn't benefit from its wealth of information and incredible food. The Thrive Diet caused me to question the effects of my diet in my body, and now Thrive Foods has taught me about its effects on the world.
Wanna get your learn on? Watch the book trailer, buy the book, and like Brendan Brazier on Facebook to download a Thrive Foods introduction and three free recipes! You can also enter to win a trip to Hollywood to meet Brendan at the Alive! Expo on Friday, Sept. 16!
06/13/2011
Readers' choice: protein powder! »
An omni woman at my work has been asking me a lot of questions and seems to be eliminating animal products from her diet. Yay! The other day, she realized the whey protein she puts in her morning green shakes does, indeed, come from an animal. She asked if I could recommend a vegan option instead. First I told her that people don't really need a crazy amount of protein, but she was not having it. So, I turned to our Twitter and Facebook friends and did a little vegan crowd-sourcing. I got so many great answers! Thanks to everyone who helped—you guys are the best! And I thought everybody might be interested in the suggestions so here's a round-up:
Hemp protein seems to be the most popular suggestion and the popular brands seem to be Tempt and Nutiva.
One responder (sorry, I forget who! But you rule) said this about hemp powder: "Instead of your body breaking down a protein like whey or soy into amino acids to then build into protein, it provides the amino acids directly and skips the step of breaking it down. It's the same thing with quinoa." Interesting. Oh and a bunch of people said you can get really good deals for Nutiva on Amazon and that Tempt is available at Whole Foods. And someone else said Trader Joe's chocolate hemp protein "is amazing." The vegan weightlifters also recommend hemp. I think hemp is also a good environmentally conscious option but I'm just making that up.

Second most popular is Vega which I think is a combination of a bunch of different vegan proteins like hemp, brown rice, pea, etc. One person says it has iron and B12 in it too which is always nice. Another person said the vanilla flavor of Vega is too sweet. And someone said it's the only protein powder they like that mixes well with water. And someone else specifically recommended Vega Sport—20g of protein in just half a serving. Yowza!
Third is a tie between Sun Warrior protein powder and pea protein.
Other suggestions (sorry, I'm not about to link all of these mofos, you can google them):
Brown rice protein
Amazing grasses
Whole Foods' soy protein powder in vanilla or chocolate
Peanut flour
Nutribiotic rice protein
Amazing Meal
Plant Fusion Chocolate ("has crack in it")
Silken tofu
Warrior Food by Healthforce
Spiru-tein
Ground quinoa
Ground raw pepitas
30/70 blend of brown rice and gemma pea protein from True Protein.
Nitrofusion
Whole Nectar organic soy protein powder
That's a lotta' protein! Thanks guys! Until next time.

∞ posted at 08:19 by youtalkfunny
02/02/2011
The Vegansaurus Diet: Laura! »
I was inspired by Meaverly and La Rascal to do a Vegansaurus Diet. So I did. BAM:
Monday, Jan. 24.
Vega shake (chocolate flavor mixed with water) and coffee with coconut creamer. The thing with Vega is, it tastes DISGUSTING but makes you feel SO ALIVE. I've never had a protein shake make me feel the way Vega does. Seriously, I feel like I could punch out Superman! I want to puke while I'm drinking it (it does not help that it looks and smells like puke) but afterwards, my head is clear, my eyes are bright, and I have weird amounts of energy. Freaky.
Lunch is my patented "Couscous Surprise." Actually, Jonas patented it but I innovate on the base so ANYWAY. What I do is, I put Israeli couscous, half a Field Roast Chipotle sausage, some broccoli, a dash of olive oil, a little vegan chicken broth powder, some nutritional yeast, spices galore, and water into my rice cooker and BAM! half an hour later, Couscous Surprise! This dish is very tasty and delightful. Highly recommended. My lunch dessert is a pear. BORING, it'll get sexier/fatter at dinner, I promise.
For snack I had one of those high-fiber fruit bars from Trader Joe's. They're all right-tasting and full of fiber!
Dinner was the new Loving Hut on Irving in the Inner Sunset with the lovely Eve Batey. We split the Ocean Basket (deep-fried vegan fish and green beans and mushrooms), a mango salad, and this tofu veggie vermicelli thing. Oh, and fried bananas and ice cream. Everything was okay, if a little bland. And then later when I got home, I had a piece of leftover Maggie Mudd ice cream cake. Delicious. God, I love that fake frosting flavor, I have such horrible taste in everything.
Tuesday, Jan. 25
Since it probably took you half an hour to read about my Monday, I'll get more succinct up in this bitch. For breakfast today, I had a vaginal exam. After that, I enjoyed two cups of coffee with coconut creamer, a molasses cookie, an apple, and a pear. Lunch is chia seed gravy with tofu, spinach, and broccoli over quinoa! Love that chia seed gravy. I snacked on TJ's fruit leather and one of those delicious maple leaf cookies they sell. Dinner was cooked at my parent's house so we could watch downloaded legally recorded Big Love. We made spaghetti with a zucchini and mini heirloom marinara and the Trader Joe's meatballs and a big salad with Sabra spinach and artichoke hummus and some herb slab bread. It was all very delicious and OMG BIG LOVE SO SCANDALOUS.
Wednesday, Jan. 26
A bowl of Trader Joe's Oh's (or whatever the fuck they're "cleverly" named) with almond milk, a pear, and coffee with coconut creamer. BAM! For lunch, I had last night's leftover spaghetti and two diet Hanson's sodas. I love soda, one of my new year's resolutions was to drink more of it and I'm no quitter! Except when things are hard! Then, I had a TJ's Laxative Fruit Leather. For dinner, homemade Mac and Cheese with quinoa pasta and loads of broccoli (my own recipe, it's the bomb, one day when I'm feeling less lazy, I'll share it with you)! The last of the Maggie Mudd ice cream cake which ended up giving my funky tummy. I will also say that I was at Maggie Mudd's the other night and they only had TWO vegan flavors on the board WTF? Oh, and BEER. I enjoyed some beer. 
Thursday, Jan. 27
Coffee with coconut creamer, laxative bomb fruit leather, and Trader Joe's Oh's with almond milk. I totally forgot to have lunch because it was a crazy crazy day and  was starting to feel shaky, so I stopped at Whole Foods and picked up some cucumber and avocado sushi (what's up, Rascal!), a Synergy kombucha, a banana, and a ProBar. Ate everything but half the ProBar but not because it's gross, just because I was full. I stopped in the downstairs cafe to eat like a proper human and they were doing wine tastings. Nobody else was indulging so the wine lady poured me three giant glasses of wine. No clue what the wines were but this is probably because I had three huge glasses of wine. Cheers! For dinner, I met with two wonderful ladies, Amanda and Leda, for Vietnamese food in the place that's where Yum Yum House used to be on Valencia (it's now on Divisadero!), Thanh Tam II; we split spring rolls, tofu with string beans, white rice, and veggie noodles. It was pretty all right. I think if I still lived nearby, I might get it for delivery, but no, in this neighborhood, I prefer Sunflower for Vietnamese food. Sometimes people complain about our mainly positive restaurant reviews but the thing is, we mainly review the places we really love. Or that really suck. Maybe we should do more places that are like, O-KAY. I dunno? Thoughts? I AM VERY SLEEPY, GOODNIGHT. 
Friday, Jan. 28
Vega + coffee with creamer! Lunch is chia seed gravy over broccoli and multi-grain crackers with eggplant garlic dip. Late afternoon snack is roasted Brussels sprouts (olive oil, salt, pepper, balsamic vinegar; roast at 425 for 20 min!). 6 p.m. rolls around and I'm craving chocolate like crazy so I make a pan of Fat Bottom Bakery fudge. Waiting for that cool because I want some before I go see a movie with my mom tonight. I'm gonna fall asleep during it, guaranteed. Now, MORE WORK! Goodnight, sir.
Saturday, Jan. 29

Coffee with coconut milk creamer. A million episodes of Breaking Bad. Made some chickpea "tuna" salad (YUM) and ate that and Sabra Spinach and Artichoke Hummus (YUM) with multigrain crackers. Then, I indulged in some of yesterday's fudge. I packed it in. I really love FUDGE!! Then, I cuddled Hazel and took a nap—not really food-related but digestion-related. Next, picked up sushi and soba and goma-ae and edamame and miso soup from Cha-Ya in Berkeley and took it to Minty and Damien's house to meet their 3 day old baby, who is named Sally, and is beautiful and perfect in every way. I wish I was a baby, what a life! All just eating and sleeping and people cleaning you and hugging you constantly. It's like I always say: It's a baby's world, we're just living in it! Oh, this is a good time to mention that I also had two glasses of wine. Red wine! Heart healthy! Anyway, delightful visit with delightful people (and dogs and cats) and then so, we came home for more Breaking Bad and cider and garlic fries. GARLIC FRIES!!! Now, fudge? Or, sleep?
Sunday, Jan. 29
Coffee with vanilla soy milk! Then, some dried mango and a carrot. Fast-forward to lunch, which is Souley Vegan gumbo (delightful spiciness with okra, tofu, and seaweed), collard greens, southern fried tofu, and mashed potatoes with gravy, split with Jonas. Followed by some vegan gummy worms. For dinner, we made Red Curry with Rice and Purple Kale. I'm really loving that recipe, except I used hemp seed oil as the oil and it's my first time cooking with it and it has a gross-ass fishy smell. NO ME GUSTA. 
Monday, Jan. 31
Having a down day today so it's time to eat! Actually, today didn't motivate me to eat so much as cry in a corner. Anyway, I made myself hot chocolate for breakfast and ate some leftover red curry for lunch. I had an apple and four Candy Cane Joe Joe's and then I wasn't super hungry or motivated so I had some chickpea salad for dinner and a big glass of soy milk. Th-th-th-that's all, folks!
[Cha Ya photo from Yelp; maple cookies picture from VegNews!]
∞ posted at 09:09 by laurahooperb
11/09/2010
A vegan in Central Europe: Vienna, Krakow, and Budapest! »
When I go on crazy trips, the first thing that pops into my mind is "WHAT AWESOME VEGAN FOOD AM I GOING TO TRY?!" I guess I'm special that way. Picture it: Vienna, Krakow, and Budapest. Nine days, so much awesomeness.
First stop in Vienna: Formosa. It's off of the Neubaugasse shopping strip, and it's magical. A family-owned grocery/cafe with… get this—VEGAN BOBA! And they sold Go Max Go chocolate bars and Primal Strips. The food I got (a chicken sandwich) cost 3,90€ and was all right, but nothing to write home about, though I guess I am anyway? Definitely worth a visit, more for the boba and available grocery items than for the food.
The star of Vienna was for sure Bio Bar. It's significantly fancier from the order-at-the-front café style of Formosa. I think the place is run by a man in the front and his wife in the back. We loved the food so much we went two nights in a row!! I got gnocchi with pesto and artichoke hearts the first night; the gnocchi was a little gummy, but I thought the flavors were spot on and I finished the entire plate. On the second night I got a gluten-free meal: a soy patty with a scoop of mashed potatoes. The spices in the patty were fucking incredible, and the whole meal was so filling. Their chocolate cake wasn't all that great. I think it had some sort of agar-agar-based filling, and I was expecting more of a mousse texture. Overall, the atmosphere was perfect. Entrees cost from 8€ to 15€ and it was around 2€ to 5€ for dessert.


Another place you might want to stop by while your there: Maschu falafel. It's REALLY good falafel, not so good service. And while we didn't get a picture of the food, we certainly filled up on it.
Next stop (don't question our trip-planning) was Krakow. I felt it was the smallest city of the three that we visited, so it was pretty easy to go to the edges of the city to try amazing vegan food. We went to four places: Vega, Momo, Green Bar, and Mlynek Café.
Vega had a really really nice atmosphere: tables with linen cloths and candles in the center. You order at the front and pick up from the bar. The menu they give you is sort of useless; it just gives you an idea of what kind of food they have. The food they actually serve changes daily, and my planned meal wasn't available when I went. For 19zł (around $7 US), I got a plate of vegetable goulash with rice, bean salad, and lentil soup.
The food was so-so, the bean salad was the real winner I also ordered a vegan smoothie which was basically a bunch of fruit juices, for 9zł. SO YUMMY. It had blueberries in it. It's been ages since I've had blueberries!!! We weren't impressed with this place overall and didn't make a return trip.
Momobar was next on our list. It's in the Jewish quarter of Krakow. The interior is very humble and the atmosphere is pretty casual. Their cuisine is described as Tibetan fusion. Most everything there is vegan, except for a couple of cakes. We tried the two available vegan cakes, and ate them first, obviously. I tried an apple-crumble-type thing with sunflower seeds on top; my friend got their banana cake (pictured). 
The cakes were both SO yummy; flavorful, spot-on texture, I could have eaten them for millennia. The dish I got was the place's namesake. Momo was Tibetan dumplings filled with finely chopped vegetables and lentils, served with a spicy sauce. I licked my plate clean. My friend tried their hummus and toast and found the hummus to be a little weird, texture-wise. I remember paying about 20zł for my delicious dinner. This was definitely one of my favorite places the whole trip.
After a draining day visiting Auschwitz, we stumbled into Green Way to unwind. They had limited vegan options, but really tasty orange juice and enchiladas. The side-salad sticks out more in my memory than the actual enchilada—the dressing was THAT good. Again it cost around 20zł, but the meal fell a little short because of how fast the food was. It is given to you literally seconds after you order it, so the components of the meal are pre-made, then assembled as you order. I think it made the food a bit generic, and I wouldn't recommend for anything beyond a really quick, assuredly vegan meal. There are certainly better businesses to patronize in Krakow!!
Our last stop on the trip was Café Mlynek. We saw these 10 percent discount cards for the place all over the city, which made me a little skeptical, but I so shouldn't have been. It was far and away my favorite restaurant of the entire trip. Candle-lit, beautiful ambience—The only veg Krakow restaurant where we didn't order food up-front. There are limited vegan options, but I got to try the cheesecake they recently veganized and a veganized traditional Polish Hungarian* food: lecso (LETCH-oh). We had cake first, obvs. The cheesecake was beautifully presented, but could have been a little sweeter/more flavorful. It cost 10zł and I would probably order again. The lecso was fucking INCREDIBLE. It reminded me a lot of channa masala without the indian spices: tomato and chickpea stew with garlic and onion, served with a side of bread to dip and enjoy in. I wanted to bathe in this dish, basically, it was so hot and fresh when I got it…. Oh man, just remembering it makes me hot. It cost 15,50zł and was worth every goddamn penny. IF YOU GO TO KRAKOW YOU MUST MUST MUST GO TO MLYNEK CAFÉ! That is an order!
On to Budapest. Unfortunately, my camera broke a couple months ago so I was borrowing my friend's. Then her camera ran out of juice partway through our trip, so you'll just have to use your imaginations. If you like falafel nearly as much as I do, you'll love Hummus Bár. We went there like three times, not joking. They have two locations; the one closest to our hostel, the Kértész location, was completely vegan; the other one was not. The food? SO yummy. A student-discounted meal cost 720Ft (Hungarian Forint), which is around $3.70! Pictured is a shot of a laffa-wrapped falafel. Their falafel is so fucking flavorful, I miss it so much.
We also tried Napfényes Étterem. I think they were having an off night or something, because our service was fucking atrocious. But to their credit, the food they served was phenomenal. I got their special for the night, which was a Thai rice curry. While I didn't really get any Thai flavor-notes, the food was extremely well prepared. And in a huge-ass portion; it was crazy. The star of the night was the vanilla cake I got there. IT WAS SO GOOD. They top it off with some Soyatoo whipped cream. I almost died. I loved it so much, I dragged my friend into the outskirts of Budapest to visit their bakery.
The bakery. The lovely lovely bakery. I am a fan of baked goods. A fanatic, even. And this place was fucking…ridiculous. I wish we had had a camera!! But look at their homepage: their pictures don't exaggerate how great the food was. They had all sorts of goodies: oatmeal-cherry-raisin cookies, coconut-chocolate millet balls, lemon cake with a thick creamy frosting (I got the pleasure of trying it, and I don't care how fat my ass got), the same vanilla cake I got from Napfényes Étterem, crème-filled phyllo squares…. I could go on, but I don't want your food boner to break your computer screen. PLEASE GO THERE IF YOU ARE EVER IN BUDAPEST. It is amazing. And pretty cheap, as most everything in Budapest is. It's a completely vegan bakery. Completely vegan. They even have some savory pastries using Cheezly, they're that fucking crazy awesome. We were smart enough to walk there and back to burn off the insane amount of calories we must have inhaled.
So, that concludes my crazy Central Europe adventure. Aside from the fact that I'm still living in Prague for a while longer! Lots of veg food from this side of the world coming your way! And I'm checking out the Mecca of Maoz in a few days: Amsterdam!! Lastly I wanted to plug HappyCow for helping me with my vegan journey.
*Our Hungarian pal and sometimes contributor Vi Z. informs us that lecso is in fact a tradional Hungarian dish. Thanks for keeping us culturally and culinarly accurate, Vi!
∞ posted at 08:05 by tempehtation
11/20/2009
Interview: Paul Shapiro of The Humane Society of the United States! »
Paul Shapiro is kinda like…the greatest guy on earth. He's the senior director of HSUS Factory Farming Campaign. He also founded Compassion Over Killing when he was basically 5. Okay, more like 7, but still. He works tirelessly for the animals while remaining the nicest, coolest guy ever. Honestly, if I did what Paul Shapiro does every day, I'd probably just go around setting things on fire and eating babies. I KID, EVERYONE RELAX! But I'd be one grumpy lady. He's just the raddest best and you should read all about him and then follow him on twitter if you want the latest breaking animal news.
Plus, he's adorable, right?
How long have you been vegan?
Since 1993. Old school. My recollection is that it may have been before the world was in color.
Are you vegan for health, environmental, animal rights reasons, human rights reasons, or a combination?
I wish I could say it was because in Carl Sagan's novel Contact, our species' first communication with non-Earthlings was with a civilization near Vega, but it's really because it reduces animal cruelty and environmental degradation. [Ed., AHH! Jonas wrote about that too! Dorks unite!]
What is your favorite animal?
My late dog, George. Late as in passed away four years ago; he was generally very punctual. You can watch a seven-minute slide show of his life if you'd like. (Give it a few seconds to start and turn your speakers on.)
Do you have any super cute photos of animals to share with us? I just ask because this is something we're super into. Elephants, piglets, and pit bulls are a plus.
George was a pit bull-shar pei mix, so I hope that slide show counts. Or you can see my two cats at facebook.com/paulshapiro.
Favorite vegan food to make?
Really anything that can be put inside a tortilla/wrap. It's a very fast and clean way to eat.
Favorite vegan cook book or website for recipes?
I'm partial to humanesociety.org/recipes
Favorite vegan dish at a restaurant/fave vegan restaurant?
Currently, the vegan "chicken" burrito that's being tested at a DC Chipotle is rocking my world. Since you're in SF, I tip my hat to Herbivore's shawarma, too. (Note that both of these are in a wrap.)
You travel a lot for work. Based on food options alone, which is your favorite city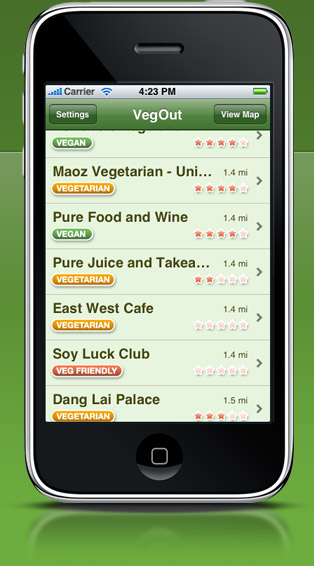 to travel to?
NYC is pretty hard to beat. That said, I was at Araya's in Seattle recently and loved it. All-vegan, all-you-can-eat buffet for $8. Respect.
Any eating tips for traveling vegans?
Get the Veg Out app for your iPhone. [Ed.: we've got it! it is awesome!]
You started an all-vegan band in high school? Please elaborate.
I didn't start the band, but I was the singer of the DC hardcore band Crime Against Humanity. We put out a demo tape and played about half a dozen shows in 1994 before breaking up. We were this close to making it big. And by "this close," I mean not close at all.
We recently met Jonathan Safran Foer (we call him "JSF" around here) who mentioned that he went to high school with you? Were you guys friends? What was he like then? Was he in the band!?
Jonathan is an awesome guy and his success with Eating Animals makes me so happy. I regret to say he was never in Crime Against Humanity. We did go to high school together and knew each other back then, but we didn't become friends until long after that.
If you weren't working for HSUS, what would you be doing?
Begging Vegansaurus for a blogging job. [Ed., Great, now we have to get you fired! WHY DID YOU TELL US THAT!?]
Who are the movers and shakers in the animal protection world who people might not know about, who to keep an eye on to do great things?
It always surprises me how few people in the movement are familiar with the late Henry Spira's work. If you haven't read his biography, you should. In terms of living activists, I'm always amazed at how groups like Mercy for Animals, Vegan Outreach, and Compassion Over Killing get so much done with so few resources. Of course, I love VegNews too, and think they provide a great resource for the movement. Finally, if you don't follow Jason Matheny's work on in vitro meat, check it out; it's something I think has a lot of promise for animals.
How do you think new technologies, like Facebook and Twitter, are changing the game?
They allow me to share photos of my cats and find out who's dating who. They also enable folks to reach a lot of people fast, which is helpful for people who want to help animals. BTW, you can follow me at twitter.com/pshapiro (Ed., FOLLOW HIM. Best breaking AR news and also, he's funny. Bonus points.)
What advice would you give people with a budding interest in animal protection?
The reality of how deplorable the scope and nature of our abuse of animals is can be depressing. Don't let that sorrow consume you. I'm not the first to say that if you're upset by a societal problem, don't agonize—organize!
Animals can't organize and advocate for their interests, so they're dependent on us to speak up for them. It's an immense privilege to be able to work full-time on their behalf, and it's inspiring to see the progress that's now being made, especially for farm animals. That said, you don't need to be an employee of the movement to make a difference. Go at your own pace – pass out leaflets, write letters to the editor, support your favorite animal charities, get your local restaurants to add vegan options to their menus, call your legislators, be a positive example for your friends and family, and so on.
Are you a good cook?
Compared to Tal Ronnen? No. Compared to Josh Balk? Yes.
Are you willing to have Vegansaurus over and cook us a vegan feast? If so, what day?
Any time we're both in DC, consider the red carpet rolled out. [Ed., BOOKING TICKETS!]
∞ posted at 10:11 by laurahooperb