06/09/2010
Get vegan comics, help East Bay Humane Society! »
We posted already about the exciting new vegan comics zine Soyfucker, and we're pleased to say that it's now available and all proceeds are going to the Berkeley East Bay Humane Society to help with their rebuilding following their tragic fire last month.
The zines are only $2 a pop, and they're available online at the Soyfucker website. Just look how cute you'll look reading them!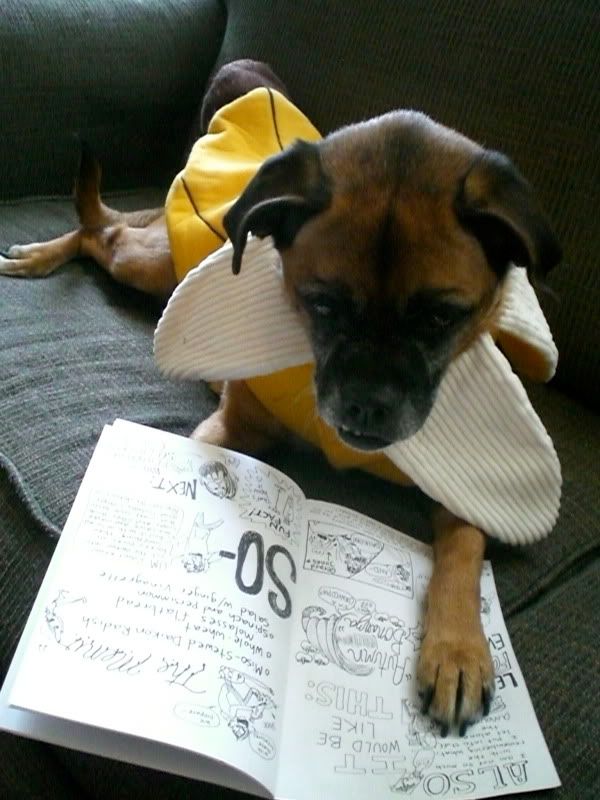 Also, the crack editorial team (Erika) is looking for submissions for Soyfucker Issue 2. Submissions are due July 31, so get to drawing, vegans!
∞ posted at 14:19 by jordanpattern
04/28/2010
All your vegan comics are belong to Soy Fucker »
… or something.
Anyway, Erika, friend of Vegansaur Jordan, is doing a cool thing and putting together a vegan comics zine. The goal is to get as many vegans as possible to contribute, and the deadline for submissions for the first issue is coming up! No need for mad comics skillz or fancy equipment—Soy Fucker is a labor of fun, so vegans of any and all skill levels are encouraged to submit.
The only real rule is that comics artists and/or writers must be vegan. Other than that, pretty much anything goes. Comics don't have to be about vegans or veganism. More details (including the format and size, etc.) can be found at soyfucker.tumblr.com.
Submit your scrawls to artwork@soyfucker.com and make the Soy Fucker mascot banana dog happy!
∞ posted at 08:24 by jordanpattern