07/22/2011
Free People's vegan leather line! »

Free People makes clothes for the neo-hippie with money. Who else to do vegan leather? Refinery 29 has their lookbook, and on Free People's site they have an adorable little video with some of their veg designers talking about why they love their vegan leather and how super-duper excited they are to wear it.
Man I am super-duper excited about vegan leather, too. Leather looks cool, leather clothes look really good, except they're made of death and bad for the environment and that sucks. But vegan leather is the best of both worlds! If you have enough money you can do anything. Look at this dress!


I want to wear it! A lot! Everywhere! With boots and a bright cardigan! Thanks, Free People, like I didn't have enough of a shopping problem already.
∞ posted at 12:15 by seriousmeaveness
07/01/2011
Ooh fancy! Ecouterre's got the story on Collina Strada for KAIGHT's Cartella messenger bag made from recycled canvas and vegan leather, dyed with eco inks—it's manufactured in New York City, and 10 percent of KAIGHT's profits from the sale of this and the other two bags in the line will benefit Brooklyn's BARC Animal Shelter.
Man, environmentally friendly leather alternatives, awesome prints, made in the U.S.A.—everything about these bags is right.*
*Or at least this one, the other two aren't in shapes I super-love, but I don't have money so my opinion is moot. This one is hot, anyway!
∞ posted at 13:26 by seriousmeaveness
01/08/2010
Ladies! It's a vegan leather jacket round-up! »
Nothing says bad-ass quite like a faux leather jacket. LADIES, AM I RIGHT? Now that the winter is here in full swing, I recommend picking up one of these babies if you want to be hotter than Danny Zuko and the Fonz combined (except better, because you're vegan.). [Ed. And worse because you've never been on Arrested Development. AH LIFE.]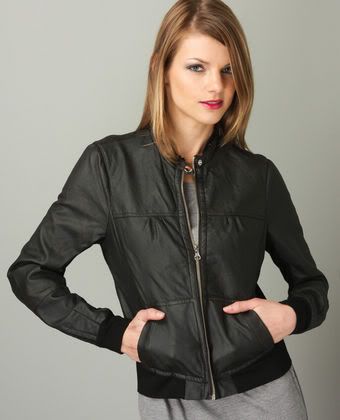 Lulu's is my own little hidden gem, and they have a decent stock of vegan shoes, bags and of course, jackets. The Motocross jacket ($54) is perfect for everyday and looks sick with a pair of aviators. Dress it up by pairing it with this Dubai Night black vegan leather clutch.
My absolute favorite faux leather jacket comes from Silence & Noise. They have a great collection of styles that can be easily found at Urban Outfitters. If you're the hipster or brass knuckles type, I recommend the Silence & Noise Studded Faux Moto jacket ($148). It's durable, stylish and looks great on top of a slinky dress. [Ed: DEAR GOD THAT IS A SHORT DRESS. Lady, I'll See You Next Tuesday.]
If you're more of the ride-on-the-back-of-a-Vespa type, there's the Silence & Noise Faux Leather Biker Jacket ($128). Sexy when paired with helmet.
And if a large chunk of money happened to fall out of the sky and into your pocket, then you might be interested in purchasing the crazy-expensive yet fabulously cute Stella McCartney Coated Boucle Motorcycle Jacket, now only $987 at Bergdorf Goodman's! [Ed: This is great because I'm totally swimming in money TOO BAD FOR THE REST OF YOU SEE YOU NEXT TUESDAYS!]

Of course, you can always check out my favorite veg shoe and jacket staple, Mooshoes, which currently has a black unisex bomber jacket ($165).
Other rad sites with more awesome jackets are veganessentials.com and alternativeoutfitters. Please check them out and report back if there is any cuteness because I've got to go eat a sandwich. Cheers!
[Images courtesy of: lulus.com, urbanoutfitters.com, bergdorfgoodmans.com, and mooshoes.com]
∞ posted at 12:02 by bohemianvegan