11/03/2011
S.F. Bay Area, here's your chance to help tons of animals! Let's do this! »
We're all gonna leaflet for the animals, OK? Leafletting is one of the best forms of activism around. It's making a lot of people immediately aware of what's going on with animals, and that knowledge is incredibly powerful. It's something I definitely want to do more of, and as a means of motivating myself, I am motivating the rest of you to GET UP ON THIS! Because I know a lot of you suffer from the same guilty feeling of not doing as much as we could be doing and I've found that leafletting even once a month helps alleviate that. Seriously, it's powerful stuff! And if you do it once, you'll do it again. The first time is always the hardest! Where have I heard that before? Ew, sorry. Grab a friend or brave it solo and LET'S DO THIS!
This Friday, Nov. 4, Theo, a major volunteer with Vegan Outreach, is leafleting the AP Tour at the Regency Ballroom (1290 Sutter St., S.F.). He's flying solo right now, and would love some leafletting buddies. Leafletting at events like this is actually pretty fun; people are usually the nicest cause they're all happy to be at a show, and you're with friends, so if anyone says anything stupid, you can make fun of them the whole ride home. Also, after leafletting once, it's so easy to do it again, because you're like, "Fuck it, I ain't scared of you people!" and then you imagine everyone naked and are like, "Whatever, I got this." Or you know, whatever your process is.
POINT IS, the more people who leaflet, the more people reached. I know lots of folks who are vegan today because they were handed a leaflet; it's powerful activism for the animals, and it's only a couple of hours of work! EVEN BETTER, Theo is so rad that he can also help out with rides from the Oakland/Berkeley area, SO NO EXCUSES! You can reach Theo via email or call him at (510) 853.2773. Do it to it!
Brian Grupe, who heads up Vegan Outreach in the SF Bay Area, is looking for folks to join him at colleges. Young minds, ripe for learnin'! About animal exploitation! I mean, how many of you went vegan in college? EXACTLY. If you have an unusual schedule where you're free during the day sometimes, get at him! Shape America's youth! Into something other than selfish pieces of shit! JK, we're all selfish pieces of shit, some of us just try to suck a little less. 
Finally, a list of upcoming events that Brian needs help with. If any look right for you, please please please email him. THANK YOU AND I LOVE YOU AND GOOD NIGHT! 
Monday, Nov. 7
Jack's Mannequin at the Regency Ballroom, S.F.—out from 10 to 11 p.m.
Tuesday, Nov. 8
Pierce the Veil and Miss May I at the Regency Ballroom—out from 10 to 11 p.m.
Thursday, Nov. 10
Black Veil Brides at the Regency Ballroom—out from 10 to 11 p.m.
Saturday, Nov. 12 and Sunday, Nov. 13
The Green Festival at the S.F. Concourse Exhibition Center (HELLO, we all need to go to this one!)
Monday, Nov. 14
Gym Class Heros and Dirty Heads at the Regency Ballroom—out from 10 to 11 p.m. 

Wednesday, Nov. 16
New Found Glory, Set Goals, etc. at the Regency Ballroom—out from 10 to 11 p.m.  
Thursday, Nov. 17
Devil Wears Prada at the Regency Ballroom—out from 10 to 11 p.m.
Monday, Nov. 21
Katy Perry at Oracle Arena (KATY PERRY, Y'ALL)
[photo via Vegan Outreach]
∞ posted at 12:10 by laurahooperb
11/02/2011
You guys! Occupy Oakland needs food! And I bet all the other occupies need food, too! Why not make it vegan food?! Remember how much success Rachel had?? Today is a good day to get started as it's the general strike, and there will be even more hungry angries to feed than ever!
According to them, occupiers especially need hot food and drinks, like maybe a delicious vegan casserole or tasty seasonal soup?? Or if you're flush, maybe you want to pick up tons of food from a nearby supportive local business, like Golden Lotus? And maybe even bring some Go Vegan flyers while you're at it? Or order some free ones for next time you go! Seriously, this is an amazing activist opportunity, and according to the Oakland-based Neighbors Opposed to Backyard Slaughter folks, the backyard slaughter dumb-dumbs are all up in it, and we need to combat their "we kill chickens for a stupid snack and think it's okay because we are totally qualified to murder in our backyards and are saving the world!" 
A rep from NoBS says:
Food Not Bombs has been serving vegan food since the beginning of Occupy Oakland — and many other Occupy locations. While occupying Oscar Grant Plaza a few weeks back, people from all walks of life were really open to talking about a compassionate diet, and living free of animal products. It was liberating to be in a space where people were open to changing the way we live and eat in a way that respects the interests of other animals, as well as people. This movement is bringing so many positive changes — and veganism is one of them.
So get down to your local occupy movement, and be a change agent! One who brings delicious vegan casseroles!
∞ posted at 11:25 by laurahooperb
02/10/2010
∞ posted at 13:17 by laurahooperb
01/13/2010
V-Day Dance: The V stands for VEGAN!!!! »
I don't mean to be the resident pessimist here, but Valentine's Day is just one of those holidays that has the tendency to be a total bummer. And I'm not just talking about the hopelessly in-love couples with the cliched, sickening, we-met-at-Dolores-Park-because-I-was-wearing-my-new-ultra-gaudy-neon-American-Apparel-leggings-and-matching-scrunchie-when-he-rode-by-on-his-fixie-and-it-was-love-at-first-sight story who make the rest of us feel like shit for being alone. I mean, that's just one aspect of it. But then take, say, the pounds and pounds of pink-and-red-foil-wrapped, heart-shaped chocolate on display at your local grocery store. Yeah, can't eat it. And that's just for starters.
So for those of you looking for something to do that weekend, well, why not a Valentine's Day DANCE?! Yeah, sure, it's totally kitschy and might stir up some long-repressed and entirely unwanted memories of adolescent dances and all the awkwardness that accompanied them, but seriously, what else are you going to do (aside from camping out on the couch and watching Meg Ryan/Tom Hanks movies while pigging out on Oreos and vegan ice cream and feeling sorry for yourself)??!!!?! BESIDES, IT'S FOR A GOOD CAUSE.
Included in the price of your ticket are all sorts of vegan treats—there will be hors d'oeuvres and desserts—including baked goods from Vegansaurus friends Sugar Beat Sweets and Fat Bottom Bakery!!—and raffle tickets and goody bags. Plus, two single vegans will be auctioned off for dates, and they're pretty cute (check out the website for pictures and details, and please direct all comments on how cute the cat in the picture with Brian is to me because he's MINE [the cat, not Brian]). Plus, there's dancing, and music, and if you haven't seen me dance, you're missing out because I pretty much own you all on the dance floor. OH, AND DID I MENTION?! OPEN BAR. That's right. And if you're not yet 21, no worries, because you can just give all your free alcohol to me. PROBLEM SOLVED.
So here comes the rough part—it's a $50 price tag for this event. BUT, proceeds from the event will benefit Vegan Outreach so if it turns out to be a total bust, at least you can feel good about yourself for being altruistic or something.
And lucky for you, Vegan Outreach is giving away a pair of tickets to this dance for you and a guest of your choosing, be it your significant other, a hot date, a blind date, your best friend, your little sister, your dog/cat/hamster, or me (HEY GUYS, I'M SINGLE SLASH AWESOME). All you have to do is share the best surprise you've given or received on Valentine's Day or some other special momentous day, and if your story is picked, you get in free. You can do that on the Facebook page for the event.
And just a tip: If your life is full of completely boring, unromantic moments like mine, just lie, because seriously, no one will know the difference.
∞ posted at 11:56 by theheartofasadpunk
11/20/2009
Interview: Paul Shapiro of The Humane Society of the United States! »
Paul Shapiro is kinda like…the greatest guy on earth. He's the senior director of HSUS Factory Farming Campaign. He also founded Compassion Over Killing when he was basically 5. Okay, more like 7, but still. He works tirelessly for the animals while remaining the nicest, coolest guy ever. Honestly, if I did what Paul Shapiro does every day, I'd probably just go around setting things on fire and eating babies. I KID, EVERYONE RELAX! But I'd be one grumpy lady. He's just the raddest best and you should read all about him and then follow him on twitter if you want the latest breaking animal news.
Plus, he's adorable, right?
How long have you been vegan?
Since 1993. Old school. My recollection is that it may have been before the world was in color.
Are you vegan for health, environmental, animal rights reasons, human rights reasons, or a combination?
I wish I could say it was because in Carl Sagan's novel Contact, our species' first communication with non-Earthlings was with a civilization near Vega, but it's really because it reduces animal cruelty and environmental degradation. [Ed., AHH! Jonas wrote about that too! Dorks unite!]
What is your favorite animal?
My late dog, George. Late as in passed away four years ago; he was generally very punctual. You can watch a seven-minute slide show of his life if you'd like. (Give it a few seconds to start and turn your speakers on.)
Do you have any super cute photos of animals to share with us? I just ask because this is something we're super into. Elephants, piglets, and pit bulls are a plus.
George was a pit bull-shar pei mix, so I hope that slide show counts. Or you can see my two cats at facebook.com/paulshapiro.
Favorite vegan food to make?
Really anything that can be put inside a tortilla/wrap. It's a very fast and clean way to eat.
Favorite vegan cook book or website for recipes?
I'm partial to humanesociety.org/recipes
Favorite vegan dish at a restaurant/fave vegan restaurant?
Currently, the vegan "chicken" burrito that's being tested at a DC Chipotle is rocking my world. Since you're in SF, I tip my hat to Herbivore's shawarma, too. (Note that both of these are in a wrap.)
You travel a lot for work. Based on food options alone, which is your favorite city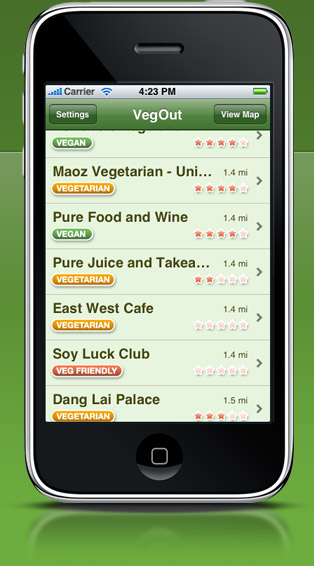 to travel to?
NYC is pretty hard to beat. That said, I was at Araya's in Seattle recently and loved it. All-vegan, all-you-can-eat buffet for $8. Respect.
Any eating tips for traveling vegans?
Get the Veg Out app for your iPhone. [Ed.: we've got it! it is awesome!]
You started an all-vegan band in high school? Please elaborate.
I didn't start the band, but I was the singer of the DC hardcore band Crime Against Humanity. We put out a demo tape and played about half a dozen shows in 1994 before breaking up. We were this close to making it big. And by "this close," I mean not close at all.
We recently met Jonathan Safran Foer (we call him "JSF" around here) who mentioned that he went to high school with you? Were you guys friends? What was he like then? Was he in the band!?
Jonathan is an awesome guy and his success with Eating Animals makes me so happy. I regret to say he was never in Crime Against Humanity. We did go to high school together and knew each other back then, but we didn't become friends until long after that.
If you weren't working for HSUS, what would you be doing?
Begging Vegansaurus for a blogging job. [Ed., Great, now we have to get you fired! WHY DID YOU TELL US THAT!?]
Who are the movers and shakers in the animal protection world who people might not know about, who to keep an eye on to do great things?
It always surprises me how few people in the movement are familiar with the late Henry Spira's work. If you haven't read his biography, you should. In terms of living activists, I'm always amazed at how groups like Mercy for Animals, Vegan Outreach, and Compassion Over Killing get so much done with so few resources. Of course, I love VegNews too, and think they provide a great resource for the movement. Finally, if you don't follow Jason Matheny's work on in vitro meat, check it out; it's something I think has a lot of promise for animals.
How do you think new technologies, like Facebook and Twitter, are changing the game?
They allow me to share photos of my cats and find out who's dating who. They also enable folks to reach a lot of people fast, which is helpful for people who want to help animals. BTW, you can follow me at twitter.com/pshapiro (Ed., FOLLOW HIM. Best breaking AR news and also, he's funny. Bonus points.)
What advice would you give people with a budding interest in animal protection?
The reality of how deplorable the scope and nature of our abuse of animals is can be depressing. Don't let that sorrow consume you. I'm not the first to say that if you're upset by a societal problem, don't agonize—organize!
Animals can't organize and advocate for their interests, so they're dependent on us to speak up for them. It's an immense privilege to be able to work full-time on their behalf, and it's inspiring to see the progress that's now being made, especially for farm animals. That said, you don't need to be an employee of the movement to make a difference. Go at your own pace – pass out leaflets, write letters to the editor, support your favorite animal charities, get your local restaurants to add vegan options to their menus, call your legislators, be a positive example for your friends and family, and so on.
Are you a good cook?
Compared to Tal Ronnen? No. Compared to Josh Balk? Yes.
Are you willing to have Vegansaurus over and cook us a vegan feast? If so, what day?
Any time we're both in DC, consider the red carpet rolled out. [Ed., BOOKING TICKETS!]
∞ posted at 10:11 by laurahooperb