10/16/2012
Product review: Yummi Bears vitamins are perfect for kids, and the kid in you! »
UPDATE!!!: Turns out, these are NOT vegan. They contain lanolin. However the company says that  Yummi Bears Organics Immunity and Yummi Bears Organics Brain Health are both vegan.
When you're a queer vegan like me, you learn to improvise in situations where inequality is at play. No same-sex marriage in your state? Road trip with your pleather biker fiancé to Northhampton! No vegan gummy vitamins on the market? Squash one of your regular vegan multivitamins and one of those wacky German vegan gummy animals together and chew it down before you taste anything horrible (like the part that isn't gummy bear)!
The thing is though, times are changing. Rainbow marriage is on the horizon (you heard it here first, folks!) and finally, vegans have an awesome gummy multivitamin to call our very own. Hurray! Yummi Bears Organics Multi-Vitamin is completely vegan, as well as free from allergens, gluten, casein, gelatin, and GMOs, and all natural and organic. Yummi Bears make four varieties of vegan organic vitamins: a multivitamin with 16 essential vitamins and minerals; a Brain Health vitamin with DHA and B-complex; an Immunity Health with rose hips and astragalus (I LOVE ASTRAGALUS); and a Bone Health vitamin to give kids healthy bones, teeth, and gums (you know, when they're not messing up their dental work with gummy bears).
The company sent me free samples of the Multi-Vitamin and Bone Health. How do they taste? AMAZING. They really taste like candy. Because, you know, they are candy. I felt insta-fortified after trying three of each (that's the serving size according to the package, don't hate!) and I know you/your kids would, too.
I really love taking vitamins, and I'm passionate about vitamin accessibility in the vegan community. I once considered living in a co-op near Lake Merritt but decided not to because it didn't sit right with me that they had a communal condom drawer but didn't share vitamins. I mean, I get that, but c'mon. Choosing safer household sex over safer household B-12 blood levels? They didn't have their priorities straight. That's why I moved to Philadelphia, where people share cigarettes and horror stories about traffic to the Jersey Shore. And now I have these amazing gummy vitamins to share—so far I've brought some to a young queer Jews of Philadelphia National Coming Out Day party, and I can confirm that I made exactly 3.5 friends while passing out gummy bears over by the hummus (that's always where you'll find me!). A great victory for supplementation proliferation and my heeb social life. Yay!
Get Yummi Bears Organics at Rainbow, Whole Foods, and other health food stores, or online.
This is Vegansaurus raw correspondent Sarah E. Brown's latest post! Read more by Sarah on Vegansaurus, and visit her personal blog, Queer Vegan Food.
∞ posted at 13:17 by Sarah E. Brown
05/18/2012
Product review: You down with Omega-3? Yeah you know me! »
Omega-3 fatty acids are super important, and many, many Americans aren't getting enough of them. Omega-3 deficiencies can present as depression, and a host of other crappy maladies, including fatigue, dry skin, mood swings, heart problems, and poor memory.
Due to recent increased attention to this crucial brain-healthy and mood-balancing fat, fish oil is selling like crazy at the health food store, and some poor, misguided individuals even fortify laying hens' feed so their feminized animal protein, a.k.a. eggs, will pop out all omega-3'ed.

The truth is, there is absolutely no reason exploit animals to get omega-3s when good plant-based sources of the supplement abound. Most people can eat chia seeds, flax seeds, hemp seeds, walnuts, and sachia inchi oil and seeds to satisfy daily omega-3 needs.
For those of us jonesing for a boost of omega-3, a great option is NuTru Omega-Zen, a highly purified omega-3 liquid and capsulated DHA. This vegan supplement is sourced from high-quality algae. It makes sense that golden algae is rife with omega-3—where do you think all those fishies got it from? NuTru's version of Omega-3 comes with EPA and satisfied daily minimum of Omega-3 and similar EFAs.
NuTru sent me a bottle of their new formula, which contains EPA and tastes like hell—try not to use your tongue as you swallow the capsule. Then again, I'm still grossed about by "fish" taste, which is really just algae taste! Try the non-tasting way and the tasting way and see how you feel. Maybe it will satisfy a fishy craving for some people, I dunno. The Omega-Zen3 + EPA bottle boasts that it will bring you inner peace and tranquility. I have no clue if that's true, but it's worth a shot, since omega-3s have been linked to brain health, and y'all know vegans need to take care of our amazing brains/ Get it at various vegan online stores and in local Bay Area health food stores.    
This is Vegansaurus raw correspondent Sarah E. Brown's latest post! Read more by Sarah on Vegansaurus, and visit her personal blog, Queer Vegan Food.
∞ posted at 07:07 by Sarah E. Brown
04/02/2012
Vegan chocolate goji ice cream from Cream and Cone! It's raw and made with avocados! Sometimes avocado in desserts scares me but avocado as an ice cream base just makes so much sense, right? It's so creamy! I guess it's just avocado flavored sweets that scare me. But avocado-based mousse and ice cream sounds right on. 
I heard goji berries are really good for you or something so I looked it up on wikipedia, because I'm basically a scientist. According to wiki, goji berries have all this great stuff:
11 essential and 22 trace dietary minerals
18 amino acids
6 essential vitamins
8 polysaccharides and 6 monosaccharides
5 unsaturated fatty acids, including the essential fatty acids, linoleic acid and alpha-linolenic acid
beta-sitosterol and other phytosterols
5 carotenoids, including beta-carotene and zeaxanthin (below), lutein, lycopene and cryptoxanthin, a xanthophyll
numerous phenolic pigments (phenols) associated with antioxidant properties
I don't know half of those words but it sure seems impressive! Apparently they are also known as "wolfberries." And sometimes they are used in wine! If they are in wine, do you still get all the nutritional benefits? Forget chewable vitamins, I want drinkable vitamins! Drunkable vitamins, even!
∞ posted at 05:07 by youtalkfunny
02/15/2010
Vitamin D or, Why you've been sleeping all day »
First of all, I'm a pretty big science geek. I got a microscope for my 10th birthday, and it's been downhill ever since. But you've got to believe me when I tell you that vitamins, and the ways they interact, are FASCINATING. I've been looking this stuff up (for how many hours now? Oh lord) and it's actually kind of awesome.
See, it's not just whether you get your vitamins, it's also in what COMBINATION. The effect they have depends on what other vitamins you take them with. It's like they're little vitamin friends and enemies (like middle school!) and there are some vitamins that they totally hate, and if you eat them at the same time they cancel each other out. But their vitamin friends help them be SUPER-POWERFUL and have slumber parties and things.
Here is a drawing of vitamins fighting on a school bus; it is SCIENTIFICALLY ACCURATE.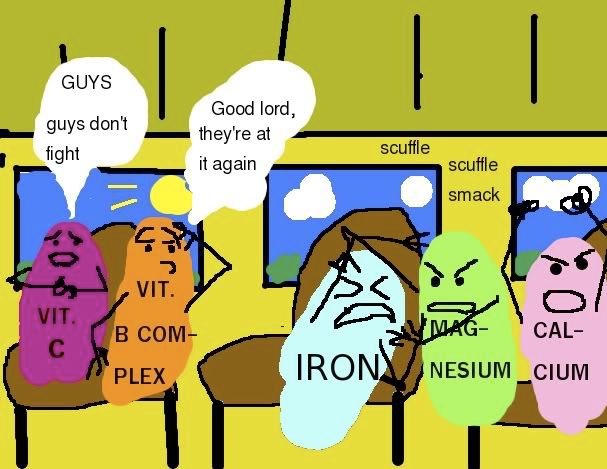 This is why multivitamins, though they're good at reducing scurvy and whatnot, aren't the absolute best thing. There are some vitamins that it's just really hard to get enough of. Even if you eat healthy unicorn food 24/7, kale and quinoa and things, that won't give you all the micronutrients you need.
Like, say, Vitamin D. In the summer, vegans are fine, because your body just MAKES it from sunlight. But in the winter? Now? Where do you get it? The health websites are all, "Salmon! Tuna! Sardines! Cod liver oil! Eggs! Oh, and milk."
…Great.
Basically, being a vegan in winter—with no supplements, and no sun—is a pretty good way to get a Vitamin D deficiency. Soy milk has it, and fortified cereals, but not much. Plants don't have it at all. And if you don't get enough, you're much more likely to get Seasonal Affective Disorder—a.k.a., I'll Go Cry Into My Pillow and Sleep For 14 Hours Disorder. And a whole lot of other scary diseases on Wikipedia that I won't talk about because I'm nice.
The point is, if you feel like crap in the winter, this might be why! Seriously! There are two kinds of supplements, D3 (super-effective, nonvegan) and D2 (not as effective, vegan). I'd suggest jumping on the D2 wagon. [Ed.: As you know, your Vegansaurus is not qualified to give complex dietary advice, and suggests contacting an actual nutritionist—with a college degree! not a certificate from like the Holistic Learning Annex!—if you would like to know more about supplements.]
∞ posted at 12:06 by abitingchance-deactivated201303